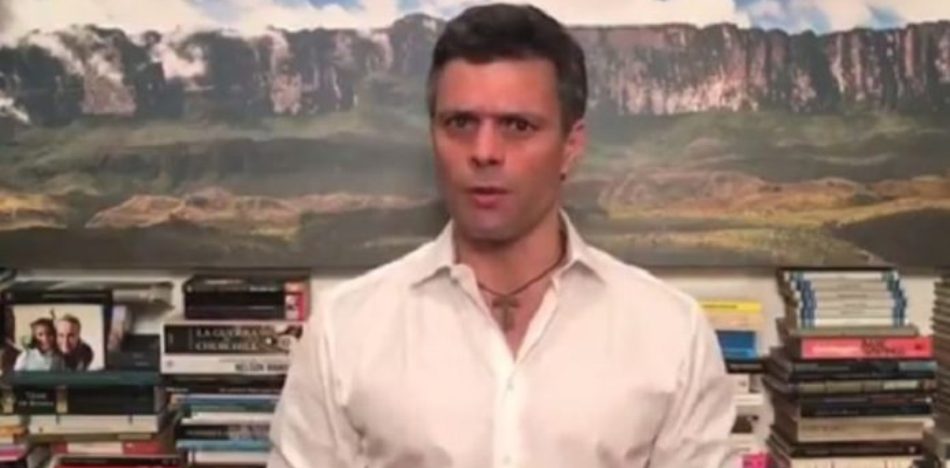 Español Opposition leader and former political prisoner Leopoldo López released a video on Twitter about President Nicolás Maduro's tyrannical regime just days before he intends to rewrite the constitution.
"Today in Venezuela, we are facing a very clear threat … that seeks two things: the annihilation of the Republic and the democratic state and the absolute submission of the Venezuelan people," he said in the video. "It is pretentious of them to seek these things, as they are not going to achieve them due the determination, strength and the conviction that each of you have."
Because López was in prison and is currently under house arrest, this was his first video, which he released from his home in the Venezuelan capital of Caracas. He reiterated that 7.6 million Venezuelans turned out July 16 to express their disapproval of the regime in a referendum, and unequivocally rejected Maduro's constituent assembly, as well as the violence used by the national armed forces. He demanded that the national assembly reorganize public powers and elections so that the country can "open the gates to a government of national unity."
In his message he made a direct call to the National Armed Force to "be faithful to the constitution."
"In the coming days, do not persist in carrying forward with the constituent assembly," he said. "You have an opportunity."
López also reminded Maduro of the "two paths" that he can take: the "peaceful, orderly and cooperative" one that avoids worsening the crisis, or the second path, that insists on "imposing a project of submission and annihilation of the republic that will not succeed." He invited Maduro to listen to the words of the Venezuelan people expressed through the referendum July 16.
He also said he is actively participating in the general strike that began this Wednesday, as well as in the "Great Takeover of Caracas for Democracy" that will begin Friday, July 28 prior to the elections of the National Constituent Assembly.
López's video, which lasted 15 minutes and 32 seconds, reaffirmed his tireless struggle for the freedom of the homeland, and made a call for Venezuelans to stay peaceful on the streets in order to defend "freedom and democracy."
"It is my conviction, my determination and struggle to accompany the Venezuelan people so that together we can conquer democracy," he said. "If that represents a risk, I am willing to take it, because in taking responsibility to lead we have to be willing to take risks."
Mi mensaje al bravo pueblo de Venezuela. Sigamos en las calles hasta alcanzar nuestra libertad! https://t.co/iPJATu1NMJ

— Leopoldo López (@leopoldolopez) July 26, 2017
Leopoldo López
@leopoldolopez
My message to the courageous people of Venezuela. We remain on the streets until we gain our freedom!
Source: Efecto Cocuyo