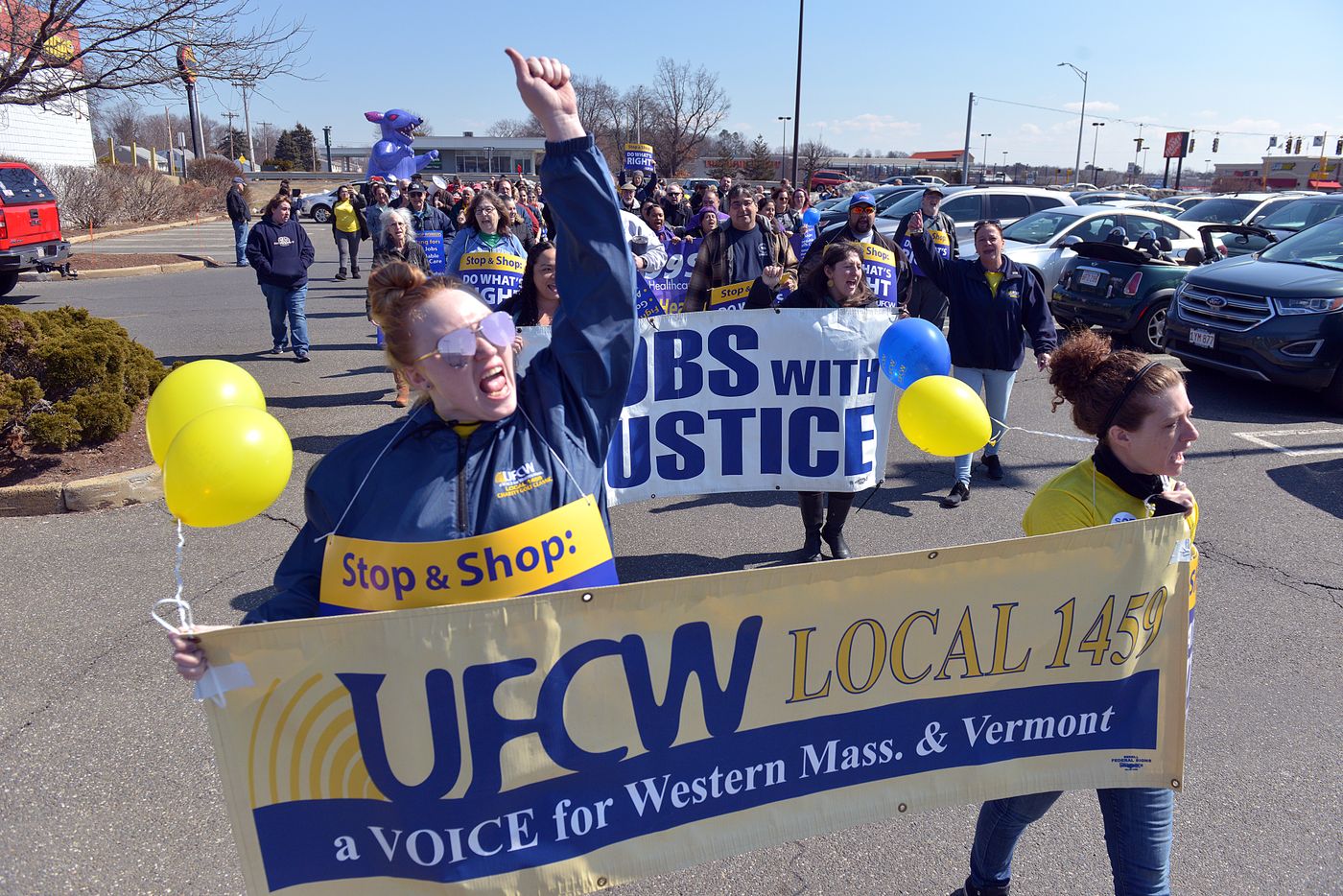 It's a scene that is playing out on a regular basis across America: disgruntled employees, angry over wages, healthcare costs, and pension plans, threaten to go on strike.
This week, it is taking place at Northeast supermarket Stop and Shop, a major player in the sector. Yet, it is a major player with serious problems: while its employees are unionized, most of its competitors are not.
That is certainly reflected in the prices…Stop and Shop simply can not compete with competition such as Market Basket, Target, and Walmart.
I barely know a soul who shops at Stop and Shop these days. When I enter the once-mighty store on rare occasions, it is deserted, and the prices are (to put in mildly) "elevated." I, like everyone I know, shops at Market Basket, where the dollar of working class people stretches much farther.
Now, Stop and Shop employees are prepared to go on strike, claiming unjust treatment. Yet, Stop and Shop management has cried foul, and accuses its employees of what would be akin to "biting the hand that feeds you."
They have a very good point. Management points out that they have been incredibly charitable and hospitable to the union movement over the course of the past decades, maintaining the only unionized workforce in the sector. Stop and Shop employees are already far better paid than comparable employees at other grocery chains. Full-time employees average $21.30 an hour. Front-end employees average $15.90 an hour.
USD $42,000 a year to work at a supermarket…USD $32,000 a year to bag groceries or operate a cash register? These are positions that don't require a college degree. Many people with college degrees are earning less than that, particularly in other parts of the country.
This is a perfect example for consumers in the New England region to examine how unions work, and what they do: there is a reason that Stop and Shop can not compete on price. There are reasons that Stop and Shop is not doing well. There are reasons that the parking lot at Stop and Shop stores are empty, and that they offer a lackluster experience for consumers. A big part of the problem is labor unions.
For striking employees, here is what they don't realize: their contract demands are going to be putting many of them out of work. Wage increases and government-mandated minimum wage increases, will merely be hastening their own demise.
UFCW Local 1459 is leading the employee charge against Stop and Shop management. President Tyrone C. Housey said, "We want to send a message to the company…We are going to stand up and fight back…They are putting in these bagging carousels like at Walmart…We think they are taking away union jobs with all this technology."
Housey is absolutely correct: new technology and the labor movement are bound to be at loggerheads in the years and decades to come. That is inevitable.
Self-checkout is the wave of the future. As labor costs skyrocket (Massachusetts will be phasing in a USD $15 an hour minimum wage over the next 4 years) suddenly there goes thousands of unionized jobs as baggers and cashiers. The savings to Stop and Shop (and consumers) will be enormous.
It's too bad for these unionized employees at Stop and Shop, but it will be a tough and necessary lesson for them to learn. Bagging groceries does not have any inherent hourly price associated with it: nothing in the Constitution, or our economic or political tradition suggest otherwise. It is merely worth what the labor market will pay…no more no less. If grocery baggers earning USD $16 an hour are demanding more, they will hasten their own demise…by incentivizing the replacement of their jobs with self-checkout machines.
Well, what would the labor movement say to that? The labor movement often suggests that corporations "owe" their unionized employees jobs. We have seen this movie before.
From 1810 to 1812, massive technological changes came to Britain's booming textile industry, putting thousands of skilled laborers out of work with weaving machinery. Enter the Luddites, a group that unleashed brutal violence, first on the machines themselves, and then on the factory owners. They went too far, after they killed several industrialists in broad daylight, and were soon rounded up, with dozens executed by the authorities.
But it was not merely the technology that the Luddites protested, but the perceived "unequal" distribution of the profits made by the technology.
Could legions of unemployed baggers and cashiers descend upon supermarkets to smash self-scanning machines?
Unlikely…but their plight is dire.
Perhaps it would behoove union leaders to alert the baggers and cashiers in their ranks that their jobs will not be around much longer. They'd best look for other work and develop other skills.
Technological advances are inevitable, and they can't be stopped, even by powerful labor unions.