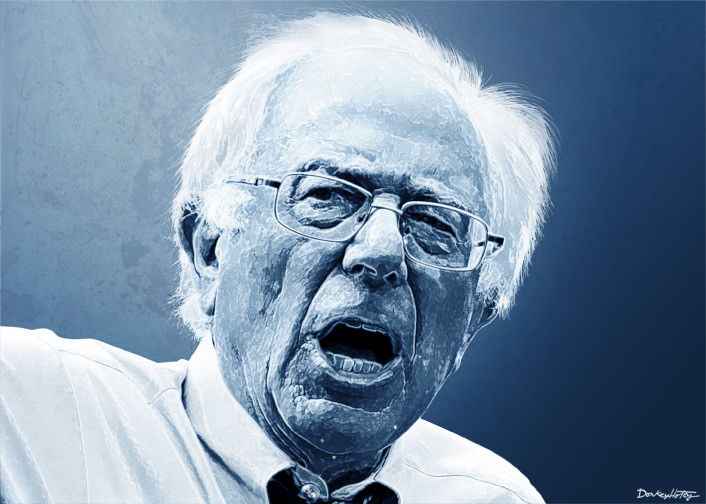 Florida is arguably the most pivotal state in American electoral politics this decade. In the bitterly contested 2016 presidential election, things looked hopeless for Trump, until suddenly he had pulled even with Clinton in Florida, and then took an insurmountable lead of over 110,000 votes, winning the state by 1.2%. In 2000, the entire election hung on the state of Florida, and its critical electoral votes, as George W. Bush defeated Al Gore in the state by the narrowest of margins.
For observers of American electoral politics, one of the biggest surprises of the 2018 midterm elections was the rise of two Bernie Sanders-backed socialist gubernatorial candidates in the Southeast: Andrew Gillum in Florida, and Stacey Abrams in Georgia.
Fortunately, it now appears that Bernie's brand of big government socialism and fiscal irresponsibility will not triumph here.
Nonetheless, the very fact that Bernie-backed candidates won the primaries in such moderate states should be sufficient cause for alarm. In the case of Tallahassee mayor Andrew Gillum, he came out of nowhere to defeat a much more moderate candidate: US Representative Gwen Graham, the daughter of a popular former US Senator and governor. Indeed, polls leading right up to primary day showed Graham with a respectable lead: only two of the several dozen polls taken through the course of the race showed Gillum in the lead.
Gillum's victory illustrates how politics, from the United States, to Europe, to Latin America, has swung to the extremes. The voting public is no longer craving moderate candidates…praised for their sensibility and pragmatism. That leaves independent and moderate voters who must pick one side or the other…or choose the lesser of two evils.
The situation facing American voters in 2016, for example, is not that unlike the situation facing Brazilian voters just weeks ago…where right-wing Jair Bolsonaro came out of nowhere to hand the entire Brazilian political establishment the defeat of a lifetime.
In Georgia, it appears all but certain that state officials will certify Republican Brian Kemp as the winner tonight. He won by a margin of slightly over 1%. But that does not sit well with the far-left activists who nearly propelled Stacey Abrams to the governor's mansion in Atlanta. Now, backed by a boatload of money and the enthusiastic endorsements of the party's hard left, Abrams is preparing to launch an unprecedented legal challenge calling for a new election, claiming reports of "disenfranchised" voters.
Such a desperate ploy is unlikely to work, and Kemp's margin of 18,000 votes is virtually insurmountable, but Abrams may proceed with a legal challenge anyway, having already assembled a team of three dozen attorneys.
Even Abrams' supporters concede that it is a longshot bid…and indeed, it's a novel legal theory that has never been used in an election of this prominence.
"Allegra Lawrence-Hardy, Abrams' campaign chairwoman, is overseeing a team of almost three-dozen lawyers who in the coming days will draft the petition, along with a ream of affidavits from voters and would-be voters who say they were disenfranchised. Abrams would then decide whether to go to court under a provision of Georgia election law that allows losing candidates to challenge results based on "misconduct, fraud or irregularities … sufficient to change or place in doubt the results."
Of course, the problem is that Abrams does not have 18,000 such cases of "disenfranchisement" and has little to no factual basis for any of her claims. Long polling lines are a perennial problem. Voters have a choice: either wait in the lines, come back and vote at a later occasion, or go home.
All in all, Abrams and Gillum are all but certain to come up short in the Southeast. And that is good news for the 31 million people who live in these states: states, by the way, which are ranked as among the best in the country for doing business.
Sanders may hold considerably sway with the hard-core leftists in the Democratic Party. But his influence, such as it may be, was insufficient to turn Florida and Georgia into socialist states.