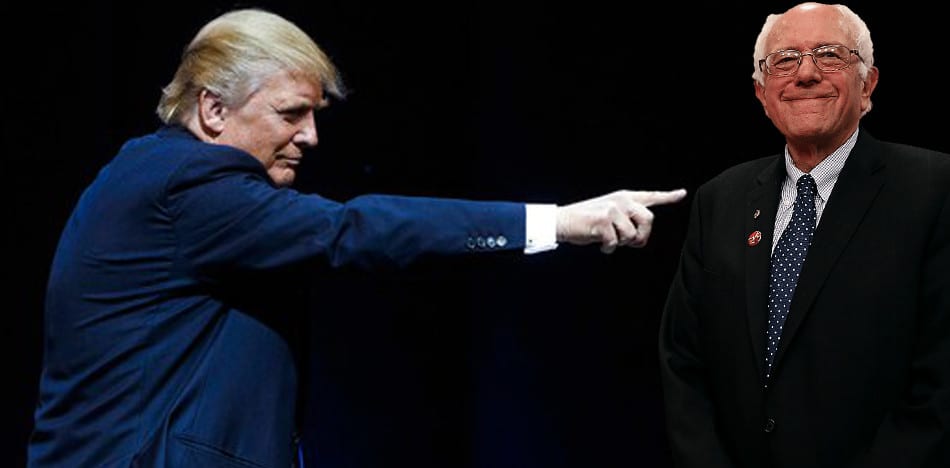 2:18AM  The state of Nevada has gone in about ten minutes from reporting 23% of votes, to 88%…with Rosen now holding over a five point lead. The races in Arizona and Montana remain too close to call.
2:00AM  There are still a lot of unanswered questions in the Senate races west of the Mississippi. Currently, betting markets are giving Republicans the best chance in Arizona, where the GOP has a 60% of winning the seat. Counting is proceeding very slowly here.
In Montana, Tester is trailing by one point, with 69% counted, but betting markets are still favoring him to win.
In Nevada, Heller enjoys an 8 point lead, with 23% of the votes counted, but betting markets are only giving him a 20% chance to win.
1:32AM  Trump's strategy of concentrating his time and resources in stadium and arena-sized visits to boost key Senate candidates appears to have paid off. He will be a very happy man if he can take out Tester in Montana…which will help to soften the blow of losing the House to the Democrats, albeit by relatively narrow margins.
1:25AM  The good news for the GOP in the Senate appears to be continuing, as McSally maintains her lead in Arizona, and Matt Rosendale is now leading by 1.2%, and both races appear to be trending the Republicans' way. In Nevada, it is still too early to make any predictions. The GOP could have a respectable 55-45 split in the Senate, if everything goes their way out West, and they are likely to win the upcoming Senate runoff in Mississippi.
1:08AM  It appears most likely that the Democrats will end up with between 226 and 230 seats, leaving them with a fragile margin, and Nancy Pelosi in a tough spot in winning her bid for Speaker of the House. All eyes now are on three close Senate races: Arizona, Montana, and Nevada.
McSally is currently leading by one point in Arizona, with 60% of votes in, while Tester is leading Republican challenger Rosendale by one point in Montana.
First results have just popped up in Nevada, where GOP Senator Dean Heller has an early lead, in a race that is expected to go to the wire.
11:20PM  In the end it was neither a Blue Wave, nor a disaster for the Republicans. The Republicans will make modest gains in the Senate, likely winning two or three seats. The Democrats, as expected, will take the House, and probably end up with 20 to 25 seats more than the Republicans. Now we are just waiting on those final numbers. Key outstanding races include the Senate battles in Montana, Nevada, and Arizona, which will determine the Republicans margin of control in the Senate.
10:35PM  Fighter pilot Martha McSally is again in the lead in Arizona, leading by just under 1 point, with 55% in.
10:26PM  In North Dakota, Heidi Heitkamp is history…as the GOP scores a major pickup. In Arizona the race is too close to call, while John Tester is looking good (but not certain) for reelection in Montana, in a key boost to the Democrats numbers in the Senate.
10:04PM  McSally currently has a 2 point lead in the Arizona Senate race, with 35% of the vote in.
10:00PM  Carlos Curbelo loses in FL-26, in a tight race, and a tough break for the Democrats.
9:46PM  Democrats look set to take the House, but by narrow margins. Republicans will likely add two or three seats to their Senate majority. All in all, Democrats will be thrilled to take back the House, but the "Blue Wave" never materialized, and Republicans all in all, have done better than expected across the board.
9:18PM  Marsha Blackburn will be the first woman to represent Tennessee in the Senate. That's it. Democrats will not take the Senate. Her lead is considerable, in an ominous sign for other Democrats in tight Senate races.
9:07PM  The Democrats are not going to win the Senate. Period. In a surprise development, with 14% of the vote in in New Jersey, Bob Hugin is leading Bob Menendez by 4 points. Menendez has been hammered recently by corruption allegations, with a trial that ended in a nailbiter. It is not shaping up for the "Blue Wave" that many predicted. The Democrats can certainly still take back the House, but it's certainly tighter.
9:00PM  With 96% of the vote in in Florida, Ron DeSantis maintains a 90,000 vote lead.
8:53PM  With 38% of the vote in DeWine is leading by just under a point in the Ohio governor's race in another good sign for the Republicans. The Republicans are also ahead in Michigan, but the results are too early to make any projections.
8:45PM  In Tennessee, Blackburn has a huge lead over former governor Phil Bredesen, but with no votes in from Memphis or Nashville, this is too early to call. In Missouri, McCaskill is losing, but only 1% of the vote is in. Braun is looking good in Indiana, and as expected, Heidi Heitkamp is losing in North Dakota, where her vote against Kavanaugh did her no favors.
8:39PM  This is looking like, perhaps, a better night for Republicans than expected. Democrats will not take the Senate. Drudge Report is still giving them a 61.4% chance to take the House, though. It looks like the Republicans may eke out two key wins in Florida, but it all depends on how many votes are still remaining in Broward and Miami-Dade counties.
In a bright spot for the Democrats in Texas, their boy wonder Francis "Beto" O'Rourke is leading Ted Cruz right now, although it appears unlikely that he will be able to pull it out.
8:30PM  Republicans are clinging to narrow leads in Florida, where Rick Scott is leading Bill Nelson by 33,000 votes, and Rick DeSantis is leading Andrew Gillum by 57,000 votes.
8:27PM  Republicans are leading in Indiana, with 49% of the vote in, where Braun has maintained a 15 point lead. They are leading in Tennesse by a large margin, and leading in Missouri, although only a few thousand votes are in.
8:25PM  In a tough break for Florida Republicans, Donna Shalala wins FL-27, a Miami-based districts by a modest margin.
8:17PM  Ron DeSantis has a 28,000 vote lead, with 90% of the vote in. There are still outstanding votes in Tampa and Miami, and also votes from the panhandle.
8:12PM  DeSantis and Scott have both just taken a narrow lead in Florida, with 86% in. The question now is…where are the outstanding votes coming from?
8:10PM  DeSantis and Gillum are in a dead heat, with Gillum leading by just 900 votes with 83% counted. Bill Nelson has a 0.4% lead. Both these races are going to go down to the wire. It may be a long night in Florida.
8:06PM  Florida's governors race has tightened considerably, with Gillum leading by just 0.4% with 82% of the votes reporting. If you're Florida Democrats, you're getting a little nervous. Votes are coming in from the infamous "panhandle" which in the 2000 election, cost Al Gore the presidency.
8:04PM  Based on the fact that 45% of votes are in from Marion County, where Indianapolis is located, and the fact that Braun is winning a third of the vote there, it appears quite likely that Braun will knock off Donnelly.
7:58PM  Both the Senate and gubernatorial races are tightening in Florida. The Democrats are both up by about 2 points, but the largely Republican Panhandle still has polls open, so this race is still early to call. It looks, though, like the Democrats may squeak out two narrow (and coveted) wins here.
7:51PM  CNN calls VA-10 for the Democrats…no surprise here…DC suburbs have turned very heavily against the Republicans in the Trump era.
7:48PM  One bright spot for the Republicans remains the Indiana Senate race, where challenger Braun maintains a 15 point lead. He's doing reasonably well in Marion County (Indianapolis) and Lake County (Gary), where Donnelly is beating him by a 2:1 margin. Democrats look likely to take the House, but their prospects of taking the Senate still appear remote, unless they can win Indiana.
7:42PM  First results are in from West Virginia, where the Republican Morrisey is leading Joe Manchin by the narrowest of margins. Democrats are faring well in the House, currently leading in 15 formerly Republican held districts.
7:32PM  Polls just closed in West Virginia, North Carolina, and Ohio. The two most interesting races here are the gubernatorial race in Ohio, where John Kasich is term-limited, and the Senate race in West Virginia, where conservative Democrat Joe Manchin (the only Democrat to confirm Kavanaugh), is expected to win. If Manchin loses, or if the race is close…it would be a dismal sign for the Democrats hopes to take the Senate.
7:30PM  In FL-15, 16, 25, 26, and 27, we will have the best bellwether so far of whether or not the Democrats will take back the House. They are all central or southern Florida districts, and most of them are close now, although the Democrats do appear headed to pick up 2 or 3 seats in Florida.
7:24PM  Things are not looking good for the Republicans in Florida, where Ron Gillum and Bill Nelson are both enjoying around a 4% lead, with 2.5 million votes counted.
7:21PM  Donna Shalala is currently enjoying a 6.5% lead in FL-27, which would be a crucial pickup for the GOP.
7:15PM  Republican Ron DeSantis is back on top in Florida's gubernatorial race, but the big Miami-Dade, Broward, and West Palm Beach counties, generally Democratic strongholds, have yet to report.  DeSantis is currently leading by 50,000 votes.
7:10PM  Bill Nelson and Ron Gillum have both taken slight leads of around 3 to 4 points, but the Republicans will enjoy a slight boost at 8pm, when the conservative Panhandle closes the polls.
7:06PM  With a quarter of a million votes in, Ron DeSantis enjoys a slight lead in the Florida gubernatorial race: 52% to 47%…but again…it's early!
7:03PM  First results in from Florida…current governor Rick Scott enjoys an early 11 point lead, but it's early. Everyone is on the edge of their seats for the first numbers out of the governor's race.
6:58PM  In VA-10, Republican Barbara Comstock is in danger in a suburban DC district. This is a must-win for the Democrats to take back the house, and most analysts suspect she will lose by a modest margin. A surprise GOP victory here would be a bad omen for the Democrats.
6:52PM  Barr (the Republican) back on top in KY-6…still waiting on the first vote tallies from Indianapolis and Gary, which should give a good indication as to whether Braun really has a good shot at taking out the incumbent, or if this is going to be down to the wire…even turning on absentee ballots that may not be counted until a future date.
6:50PM  Two interesting exit polls out from CNN…one shows 43% of voters support Kavanaugh confirmation, and 48% opposed…while the nation is just about exactly evenly split on Trump's immigration policies.
6:46PM  In KY-6 it is tight…McGrath has just taken a slight lead, with 1% of the votes in.
6:42PM  In KY-6, Barr is maintaining a 20 point lead with just a few thousand votes in. This is the first real bellwether in whether or not the Democrats will be able to flip the House. Nate Silver's 538 blog is giving them an 85% chance to do so, but political betting side PredictIt gives them considerably lower odds. Regardless, if Republicans do manage to hold onto the House, it will be regarded as a mini-miracle.
6:40PM  In 20 minutes polls will close in Florida and Georgia, both of which feature gubernatorial races where Bernie Sanders backed progressives are battling Trump Republicans. There are also several close Congressional races in Florida, particularly in Ileana Ros-Lehtinen's district, where Donna Shalala and Maria Elvira Salazar are facing off.
6:30PM  CNN exit poll shows that Trump's approval stands at 52%, with 48% disapproval in Indiana…in a good sign for Braun…nonetheless this could be a race that goes all night…there are likely to be several lead shifts over the course of the night as the big city votes come in.
6:27PM  With about 28,000 votes in in Indiana, Braun is leading by about 20%, but until we get that first count out of Indianapolis, it's hard to gauge this race. Braun will do will in rural and suburban counties, while Donnelly will need large margins in the state's big cities. Barr continues to lead in KY-6.
6:20PM  If Donnelly goes down tonight, the Democrats' aspirations of taking back the Senate are pretty much over. In neighboring Kentucky, all eyes are on KY-6, where a Republican incumbent faces a strong challenge from a Democrat with a military background.
6:13PM  Braun continues to lead by 12 points, with 10,000 votes counted thus far. Results are in from three rural counties thus far, so it's hard to tell how significant these first few votes are. Indianapolis and Gary, as well as Fort Bend, will be key regions where Donnelly will do well.
6:06PM  Hard to predict much with the first numbers, but with less than 1% reporting, Braun has a little under a 10 point lead. It's certain to tighten, though.
6:04PM  Eastern Kentucky will also be reporting first results momentarily, with half a dozen states reporting in just under an hour at 7pm. Most analysts agree that the Indiana Senate race will be one of the closest two or three in the country. The last poll done gives Braun the slimmest of leads, at one percentage point.
5:58PM  (EST)  We are just waiting now for the first results out of Indiana, where Democrat Joe Donnelly is locked in a tight race with Mike Braun to hold on to his Senate seat.