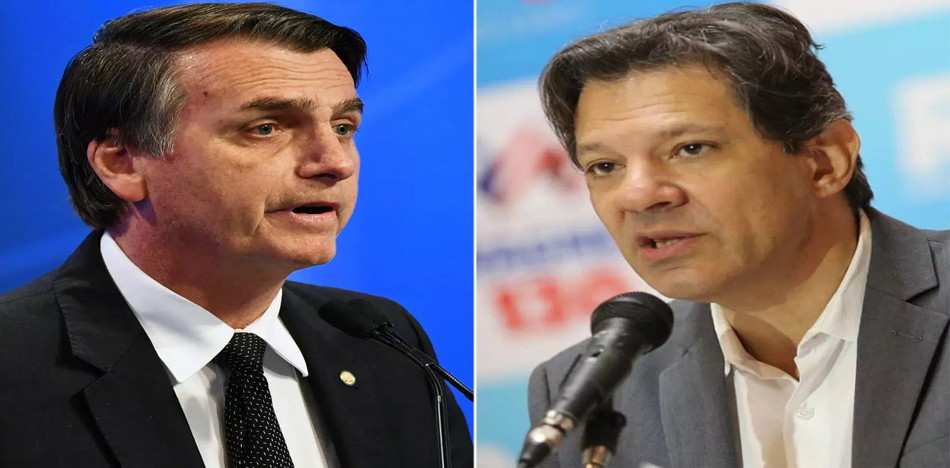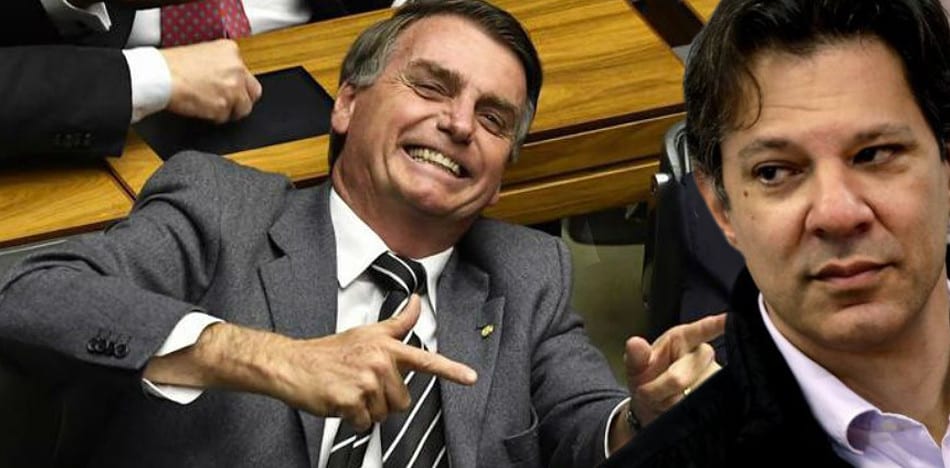 11:55PM  Paulo Guedes speaks with reporters, and assails the "social democratic" model of "uncontrolled, expanding public spending" arguing that, "We are prisoners of low growth. We have very high taxes, we have high interest rates, we have snowballing debt…It made Brazil poor…Private investments are the motor of economic growth, and that's what we are going to do."
Guedes will be Bolsonaro's right-hand man on reforming Brazil's troubled economy, which has been long-burdened by excessive state interference in the economy.
11:25PM  Well, that answers that question. Folha de Sao Paulo is reporting that Donald Trump has called, according to Bolsonaro: "He just called us to wish us good luck, and obviously, it was a friendly conversation."
9:35PM  In his victory speech, Bolsonaro pledges to respect democracy and the Constitution of Brazil, and depicted this as a solemn oath taken before God. He did not mention his opponent, Fernando Haddad, by name. Haddad told his supporters: "Don't be afraid. We will be here. We will be together."
9:30PM  All eyes now will be on Bolsonaro's University of Chicago-educated economic adviser, Paulo Guedes, who has emerged as a key advocate of privatization of Brazilian state assets, and proposed simplifying Brazil's notoriously complex tax system, replacing it with a federal Value Added Tax like many countries (including Colombia) maintain.
9:15PM  Glenn Greenwald, among others, is irate at the portrayal of Bolsonaro as the "Trump of the Tropics." (For Greenwald, Bolsonaro is far worse than Trump…oh, the horror!) Here is an article by Alex Hochuli in NBC News on why the comparison is not apt.
7:35PM  Here's an interesting question: Should Las Vegas be offering a line tonight on the odds that Bolsonaro receives a congratulatory phone call from Donald Trump? After all, he is the "Trump of the Tropics."
7:30PM  Rafaela Rosa, of Sao Paulo, may sum up the sentiments of many Brazilians who had their doubts about Bolsonaro, despite voting for him: "I'm not crazy about Bolsonaro. But he is our way to keep the Workers' Party out of office…we have had enough corruption and now we need to clean up."
7:25PM  Reports of minor skirmishes between Bolsonaro and Haddad supporters in both Rio de Janeiro and London, although no serious injuries have been reported. In London, the two sides clashed while they were lining up to cast ballots, while in Rio de Janeiro, the two camps clashed at a beach in Zona Sul, in the neighborhood of Flamengo, traditionally a bastion of the left.
Haddad supporters have promised to put up resistance to the Bolsonaro presidency.
7:18PM  Issues for political commentators and political scientists to mull: how was Bolsonaro able to so convincingly and thoroughly win over two key core constituencies: evangelical Christians (who now make up nearly a third of Brazil), and the business and financial community, which following years of skepticism of the former brash military man, warmed up to him, and finally gave him enthusiastic backing?
As I wrote in an earlier piece, the Workers Party is largely to blame for putting Bolsonaro in power. Haddad was also a weak and ineffective candidate, who torpedoed his own intent to masquerade as a moderate, by selecting a running mate from the Communist Party of Brazil.
7:04PM  With 98% of votes in, Bolsonaro maintains a 10.8% margin of victory, confirming Datafolha's initial assessment of the election. So, it will not be the 20 point blowout that some polls had been predicting, but Bolsonaro's margin of victory is no less impressive, and he will go forward with a sufficient base of support in Congress, and allies in governorships, to have the ability to make a major imprint on the political scene.
6:45PM  In a sign of the highly polarizing and personal nature of this election, sources are reporting that Fernando Haddad will not be making a traditional phone call to congratulate Bolsonaro on the victory. Haddad has said that he is outraged over the highly personal nature of Bolsonaro's attacks.
6:40PM  Evangelical candidate Wilson Witzel, of the tiny Social Christian Party (PSC) is elected governor of Rio de Janeiro state. Witzel was informally aligned with Bolsonaro; further evidence of 2018 as a year for upsets and outsiders.
6:37PM  With 96% of votes counted, Bolsonaro holds steady at 55.5%, to Haddad's 44.5%. He will be the first military man to head Brazil since 1945.
6:35PM  In Minas Gerais, Brazil's second largest state, Bolsonaro's margin was not quite as dominant, but still impressive nonetheless. Bolsonaro is currently leading 59% to 41%. By far, Bolsonaro's most impressive performance came in Santa Catarina state, where he won a whopping 76% of the votes, propelling his gubernatorial candidate Comandante Moises, to head the state.
6:30PM  Bolsonaro is on track to win 16 states, to Haddad's 11 states. Unsurprisingly, Haddad is strong in the Northeast, but Bolsonaro has dominated everywhere else, with particularly impressive results in Rio de Janeiro and Sau Paulo. Interestingly, the results in these two states are almost identical: 68% for Bolsonaro to 32% for Haddad. You can't lose these two states by greater than a 2:1 margin, and expect to win the presidency. What is particularly embarrassing for Haddad is that Sao Paulo is his own home state.
6:25PM  Third-place finisher Ciro Gomes makes no apologies for maintaining his neutrality in the second round, and affirms that he will never campaign for the Workers Party again. Gomes had come under fire for refusing to endorse Fernando Haddad in the second round.
6:22PM  The Bolsonaro wave has catapulted Comandante Moises, a former Brazilian military officer, to the governorship of Santa Catarina state, in Brazil's south. This is in keeping with an emerging divide between a more conservative south, and a more leftist north.
6:20PM  Bolsonaro's margin remains steady: he's leading now by about 10.8 million votes with 92% of votes counted. He's got 55.6% of the vote, to 44.4% for Haddad.
6:17PM  A small consolation for the Workers Party: they continue with a string of gubernatorial victories in the Northeast. Fatima Bezerra will be the only female governor in Brazil for the next four years, after winning in the state of Rio Grande do Norte. The PT will now control 4 governorships in the Northeast: Rio Grande do Norte, Ceara, Bahia, and Piaui.
6:13PM In Brazil's southernmost state, Rio Grande do Sul, Eduardo Leite will be Brazil's youngest governor, at just 33 years old. He was elected on the PSDB ticket. This is some further good news for this mainstay centrist party, which did not fare well in Congressional elections three weeks ago. Leite defeated the state's current governor, Jose Ivo Sartori, from current president Michel Temer's party MDB.
6:08PM  Only 7% of ballots up til now have been spoiled, and 2% left blank. That still is over 9% of total ballots, but it is not as high as some predicted, suggesting that despite the large percentage of Brazilians who are not enthused about either candidate, that the vast majority decided to vote for the "lesser of two evils."
6:06PM  Boom! Jair Bolsonaro is the next president of Brazil. With 87% of ballots counted, he is winning 56% to Haddad's 44%, and winning by over 10 million votes. It will be interesting to see how many states in Brazil's Northeast (traditionally a PT power base) Bolsonaro will win.
6:05PM  Brazil's largest state, Sao Paulo, will be governered by Joao Dora, of PSDB, who has narrowly won victory over Marcio Franca of the Socialist Party of Brazil. Despite a last minute scandal involving a video of a hotel room orgy, the voters have spoken, and Doria has dodged a major bullet.
2:45PM  First results are expected to come in around 6pm EDT. Workers Party militants, who clearly have little confidence in victory on the part of their candidate, have already taken to the streets in major cities to denounce the prospect of a Bolsonaro presidency.
2:35PM  In addition to the presidential race, several governorships are up for grabs in the second round. All three of Brazil's most populous states (Rio de Janeiro, Sao Paulo, and Minas Gerais) will be electing governors.
In Sao Paulo, there is a tight race between Joao Doria of centrist PSDB, and Marcio Franca of leftist PSB, in a contest that has been roiled by a recent video that appears to show Doria participating in a hotel orgy with half a dozen women. Doria has adamantly denied that the individual in the video is him. Look for this race to go to a photo finish.
In Minas Gerais, political newcomer and entrepreneur Romeu Zema is widely expected to defeat establishment candidate Antonio Anastasia of the PSDB.
And, in Rio de Janeiro state, in another political upset, Wilson Witzel of the evangelical PSC, is expected to defeat Eduardo Paes, of the liberal Democrats, who served two terms as mayor of Rio de Janeiro.
2:20PM (EST)  There was one brief moment when the storm clouds had parted for the Workers Party. Lula was consistently leading in the polls, and even when he was declared ineligible to run, it looked like the Lula mystique might be sufficient to transfer his popularity to the Workers Party handpicked candidate, former Sao Paulo mayor Fernando Haddad. Then Jair Bolsonaro was stabbed while campaigning in Minas Gerais state, and public opinion began a slow but steady shift: Bolsonaro began to rise in the polls, moving from the low 20s, to the high 20s, then breaking through into the 30s. On election day, when he won 46% of the vote, Brazil's political establishment was stunned.
It is certain that Bolsonaro will be the next president of Brazil. The only glimmer of good news for Haddad is that it may not be the 20-point blowout that was once expected: Datafolha is reporting that Bolsonaro will end up with 55% of the votes, and Haddad with 45% of the votes. We will see if the actual totals at the end of the day reflect their projection.
What is certain: Lula will not be pardoned, and (at least for the next four years) will remain imprisoned, serving his twelve year sentence for corruption. This is not the only charge that Lula faces; there are several other investigations for which he could face charges as well.