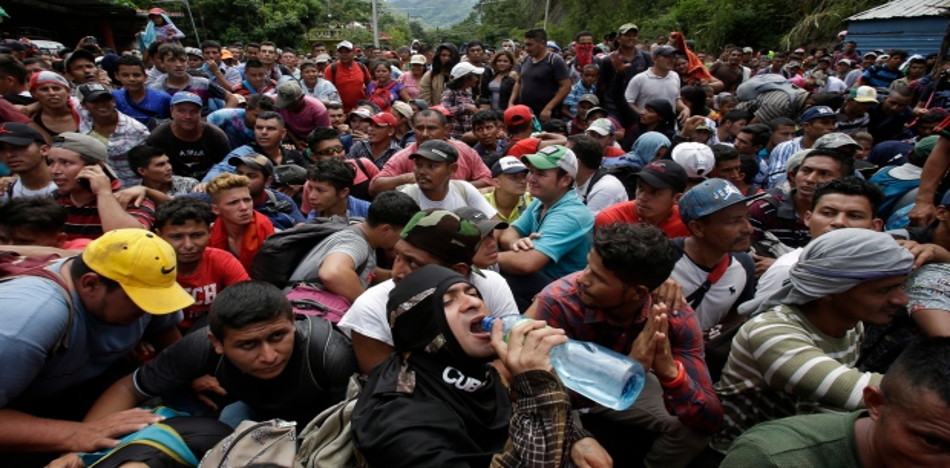 In a move that seems rather curious in its timing (just two weeks before the midterm elections), a large caravan of mainly Honduran migrants is working its way northward, first through Guatemala, and now Mexico, with the aim of reaching the US border in Texas. At one point as many as 14,000 people were alleged to have joined the caravan.
It is unclear exactly who is organizing the caravans, although this week Vice President Mike Pence claimed that Honduran President Juan Orlando Hernandez told him that Venezuela was backing the mass migration. Setting aside, for a moment, the question of organization and financial backing, and assuming that the caravan is largely composed of ordinary men, women, and children seeking a better life in a more prosperous and stable country, let us pose a question:
How and why is it the responsibility of the American government to take care of the Honduran people?
https://www.facebook.com/BlacksForTrump2/photos/a.289419424768865/701549840222486
There is certainly a place for compassion in international relations and politics. There is no doubt that it is reasonable for human beings to desire to move from a labor market where they can earn USD $1 an hour, to a labor market where they can earn USD $10 an hour. There is no question that ruthless and murderous street gangs rule many parts of Honduras with violent intimidation, threats of extortion, and murder.
Nonetheless, the precarious situation in which the three countries of the Northern Triangle (Honduras, El Salvador, and Guatemala) find themselves today is hardly the fault of Donald Trump. Why, exactly, are a band of Honduran migrants marching on the Texas border, and not on their own capital?
Shouldn't they be marching on Tegucigalpa and calling for more aggressive community policing, and more targeted prosecution of organized crime and gangs? Shouldn't they be demanding that the country re-introduce the death penalty for murder, and sentence top leadership of these gangs to life sentences? Shouldn't they be decrying the corruption and bribery that permeates the country? Shouldn't they be calling for greater economic freedom? Shouldn't they be encouraging their governments to pursue trade agreements and foreign investment that would lead to higher wages and more job opportunities? Shouldn't they be decrying the Honduran "swamp" where the politically connected get plum government positions and earn far more than anyone in the private sector doing the same work, while Honduran taxpayers sweat and slave to pay their inflated salaries?
The list goes on and on, but what is clear is that it is utterly ridiculous for them to abandon their own country, and march (largely illegally) through two others, so that they can voice their grievances before another country.
Yes…Honduras has a lot of problems, but it is hardly the responsibility or the obligation of the United States to fix them. We can't even take care of the urban and rural poor that we already have. Major cities are experiencing crises in homelessness. An opioid epidemic (highlighted by the prevalence of fentanyl) is decimating inner cities. We can hardly be expected to open our borders and welcome in tens or hundreds of thousands of Central American refugees, just because it is deemed "compassionate" by some social justice warriors.
We live in a democracy. We live in a sovereign nation. We did not elect Republicans to run the House and Senate, and put Donald Trump in the White House, because they promised a policy of open borders where anyone who illegally lands on US soil is to be welcomed with open arms.
In fact, we elected them to do exactly the opposite: to uphold the rule of law, enforce our nation's immigration laws, and protect our borders. A nation that can not enforce its own borders will not remain a nation for very long.
So, yes…the people of Honduras should be marching. They should be marching to Tegucigalpa, and calling on their own government to take the difficult measures with regard to crime, corruption, and the economy, that are needed