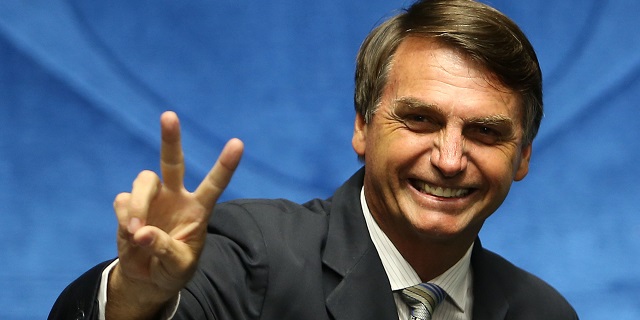 Sunday, October 7, was an earthshattering moment in Brazil, with the "Trump of the Tropics" riding high, as he buoyed unknown Congressional candidates into power, and swept out establishment politicians of leftist and centrist parties. Dilma Rousseff, the former president, couldn't even get elected to one of Minas Gerais' three Senate seats. An unknown candidate named Wilson Witzel rocketed to the head of the pack for governor of Rio de Janeiro, while Bolsonaro's son Eduardo Bolsonaro became the most-voted deputy in Brazilian electoral history, racking up 1.9 million votes in Sao Paulo state.
These are all troubling signs for Brazil's establishment, for the Workers Party, and for its presidential candidate, former Sao Paulo mayor Fernando Haddad. There was one bright spot, however, for the PT. Despite dismal electoral results in governorships and Senate races, they remain the largest single party in the Chamber of Deputies…dropping from 61 seats to 56. Nonetheless, their leftist bloc will have little influence to get anything done: right, center-right, and centrist parties will now dominate both houses of Congress, and will have no problems forming a coalition to work with President Bolsonaro.
Indeed, one of the least covered stories by the international media was the phenomenal success of the tiny PSL (Social Liberal Party), which skyrocketed to become the second-largest party in the Chamber of Deputies with 57 of 513 seats. A total slightly above 10% may not sound impressive, but in Brazil's confusing and labyrinthine political landscape, where dozens of parties hold seats and compete for votes, PSL will now be the driving force in seeking to form a coalition government.
Despite Bolsonaro carrying the day, 33.48% of Brazilians voted for neither Bolsonaro nor Haddad. Can Haddad win enough of them to prevent a Bolsonaro win?
The answer is a simple no. The electoral math is simply impossible, and there isn't an indication yet that Haddad's call to "defend democracy" is going to be supported by his formal electoral rivals, uniting in a massive show of force for the PT and Haddad in a last-ditch effort to stop Bolsonaro.
The PSDB, long one of the most influential and sizable parties since Brazil's return to democracy in 1985, recently announced that they will remain neutral in the race. That appears to be a strategy that many other parties will adopt as well.
Even if Ciro Gomes, Geraldo Alckmin, Marina Silva, and all the other candidates got together to call upon their supporters to vote for Haddad, it would most likely be insufficient to stop Bolsonaro.
The "Trump of the Tropics" has all the momentum. Winning 46% of the vote in a nation of 200 million people is an astounding accomplishment, particularly in consideration of the fact that more than a dozen candidates were in the contest.
Consider that Fernando Haddad was resoundingly rejected by the voters in his own state, losing by a 37 point margin: 53% to 16%. It is an understatement to say that it is an embarrassment to lose your own state by a 37 point margin. Sao Paulo is also Brazil's most populous state, and this margin of dominance was a trend that continued throughout other vote-rich southern states like Rio de Janeiro, Minas Gerais, Parana, and Santa Catarina.
Bolsonaro is winning heavily in the wealthier and more industrially developed south. Haddad, who won only 9 states, is winning in the poorer and less developed north.
Third place finisher Ciro Gomes won only his native state of Ceara.
This was a wave election. This was a momentum election. This was an election that will likely alter the Brazilian landscape for decades.
It is not even, necessarily, about left versus right. It is hard to believe that the same Brazilians that sent the leftist Workers Party to power four times are now die-hard conservatives or classical liberals.
Rather, this is about outrage at a political establishment that has proved itself to be crooks, thieves, and liars. It is about outrage with corruption in Brazil's judicial system, and a nation that allows criminals to run wild on the streets with impunity, keeping many Brazilians prisoners in their own homes at night out of fear.
Bolsonaro's many detractors (many of whom have good and legitimate reasons to fear a Bolsonaro presidency) can hurl whatever aspersions and insults his way, but it won't change the fundamental fact one iota: 2018 is the year of Bolsonaro.