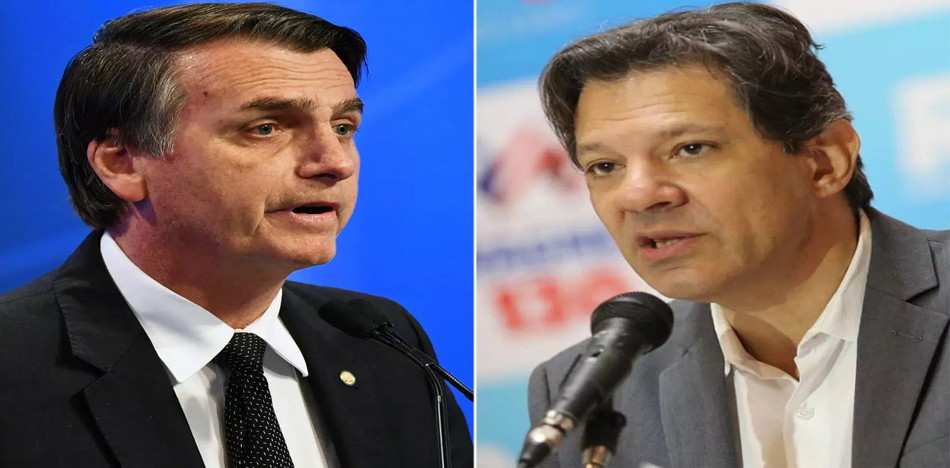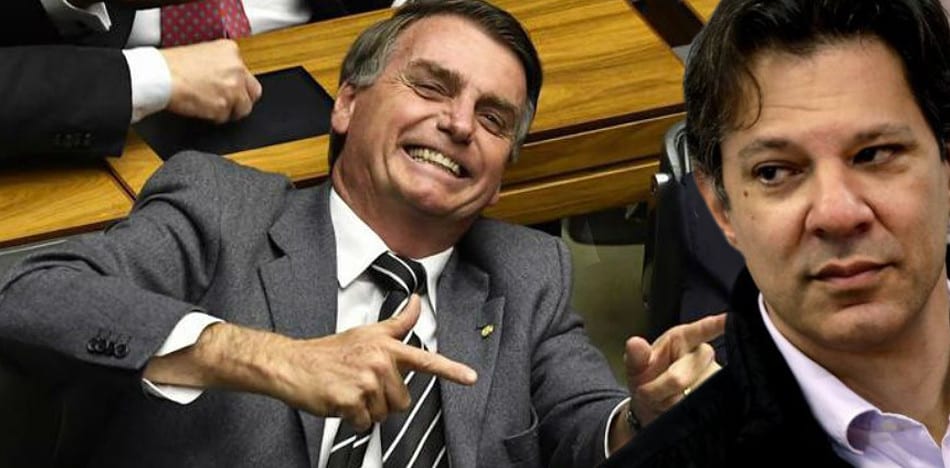 12:00AM Final wrapup: Bolsonaro won the day by honing in on a relentless and consistent message of zero tolerance for crime and corruption. Both chambers of Congress, as well as most governorships, will continue to be held by a coalition of centrist parties, including MDB, PSD, and PSDB. MDB currently leads in the Senate, with 10 seats, while Bolsonaro's PSL leads in the Chamber of Deputies, with 33. Brazil's political landscape features a dazzling array of political parties, which leads to formations of coalitions between multiple parties to share power.
Libertarians can delight in the election of Kim Kataguiri as a deputy from Sao Paulo state, where he won nearly half a million votes.
9:28PM Adding insult to injury, the voters of Minas Gerais did not elect Dilma to the Senate. With a dismal fourth place finish, at 15% of the vote, the ex-president will not be returning to public service in the Senate.
8:25PM In the first round Bolsonaro takes 17 states, Haddad takes 9 states, and third-place finisher Ciro Gomes takes only his native Ceara. Haddad has just called on other candidates from the first round to back him…he would need forceful and explicit intervention and support from other candidates and parties if he is to have a hope of stopping Bolsonaro. It is a tall order.
8:16PM Consider that, of Brazil's 27 states, only 4 had a margin of less than 10% between Bolsonaro and Haddad. Almost all the states that Bolsonaro won were absolute blowouts, and that holds true the further south you go. Haddad's performance was respectable in the Northeast and somewhere between disappointing and abysmal elsewhere.
Only in a handful of states in the north of the country were there close matchups: Bolsonaro won Amazonas 44% to 40%, Tocantins 45% to 41%, and Amapa 41% to 33%. Haddad, on the other hand, only won one state by a close margin: the expansive northern coastal state of Para, east of Amazonas state.
Simply put, if you can not win your own home state, you can probably not be president of Brazil; and Haddad's showing in Sao Paulo state was an embarrassment.
8:05PM Simply put, Brazil's political divide is not merely cultural and political now, but geographic. Bolsonaro absolutely crushed Haddad in every part of the country except the traditionally left-wing Northeast of the country. These are truly astounding margins. Let's look first at the trio of Brazil's southernmost states in Rio Grande do Sul he beat Haddad by 53% to 23%, in Santa Catarina by 66% to 15%, and in Parana by 57% to 20%.
In Brazil's second largest state, Minas Gerais, he swamped Haddad 49% to 27%. In his native Rio de Janeiro, he won 60% to Haddad's 15%, and even Ciro Gomes won more votes than Haddad.
Haddad can only take consolation in results from the historically poorer and less developed Northeast region. He won Pernambuco state by a convincing 48% to 31% margin, and swamped Bolsonaro in Bahia by 60% to 24%.
Ceara, capital Fortaleza, was the only bright spot for third place Ciro Gomes, who won his only state with 41% of the vote. Haddad trailed with 32%, and Bolsonaro came in with 22%.
Bolsonaro is wildly popular in most of the country, except for Brazil's northeastern quadrant. He will be the next president of Brazil, barring some unforeseen collapse in the next three weeks.
7:50PM It's hard to see a scenario in which Haddad could win the second round. Consider this: in his native Sao Paulo state, he lost to Bolsonaro 53% to 16%: Bolsonaro won 12.2 million to 3.8 million. Yikes!
7:20PM Libertarian Kim Kataguiri, running on the Democrats ticket, is the fourth most-voted deputy in Sao Paulo state, with 442,000 votes.
7:18PM Pollster Datafolha is officially predicting a second round election.
7:16PM Dilma Rousseff currently in fourth place in Minas Gerais Senate elections, with just 15% of the vote. It's a bad night for PT for sure.
7:10PM Results are still trickling in from Congressional elections, with just 29 of 52 Senate races called, and only 9 of 513 seats in the Chamber of Deputies.
7:05PM With 86% of the votes in, it is all but certain that this is heading to a second round, as Bolsonaro's support has fallen by around 0.5% to 47.6% of counted ballots. All eyes are on Minas Gerais where former president Dilma Rousseff is seeking a Senate seat. A loss there would be a stunning defeat for the Workers Party.
6:55PM A fun question for political oddsmakers: Will Trump tweet a congratulatory message to Bolsonaro? Reports have emerged that former top Trump adviser Steve Bannon has been informally advising the Bolsonaro campaign.
6:50PM 79% of votes are in. Bolsonaro has 48% to Haddad's 26.7%. At this point it is difficult to envision any scenario in which Bolsonaro loses the second round matchup in three weeks. Haddad would need to round up explicit endorsements from other candidates, most of whom are wary of the Workers Party. October 7 is an earthquake for Brazilian politics: everything has changed, and the Workers Party is not going to be running the country any time soon in any way, shape, or form. They have performed terribly in state elections, and Bolsonaro and centrist parties have all the momentum.
6:41PM With 72% of the precincts reporting, the "Tropical Trump" maintains a commanding lead with 48.1% of the vote, corresponding to 36.5 million votes. Haddad remains in second with 27% of the votes, or 20.5 million votes. Bolsonaro will come up just a few million votes shy of a first round victory, it appears.
6:33PM In the populous southern state of Rio Grande do Sul, along the Uruguayan border, two centrist candidates will face off in a second round for the state's governorship: Eduardo Leite of PSDB maintains a slight lead over José Ivo Sartori of MDB.
6:25PM With 65% of precincts reporting, Bolsonaro is at 48.5%, with 33.5 million votes. Haddad is at just over a quarter of voters, with 26.4%, corresponding to 18.3 million votes. Gomes comes in a respectable third, but it's an utterly devastating night for both Alckmin and Silva.
6:22PM Ironically, the individual who stabbed Jair Bolsonaro over a month ago in Minas Gerais may have played the greatest role in ensuring a Bolsonaro victory. It still looks like Bolsonaro will be somewhere in the 45% to 50% range, so he will face Haddad in a second round, but with this result, he's heading into October 28 with a full head of steam. Haddad would have to win virtually every voter who did not support either of them today. The real continues to strengthen from 4.2 to 3.8 to the USD, as investors factor in the high probability of a Bolsonaro victory.
6:15PM The exit polls or "boca da urna" are being reported as Bolsonaro with 45%, and Haddad with 28%. It's shaping up to be a great night for Bolsonaro, who is clearly soaking up support from the candidates of smaller, centrist parties, as evidenced by the almost total evaporation of centrist Geraldo Alckmin. A 17% margin is an impressive win for Bolsonaro, even if he doesn't triumph in the first round, as he predicted. Looks like the punishment still isn't over for the Workers Party, which is on track for dismal results in presidential, Congressional, and gubernatorial elections.
6:10PM  BOOM. With 53% of precincts reporting, Jair Bolsonaro is at 49%, way ahead of Fernando Haddad at 26%. Ciro Gomes trails badly at 12%, while centrist Geraldo Alckmin is already a non-factor at 4.8%. Brazil has taken a decided swing rightward, in what could put Bolsonaro in the presidency in the first round.
6:06PM  We should have preliminary presidential results in minutes. O Globo is reporting that Bolsonaro is performing well throughout the country, with the exception of the Northeast or "Nordeste" region, traditionally a Workers Party stronghold.
5:50PM  Political betmaker PredictIt is currently giving Bolsonaro an 83% probability to be the next president of Brazil, with Haddad at 21%, and third place Ciro Gomes at just 4%.
5:45PM  In remarks to reporters, Jair Bolsonaro stated, "If God is willing, we'll settle this today…We are on an upward trajectory and are confident that the Brazilian people want to distance themselves from socialism." Still, few analysts believe Bolsonaro's rise is sufficient to preclude a second-round matchup. However, Haddad is certainly watching the disappointing results of PT candidates in Brazil's most populous states. There is certainly a fair measure of nervousness at Haddad campaign headquarters.
5:30PM  Exit polls are currently showing PSC's Wilson Witzel leading with 39% in the race for Rio de Janeiro's governship, while former Rio mayor Eduardo Paes is in second place with 21%. Paradoxically, the governor's races offer a counterpoint to the expected results from the presidential race, with moderate and centrist candidates poised to govern Brazil's largest states.
5:01PM  In more bad news for the Workers Party, incumbent governor Fernando Pimentel is voted out of office, with outsider Romeu Zema leading in exit polls with 41%, followed by the PSDB's Antonio Anastasia at 29%. This is a tough loss for PT, and a further bad sign for Haddad, although there is not necessarily a direct correspondence between gubernatorial and presidential elections.
4:46 PM  Exit polls from the Sao Paulo governor's race show Joao Doria of PSDB leading with 31%, with Paulo Skaf of MDB and Marcio Franca of PSB in a close fight for second at 21% each. The PT candidate is in a distant fourth with 12%. It is certainly not a good sign for Haddad if his gubernatorial candidate in Sao Paulo state is barely in double digits.
4:28 PM  Everyone is still waiting for the first presidential results. The big question: will one of the centrist candidates like Alckmin or Silva have a surprise showing, or will Bolsonaro suck up the remaining oxygen and ride a generalized anti-Workers Party wave into the 40s? If Bolsonaro does pass the 40% mark, it will be an ominous sign for Fernando Haddad in the second round.
4:13PM  O Globo is reporting that former president Dilma Rousseff caused quite a stir when she went to vote in her native Minas Gerais with PT governor Fernando Pimentel: with some cheering the impeached president, and some jeering her. Dilma succeeded her political mentor, Lula da Silva as president, but was impeached by large majorities in both chambers of Congress in 2016.
4:05PM 21 Senate seats have already been declared, with the centrist MDB leading with 5, followed by center-left PDT and centrist PSDB at 4 each. The Workers Party has 2 Senate seats thus far. Based on early returns, it does not appear that the makeup of Brazil's Senate will change dramatically. Still waiting on first results from the presidential election.
3:59PM  Voting is obligatory in Brazil for everyone aged 18 to 70. Nearly 150 million Brazilians are eligible to vote. Those who do not vote, without demonstrating a legitimate reason, may face fines or inability to renew their passports and identifications.
3:51PM  Bolsonaro has made the extraordinary claim that he will win in the first round, which would require him to win 50% of the vote. Few expect that to happen, but the mere fact that he can contemplate such a bold claim shows the growing momentum gathering around his campaign…with Brazil's business community, and many political moderates wary of returning PT to power. If Bolsonaro gets to 40% that will be impressive, if he reaches 45% that would be extraordinary. A 50% first round win would be almost unprecedented, while anything below 35% would be considered a disappointment.
3:42PM  Brazil's population is heavily concentrated in the south: just three southern states (Sao Paulo, Rio de Janeiro, and Minas Gerais) make up slightly more than 40% of the population. Bolsonaro vs. Haddad is the classic Rio vs. Sao Paulo rivalry (in Portuguese "carioca" vs. "paulista")…Bolsonaro and Haddad will each do well in their home states, while vote-rich Minas Gerais (capital Belo Horizonte) will be pivotal, along with the trio of southernmost states: Parana, Santa Catarina, and Rio Grande do Sul.
3:38PM  The Workers Party (or PT as it's known in Portuguese) was devastated in the 2014 elections. While the leftist party dominated politics for the better part of two decades, Brazilian voters punished the party last elections for its endemic corruption. Currently, the party holds just 9 of 81 Senate seats, 61 of 513 seats in the Chamber of Deputies, and 5 of 27 governorships. PT will be looking to recuperate after dismal results in their last electoral outing.
3:30PM (EST)  Polls in Brazil are open from 8am to 5pm, local time. Most of Brazil's major cities, including Rio de Janeiro, Sao Paulo, Belo Horizonte, Fortaleza, and Salvador de Bahia, are one hour ahead of the Eastern Time zone, so in just half an hour results will start to trickle in. Bolsonaro has surged in recent polls, reaching the high 30s in several. He is widely expected to beat Fernando Haddad by a double digit margin. A 15 point margin would be respectable. Anything over 15%, approaching 20%, would be an embarrassment for Haddad, and a sign that moderates have eschewed the Workers Party in favor of right-wing Bolsonaro.