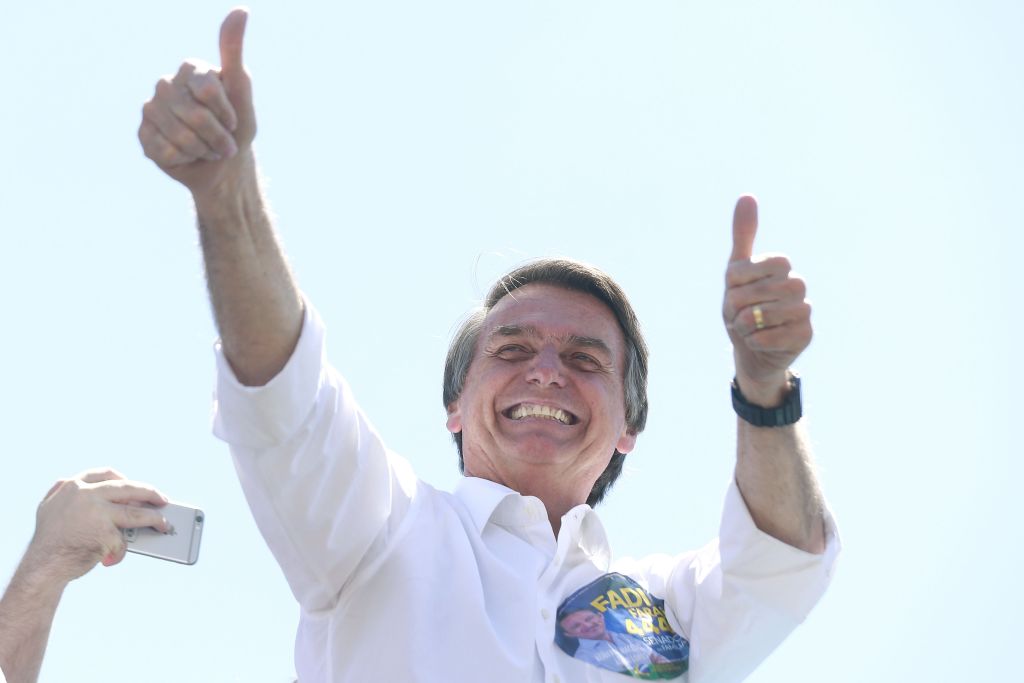 The so-called "Pink Tide" has suffered a precipitous decline in the last few years. Whereas once the loose leftist alliance of political parties dominated the Latin American region, it has now been reduced to four remaining hard-core Marxist states, flung haphazardly throughout the region, and which have little in common other than a socialist ideology: Cuba, Nicaragua, Venezuela, and Bolivia.
However, the left is cheering the recent election of Andres Manuel Lopez Obrador in Mexico, who will take office on December 1. And they could soon have further reason to cheer in Brazil, as most polling and political analysts suggest that the Workers Party candidate, Fernando Haddad, who has the blessing of imprisoned ex-president Lula da Silva, will defeat right-wing Rio de Janeiro Congressman Jair Bolsonaro in the presidential election.
The Haddad/Bolsonaro matchup is perhaps not a perfect metaphor for the 2016 Clinton/Trump contest, but the parallels exist.
Simply put, just like in the United States in 2016, there is an astounding chunk of the electorate in Brazil that views both candidates dismally.
Bolsonaro's support is holding, with two recent polls putting him at 31%. Haddad, on the other hand, has 21% in the Ibope poll and 24% with FSB Pesquisa.
Let's look first at former army officer Jair Bolsonaro. Just like Trump, he is often derided for what he says, rather than for what he does. He has a history of making offensive and controversial comments…a history that actually makes Trump look rather tame by comparison.
Among his most lurid comments, he has claimed that a colleague of his in Congress was "not pretty enough to rape", he has said that he could never love a gay son and would prefer that such a (hypothetical) son die in an accident, he has stated that the Brazilian military dictatorship should have killed more people, he has stated that he would attack two gay men kissing on the street, and he has deemed communities of descendants of escaped slaves living in the interior of Brazil to be worthless.
Needless to say, his unfavorability ratings are skyhigh with certain segments of the Brazilian public.
Bolsonaro has also never been charged with corruption, and has made law and order issues the centerpiece of his campaign. This resonates well with Brazilians who are fed up with skyrocketing crime rates, and the ever-present threat of violence in Brazil's major cities.
Essentially, many Brazilians (and not necessarily right-wingers) are willing to overlook Bolsonaro's history of extremely controversial statements (what he says), in the hope that all things being equal, Brazil will be better over the course of the next four years because of what Bolsonaro does (aggressively and ruthlessly target public corruption and crime).
Fernando Haddad, the former Sao Paulo mayor, is not personally despised by a large segment of the electorate, in the way that Bolsonaro is, but suffers from another problem: his close association with the corruption-plagued Workers Party.
The Workers Party once dominated Brazilian politics for the better part of two decades. Lula da Silva ruled for two terms, and his hand-picked successor Dilma Rousseff was elected twice. Then, the Workers Party fell out of favor with the Brazilian public. Dilma was impeached by overwhelming margins in both houses of Congress, and the Workers Party was mercilessly punished in the Brazilian elections.
The Workers Party went from a prominent role in Congress, in a governing coalition, to a small role in an opposition coalition. In the Senate, they currently hold just 9 of 81 seats. In the lower chamber, they hold just 61 of 513 seats.
Despite the punishment at the ballot box in the last elections in 2014, some Brazilians seem to have a short memory, and are prepared to return the Workers Party to power. This is aided and abetted by the enduring popularity and "everyman persona" of Lula, despite his numerous corruption charges, and the fact that he is currently serving a twelve year sentence for accepting a bribe.
In 2016, American voters had several choices apart from voting for either Clinton or Trump. They could simply not vote, and indeed, many of them stayed home. They could vote for a third party candidate, or write in a candidate. Some Republicans, who could simply not bring themselves to vote for Trump, and would never vote for Clinton, wrote in John Kasich.
There is a major difference between Brazilian and American electoral law that changes the dynamic: first of all, voting is mandatory in Brazil…as Brazilians who don't vote may incur a fine. Second, the Brazilian presidential elections, like most Latin American systems, feature a two-round system.
So, in the first round, Brazilians have a choice beyond the far-right and the far-left. They can choose among center-left Ciro Gomes, centrist environmentalist Marina Silva, or business friendly Geraldo Alckmin. However, in a troubling sign for Brazil's democracy, the moderates are tanking. Silva, once a powerful force in electoral politics, is scraping by in the low to mid single digits, while Alckmin and Gomes are stalling at right around 10 percent, with no polls showing a possible breakout for either of them.
In the second round, where a Bolsonaro/Haddad matchup is all but certain, many are likely to spoil their ballots.
Brazil is thus left with two unpleasant choices: return the utterly corrupt and shameless Workers Party to power, or elect a president who (for whatever reason) has repeatedly and aggressively insulted half of Brazil's population in one way or another.
Brazil desperately needs an alternative: a candidate who truly advocates for free markets, free minds, and free people.