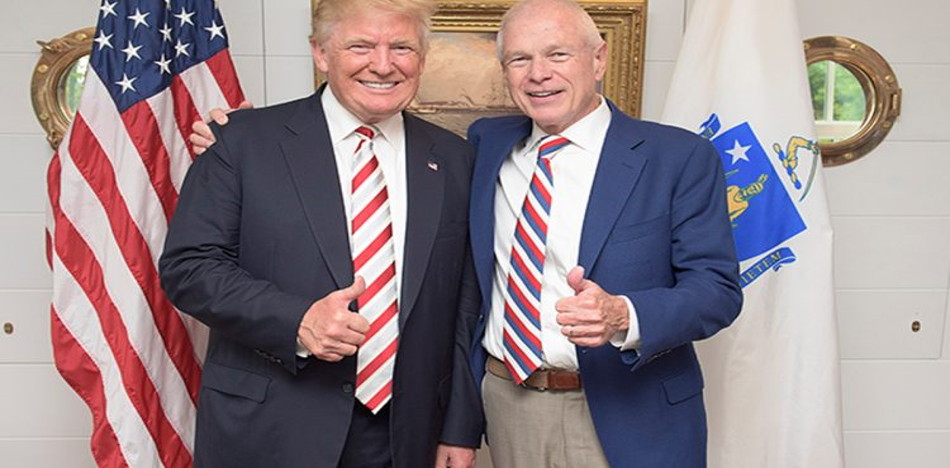 Today, Boston radio host Howie Carr celebrated his 25th anniversary broadcast. With his acerbic wit and encyclopedic political knowledge, Carr has been a perpetual thorn in the side of the Massachusetts establishment for decades. Carr cut his teeth as a political reporter at the Boston Herald, who focused on Boston crime boss Whitey Bulger, the subject of the film Black Mass, in which Bulger is portrayed by Johnny Depp.
Carr is currently ranked #14 on Talkers Magazine's "Heavy Hundred" behind such household names as Rush Limbaugh, Sean Hannity, Howard Stern, and Glenn Beck.
A hundred adoring fans turned out in Hudson, MA, 30 miles west of Boston, to see Carr broadcast live from 3pm to 7pm, along with his cohost Grace Curley.
For many diehard Howie Carr fans, he has guided us through some of the most pivotal events in Boston and New England, and beyond. The undisputed king of Boston talk radio, Carr has little patience for political correctness, the Democratic Party machine that runs the state, and the political "hacks" who worm their way into the public payroll.
He is a tough critic, on both sides of the aisle, who delights in skewering mainstream Republicans like Jeb Bush and Chris Christie. During GOP primaries in pivotal New Hampshire, he is never one to shy away from asking the tough questions that the mainstream media won't touch.
When I had the opportunity to call into his show, before the 2012 GOP primary, I asked him pointedly: "Is there a candidate more faithful to the Constitution than Ron Paul?" Carr responded…probably not…but was sufficiently uncomfortable with Paul's foreign policy and drug legalization views to preclude voting for him.
When the Boston Marathon bombs exploded, at 2:49pm, Carr was on the air 15 minutes later, as police began the search for the suspects, and eventually zeroed in on the Tsarnaev brothers. Howie was a delight to listen to, as he cued up Governor Deval Patrick's hilarious inept and obsequiously politically correct press conferences on the subject, as Patrick repeatedly bent over backwards to disassociate the attacks with Islamic terrorism. (Patrick later confessed that he responded by drowning his sorrows in alcohol and duck confit.)
Carr has reveled in taking on hypocrisy and corruption, and the Democratic Party which feeds on them.
As an early backer of Donald Trump, at a time when few prognosticators placed much faith in the brash billionaire, Carr peered into the crystal ball when few in the establishment held out any hope for the Trump candidacy. Never one to concern himself with political correctness, Carr introduced Trump at a June 29, 2016 rally by referencing Elizabeth Warren's dubious claims of Native American heritage by making a traditional "war whoop."
Fundamentally, Carr is a libertarian at heart, who understands that the government that is the best is that which governs least. He has been relentless in highlighting the cesspool of waste, fraud, and greed at Beacon Hill, and has gone after Massachusetts Republican governor Charlie Baker for his wishy-washy approach to dealing with the Democrats who dominate the state legislature.
During today's 25th anniversary program, there was plenty of hypocrisy in the mainstream media to go around. Case and point: Nikki Haley, and the $57,000 curtains.
The New York Times drew up a headline erroneously blaming Haley for the purchase of $57,000 curtains at the official residence of the US Ambassador to the UN in New York, when in reality, the decision was made by the Obama administration in 2016, long before Trump's election, and even longer before Haley's selection as UN ambassador.
Their comrades in arms at the Washington Post were even forced to comment on the matter, proclaiming that "New York Times wrongs Nikki Haley with curtain headline," and the venerable Big Apple institution was forced to issue a retraction.
Carr, hosted former US Attorney Joe diGenova for another segment, in which they riffed on the fool's errand that the "Russia Collusion Investigation" has become. The mainstream media has breathlessly awaited anything that would amount to a shred of evidence of collusion between the Trump campaign and the Kremlin, while ignoring considerable evidence that Hillary Clinton did collude with Russia to get dirt on Trump.
Carr, a prolific author, has written extensively about politics and organized crime, with a special focus on the Kennedy dynasty, and the Irish mob outfit the Winter Hill gang, headed by Whitey Bulger, with two of his books "Hitman" and "The Brothers Bulger", reaching the New York Times best seller list.
Love him or hate him, Carr has reached the status of a veritable Northeast institution…providing a valuable counterweight to the steady stream of taxpayer-funded left-wing propaganda provided by dozens of NPR affiliates throughout the region.
Here's to hoping that Carr has several decades left to continue to irritate the Northeastern left-wing political establishment.