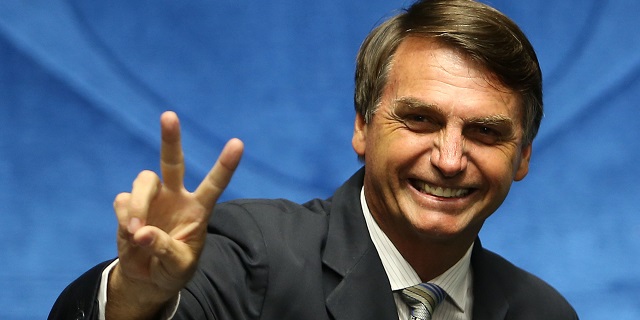 Social scientists have long discussed the way in which betting markets are often better predictors of electoral outcomes than polling. After all, people put their money where there mouth is. For observers of Brazil's tumultuous political scene, said markets are offering valuable insights in the wake of right-wing candidate Jair Bolsonaro's vicious stabbing on Friday, September 7.
Bolsonaro has rocketed to the front of the pack, according to the international political betting market PredictIt, leaving centrist and leftist foes in the dust, and markets have all but completely discarded the possibility of a Lula da Silva candidacy.
The popular former president, who is currently serving a twelve year prison sentence for corruption, had led in most polls this year. The Supreme Court recently ruled that he can not run, paving the way for former Sao Paulo mayor Fernando Haddad to run as the Workers Party candidate in his stead.
Under Brazilian electoral law, a candidate must win a majority in the first round, or the top two candidates face off in a second round election. Brazil will be holding its presidential election in less than a month, with the first round scheduled for October 7, and the likely second round for October 28.
40 year old Adelio Obispo de Oliveira has been charged with the attack. He has an active presence on social media, where he has frequently been associated with left-wing causes, but mental health issues appear to have played a role in the attack as well. Obispo de Oliveira allegedly claimed that he was acting on orders from God when he committed the attack.
Bolsonaro suffered deep stab wounds, reaching his intestines and liver, and lost over 40% of his blood. He is currently recuperating at the Albert Einstein Hospital in Sao Paulo, as his campaign is on hold…yet he continues to rise in the polls, and his opponents have understandably taken their attacks on him off of the airwaves.
Ironically, de Oliveira's vicious and senseless attack may very well do more to get Bolsonaro elected the next president of Brazil than any corruption scandal, ad campaign, debate performance, or public policy proposal ever could. And that is an issue that is troubling libertarian-minded people in Brazil, who feel trapped between a rock and a hard place.
Bolsonaro, who currently represents Rio de Janeiro state as a deputy in Congress, has capitalized on public outrage over crime and corruption. Often called the "Brazilian Trump," he has staked out a hardline position as a law and order candidate, particularly supportive of militarizing the restless and crime-ridden favelas that ring many of Brazil's major cities.
During a recent trip to Brazil, I spoke with many people in Rio de Janeiro state, and the support for Bolsonaro was surprisingly palpable. Bolsonaro is hardly the type of candidate who encapsulates the spirit of the "cariocas" as people from Rio de Janeiro are known colloquially. He is a devout evangelical Catholic who has been accused of racist, sexist, and homophobic statements, expressed admiration for Brazil's military dictatorship from 1964 to 1985, and been openly supportive of largescale military invasions of parts of major Brazilian cities.
Rio de Janeiro is, of course, famous for its laid-back beach culture, elaborate Carnaval celebrations, and party hardy attitude. Bolsonaro may be a surprising figure to rocket onto the national political stage representing Rio, but the enthusiasm is real, and despite some of his questionable personal rhetoric, his supporters point out that he is one of a handful of politicians who has had absolutely no allegations of corruption against him during his tenure in public life.
For Workers Party candidate Fernando Haddad, the timing couldn't be any worse: he was charged with corruption just last week…in what has amounted to a nightmare one-two-three punch for the Brazilian left:  1. Their star candidate Lula is prohibited from running. 2. Haddad is charged with a pay-to-play type corruption charge related to his time as Sao Paulo mayor 3. Bolsonaro gets stabbed and almost dies…leading to a major jump in the polls.
Yes, there is no sugarcoating it. It is a terrible time for the Brazilian left-wing. Of course, most political analysts would say they have only themselves to blame.
The question on everyone's mind now is…where do the Brazilian people turn? Where will free-market-minded libertarians turn? Bolsonaro has made some statements that have encouraged investors and given indications that he would take a laissez-faire approach to the economy. But for many believers in free markets, free minds, and free people, voting for Bolsonaro would be an anathema.
The Workers Party, with a fundamental outlook rooted in socialism, is also not a viable option for libertarians.
That leaves centrist former Sao Paulo state governor Geraldo Alckmin and environmental activist and former Acre Senator Marina Silva, both of whom harbor some libertarian views.
Alckmin is a business-friendly pragmatist who is generally viewed favorably by investors, and has called for lower taxes, smaller government, and defended labor reforms undertaken by current lameduck president Michel Temer.
Silav, while coming from a left-wing background, is something of a political maverick who publicly broke with the Workers Party and left it to form her own political movement. Silva remains personally popular, particularly with younger voters, and urban working professionals, and has won high marks for her anti-corruption initiatives and views on sustainable development.
Curiously, in the last presidential election in 2014, she publicly backed center-right Aecio Neves against Dilma Rousseff, in an election that saw Rousseff win reelection by just 2 points.
The latest poll from FSB Pesquisa, and the first taken after the stabbing, puts Bolsonaro in first with 30%, followed by leftist Ciro Gomes from the Democratic Labor Party at 12%, followed by a three-way tie for third place, with Alckmin, Silva, and Haddad each at 8%.
Alckmin may prove the ultimate beneficiary from the sharp rise of Bolsonaro's candidacy: if Haddad fails to gain traction, Alckmin may emerge as the anti-Bolsonaro candidate for those who are afraid of such a presidency.
What is certain is that Brazil is going to face one of the most tumultuous elections in its history. At this point it looks like we are headed for either a Haddad-Bolsonaro or a Alckin-Bolsonaro matchup.