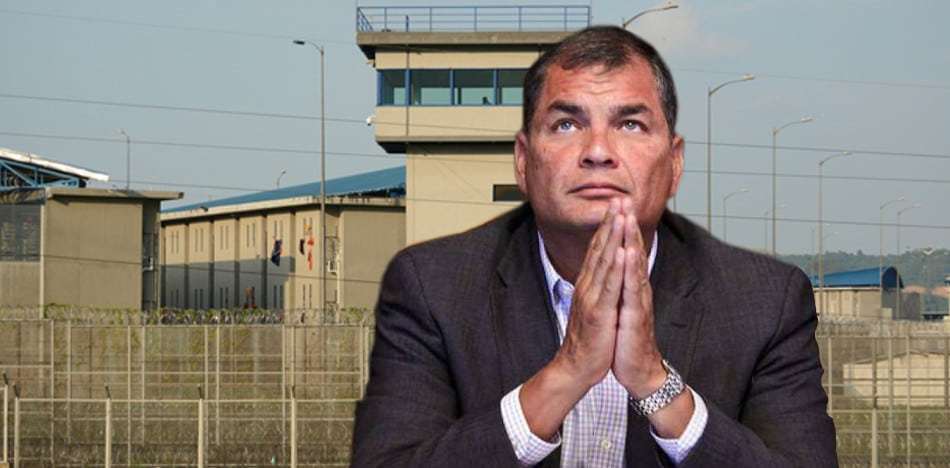 Rafael Correa came to power as an outsider and reformer, a man who pledged to rid Ecuador of corruption, and right the economy. During his eleven year tenure as president, he presided over an era of economic stability buoyed by soaring oil prices, but came under fire for increasing authoritarianism, media censorship, and corruption.
When former vice president Lenin Moreno was elected in 2017, many expected Moreno to serve as something as a placeholder for Correa, who left the country to work in academia in his wife's native Belgium. Nothing could have been further from the truth.
Moreno proved to be his own man, and swiftly proceeded to chart his own course, commencing with a vigorous prosecution of his own vice president Jorge Glas, who was a close and loyal Correa associate. Glas was sentenced in December 2017 to six years in prison for corruption related to the widespread Odebrecht scandal.
Next, Moreno put a popular referendum to the Ecuadorean people which was clearly designed to frustrate any attempt by Correa to return to power: the measure, which was approved by 64% of the Ecuadorian voters, limits presidents to two terms, blocking Correa from running in the 2021 presidential election.
Moreno has proved to be a centrist leader, who has correctly opposed the Correa monolith for its attempt to implement one party rule in Ecuador. Moreno has clearly broken with his former mentor, in both a personal and political capacity, because of his concern for the direction of the country. As Moreno has argued, "Corruption sets in when you have only one government that thinks it will stay on forever."
The most serious charges against Correa involve allegations that he took millions in cash from the Colombian FARC guerrilla group to finance his campaigns, and in exchange gave them free run along the Colombian-Ecuadorian border. The Moreno administration is also investigating these claims.
Correa, like many Latin American leaders of all political stripes before him, had embarked on a political project to turn Ecuador into his own personal fiefdom. He remains popular with the hard-left, but all indications are that Moreno has the support of the Ecuadorian people, who tired of more than a decade of increasingly authoritarian rule on the part of Correa.
Opposition leader Guillermo Lasso, who narrowly lost to Moreno in 2017, has suggested that many of Moreno's policy proposals are ideas that were, in fact, taken from Lasso's campaign.
Correa now faces the most serious threat yet to his legacy. After he failed to present himself to an Ecuadorian court on kidnapping charges, an Ecuadorian judge has issued a warrant for his arrest, as well as an Interpol red alert. The case involves a kidnapping on Colombian soil, allegedly at the behest of Correa, of Ecuadorian politician Fernando Balda in 2012.
Balda fled Ecuador after denouncing Correa's extensive domestic surveillance program.
Correa denies all the charges, and says that the case is a politically motivated plot to prevent him from being involved in the country's political affairs. He has placed the blame at the foot of his former ally Moreno.
"It hurts me to say this but Ecuador is seen again as a Banana republic. No serious country will take into account an order for detention that is so clearly political, illegal, and absurd. Especially Belgium," said Correa, who currently lives in a Brussels suburb.
"But people are very nervous: my friends, my family, our militants…they say there will be a red notice from Interpol, they will capture Correa, extradite him and put him in jail in the Ecuadorean dictatorship. This is not possible. Nothing of this absurdity will happen, especially here in Belgium where there are a lot of guarantees. We are safe here. Nobody needs to worry about me, we need to worry about the country."
Extradition from the European Union can be a difficult and complicated matter, which Ecuadorian authorities undoubtedly realize. Correa, however, has publicly stated that he is investigating the possibility of requesting asylum in Belgium. This type of case would present serious difficulties and challenges for the Belgian government.
As it stands now, it appears that Correa will do everything within his power to remain indefinitely on European soil.
One thing is clear: the Correa era is over in Ecuador, and for many Ecuadorians, that is a relief. While Correa, an American-educated economist, presided over economic growth and stability, he also left a legacy marked by serious and pervasive corruption and nepotism, authoritarianism, domestic surveillance, a chilling effect on freedom of speech and the press, financial irregularities, and external debt.
Currently it appears that Moreno will cruise to reelection in 2021. And the era of Correa's socialist corruption is over.