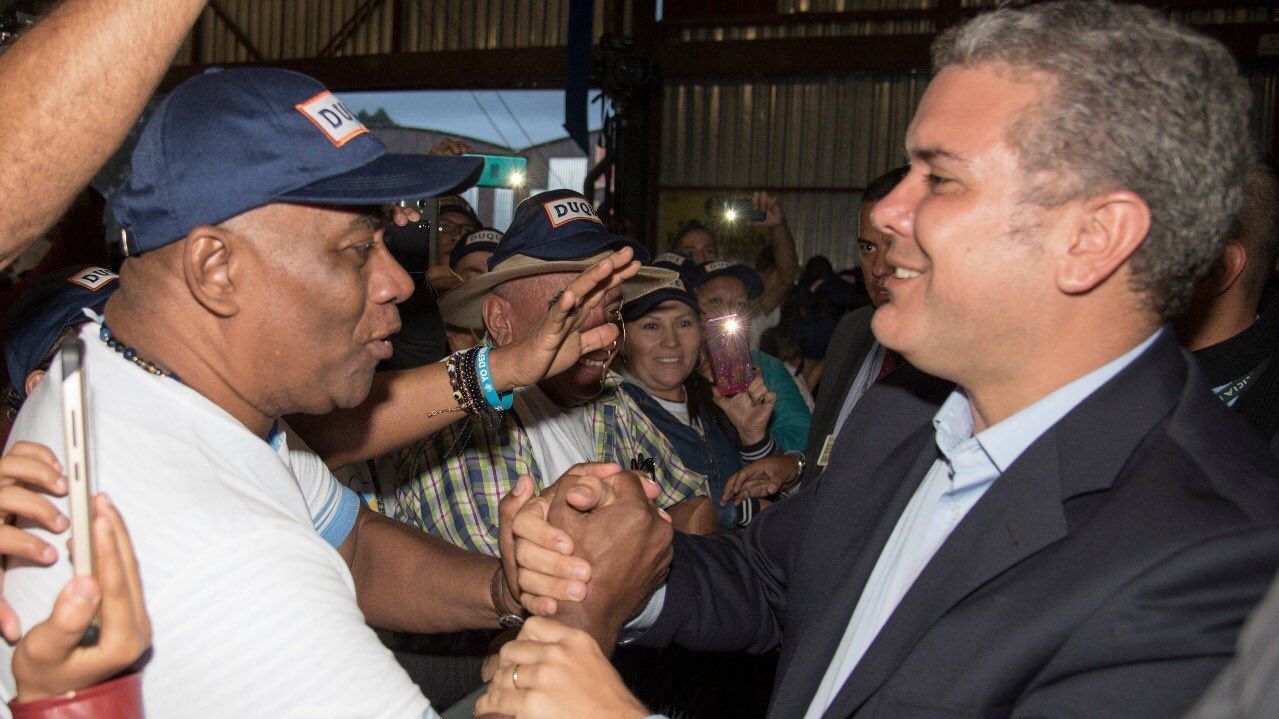 Centro Democratico presidential candidate Ivan Duque won 39% of the vote in this weekend's Colombian first round presidential election, besting leftist former Bogota mayor Gustavo Petro by 14%. However, he is all but certain to expand upon this impressive margin in the June 17 second round election, and will head into the 2018-2022 presidential term with a significant mandate from the Colombian people, coupled with a considerable capacity for Congressional support for his agenda.
The Sergio Fajardo situation
Despite calls from some of his supporters to back Petro, for now center-left Sergio Fajardo has announced his neutrality and has thus pledged to support the "voto en blanco" or "none of the above" option. There appear to be three reasons for this.
First, by all appearances Fajardo never really had much affinity for Petro on either an ideological or personal level. Petro has been famously combative and passive-aggressive even with his ideological allies. Secondly, because he knows Petro is going to lose, and backing a losing candidate will do little to increase his status for a future political contest. Thirdly, an endorsement might backfire and detract from his vaguely aloof, professorial, centrist persona. It certainly appears that most Colombians would rather Fajardo simply wave this one off, and let his followers vote their conscience.
Fajardo's Voters
Of all the candidates, Fajardo performed the best compared to what the polls predicted, only narrowly losing to Petro for second place, with 23.7% of the vote, to Petro's 25.1%. The Duque campaign likely breathed a sigh of relief. Polls have generally shown Duque to easily best Petro in a second round matchup, but indicate Fajardo would offer tougher competition.
Now, simply put, Fajardo voters will not necessarily back Petro, even if on paper, it appears that they would be more ideologically aligned with Petro than Duque.
Duque state by state
Despite the general media spin, which suggested that Duque's performance was modest and unremarkable (many citing the fact that he fell short of 40%), the reality is that Duque again proved his power at the ballot box, winning 23 of Colombia's 32 states. Petro took only 9 states, generally located in remote and economically disadvantaged areas, while Sergio Fajardo won only the capital district of Bogota.
In a crowded four-way race, Duque won an outright majority in seven states: Norte de Santander (61%), Casanare (60%), Arauca (56%), Vichada (53%), Antioquia (53%), Huila (53%), and Caqueta (52%).
In a further three states, he won more than 45% of the vote: Meta (49%), Tolima (49%), and Guaviare (46%).
And, in a whopping eleven states, Duque won over 40% of the vote: San Andres (44%), Santander (44%), Cesar (43%), Caldas (42%), Quindio (42%), Bolivar (41%), Boyaca (41%), Guinia (41%), Risaralda (40%), and Cundinamarca (40%).
By contrast, Petro won more than 50% of the vote only in tiny Putumayo, where he took 60%, and more than 45% only in Colombia's volatile southwestern states of Cauca (49%) and Narino (46%).
Petro: Collapse on the coast
The real story of the night (despite what the pundits focused on) was not that Duque fell just short of 40%; it was that Duque had a remarkable showing on the coast, while Petro fell flat.
At this point it would take a miracle for Petro to win, and the latest poll gives Duque a comfortable 20 point lead (55% to 35%), heading into the June 17 second round election.
Duque won vote-rich Bolivar state (home to Cartagena), and its eastern neighbor Magdalena state (home to Santa Marta). Furthermore, he had a strong showing in Atlantico (home to Barranquilla).
However, here is what is certainly extremely troubling for the Petro campaign. If you analyze the numbers from Atlantico, Petro bested Duque 38.5% to 27.2%…a comfortable 11% margin. However, centrist former vice president German Vargas Lleras won third place with 20% of the vote. Fajardo had less than 10%.
It is reasonable enough to assume that the vast majority of Vargas Lleras's support will now go to Duque. Let us assume, for purposes of argument, that Duque takes 80% of Vargas Lleras's voters, and only 40% of Fajardo's, while 20% vote "en blanco", and another 40% back Petro. That would give Duque a slight 48% to 47% lead in vote-rich Atlantico.
Bottom line, if Petro can not even win in Atlantico, it will be a disastrous night for him.
Marta Lucia Ramirez
One factor that has been little discussed in the media, but which may play a significant role, is the issue of vice presidential nominees.
Marta Lucia Ramirez, who was originally the candidate of the Conservative Party, is a popular and experienced politician, with a considerable political following in her own right, who placed a strong third in the first round of the 2014 presidential election. She has served in a variety of posts, including Senator, Minister of Foreign Trade, Minister of Defense, and Ambassador to France.
She is generally regarded as a moderate and a pragmatist, and could be a deciding factor in ushering centrist voters to the Duque ticket.
Petro's vice presidential nominee Angela Maria Robledo, on the other hand, is a little-known two-term congresswoman who is unlikely to add much of a boost to the ticket. In a sign of how little she is known outside of Colombia, she does not even have an English language wikipedia page.
While little polling is typically done regarding the importance of vice presidential picks for the voters, it is not unreasonable to assume that the vice presidential spot could provide a further boost for the Duque ticket.
Bogota: Petro's Last Stand
Sergio Fajardo performed poorly on Colombia's densely populated Caribbean Coast, but he fared well in the capital. In fact, it was the only place he won…in a tight three-way horse race with Duque and Petro. Fajardo won over 1.2 million votes (or 33.8% of the vote), to Petro's 1.1 million (29.9%), with Duque coming in a close third at just under one million votes 26.8%.
If the Petro campaign is to have any hope at all, they must hope and pray for a big boost from Fajardo-backers in Bogota. Bogota and Atlantico will play important roles: Petro can not merely equal Duque there. To have any hope of winning, he must win there, and win large.
Particularly given Fajardo's failure to back him this past week, it appears unlikely that Petro will enjoy the kind of boost he needs from Fajardo backers to pose any credible threat to Duque.
Where did Petro go wrong?
Petro would need absolutely everything to go right over the next two weeks, in order to have any prayer of winning.
Duque has run a strategic campaign, he has the presidential look, and he enjoys the strong backing of Colombia's most popular former president Alvaro Uribe.
Antioquia, the Coffee Zone, and the Eastern Plains are Duque strongholds
The Venezuela situation is playing right into his hands, and a quick consultation of the electoral map shows how the Colombian/Venezuelan border region has strongly backed him. It's no surprise that Duque won his highest vote total (61%) in Norte de Santander, the state that has been most affected by the Venezuelan economic and political crisis, and massive refugee inflows.
Fundamentally, Petro is just too unpopular with too much of the Colombian electorate, and in too many parts of the country, to have had a real prospect of winning. His performance in Antioquia and the Coffee Zone was abysmal. As expected, he fared poorly in the eastern plains, and large mountainous states in the southern-central part of the country like Tolima and Huila.
At heart, Petro won the most economically depressed regions of the country; generally coastal regions, while Duque absolutely dominated in the mountainous "altiplano."
Petro will do everything he can over the coming two weeks as he seeks to win the hearts and minds of Colombia's mountain and plains dwellers…but it is unlikely to be enough.