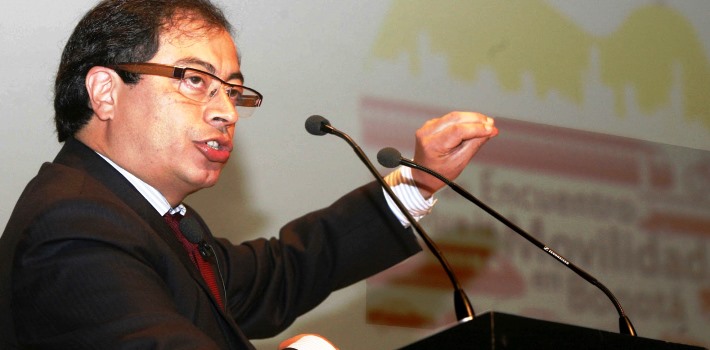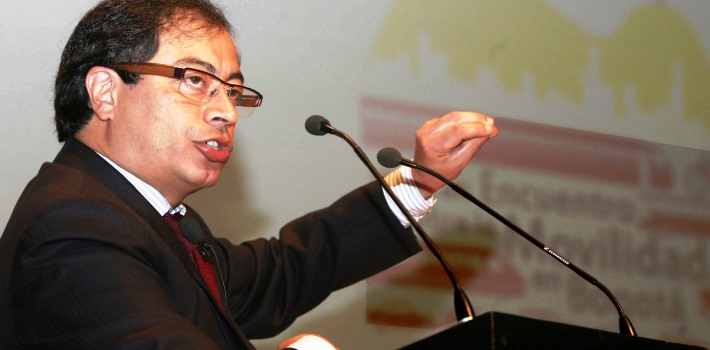 The so-called "Pink Tide" has been receding, of late, in Latin America; yet several of the region's economic giants appear to be bucking that trend.
In Mexico, perennial presidential candidate AMLO (Andres Manuel Lopez Obrador) has consistently led in the polls against his center and center-right challengers from PRI and PAN. In Brazil, former two-term president and Workers' Party founder Lula da Silva is leading in the polls, despite significant allegations of corruption, and his potential imprisonment. And in the Andean giant of Colombia, former Bogota mayor Gustavo Petro, generally considered to be the most left-wing viable candidate in the field, has been leading in most polls in 2018.
Petro served as mayor of Bogota from 2011 to 2015, besting current mayor Enrique Peñalosa in a crowded field, with 32% of the vote. His term was marked by major disruptions in sanitation services and a recall effort that was eventually overturned by the courts.
In this year's Colombian presidential race, it would appear that the left and the right have zeroed in on their preferred candidates. While Petro has found a successful strategy for sucking up fellow left-wing candidate Sergio Fajardo's political oxygen, Ivan Duque appears now solidly in control of a scheduled March 11 center-right primary in which he will square off with former attorney general Alvaro Ordoñez, and former Defense Minister Marta Lucia Ramirez.
Ramirez placed a disappointing fifth in the latest poll at just 6%. While once considered the center-right frontrunner, her prospects of topping Duque now appear to have faded. Center-right former vice president German Vargas Lleras, at 8%, and top FARC peace negotiator Humberto de la Calle, at 4%, also appear to have dismal prospects of reaching a potential second-round election.
Under Colombian electoral law, if no candidate receives either a majority or 40% of the vote with a 10 point margin of victory in the May 27 first round election, then the top two candidates will face off in a June 17 second round election.
According to current polling, Petro appears headed for the second round. He's drawn large crowds from the Caribbean Coast to the Ecuadorian border and has become an inspirational figure for the Colombian left. It once appeared that more center-left figures were the "flavor of the month" so to speak: outspoken senator Claudia Lopez was the torch-bearer for the Colombian left and took social media by storm for much of 2017, but as the campaign season heated up Sergio Fajardo eclipsed her, and became the standard-bearer for a broad center-left coalition.
The Left's New Darling 
What has prompted the Colombian left–which has never had much electoral success in Colombia–to shift their allegiance from Fajardo to Petro?
Monday night, I had the opportunity to attend a campaign event with Bogota's artistic community, located in the neighborhood of San Felipe. Petro gave a one and a half hour speech, and then fielded questions from a young audience, mainly about his campaign proposals for stimulating and strengthening the arts nationwide, similar to what he attempted to do as mayor of Bogota.
Petro's speech began with an analysis of the question of violence, and specifically political violence, in Colombia, beginning with the longstanding feuding between the traditional bastions of political power: the Liberal and Conservative parties. He then compared Colombian history to American and European history, noting that even with the rupture of the American Civil War, and the implicit violence in Manifest Destiny and America's western expansion, the United States was largely able to escape the specter of political violence, and live in tranquility despite political differences.
Petro's critics label him an ally of authoritarian leftist governments in the region, such as Venezuela's Nicolas Maduro, Cuba's Raul Castro, and Nicaragua's Daniel Ortega. Alvaro Uribe's Centro Democratico party has been fond of using the term "castrochavismo" to describe the ideology of Petro.
Petro bristles at the term and suggests that he is entirely in opposition to the Venezuelan economic model because it is unsustainable and excessively reliant on oil, to the detriment of both the Venezuelan economy and the environment.
Petro has long been a critic of extractive, commodities-based economies, and has railed against Colombian oil and mining industries. His campaign proposals, however, do not suggest how he would propose to replace the jobs, revenue, and export earnings provided by these industries, which constitute a significant chunk of Colombia's GDP.
When queried as to his position on increasing funding for the arts, Petro pledged to do so, but argued that this must be undertaken in conjunction with the educational system: there must be a "synergy" between the two, as he put it.
He also spent a fair amount of time detailing the particulars of his plans on intellectual property and creative industries, or the "economia naranja" as it is often termed in Colombia. This is also an area where his potential rival, Senator Ivan Duque, has made a name for himself in the legislative and public policy realm.
Petro, in general, seemed wary of making any sweeping campaign promises in front of an audience who often demanded more government support for the arts, but generally received a favorable response.
At one point, a young woman noted that the government currently spends only 0.5% of GDP on the arts, and demanded to know why Petro had not pledged to commit more resources to the arts, even when he had prioritized the field during his 4-year tenure of Bogota. Another young man asked why artists have to pay much more to buy their equipment here in Bogota than they would in New York, noting that a high-end camera that costs COP $5.000.000 in Bogota, costs only COP $3.000.000. in the U.S.
Petro took the questions in stride, but at the end of the day largely blamed conservative land-owning forces in Congress, the "latifundistas" as he repeatedly called them, for the nation's woes, and noted that traditional forces in Congress have stymied reforms.
Which leads to the strangest part of the evening, in which he professed the need to assemble a "Constituyente", or Constitutional Assembly, in order to push through necessary reforms, allegedly stifled and thwarted by the legislative branch. Colombia's last Constitution was written in 1991, and at least in comparison to its peers, has enjoyed some degree of longevity.
Two questions immediately came to mind: how exactly, would the members of the Constituent Assembly be determined? And what could be done to avoid the pitfalls of the Venezuelan Constituent Assembly, which was widely regarded by the international community as a pretext for a coup against a duly elected legislative branch?
The wildly unpopular Chavez used a Constituent Assembly, first in 2000 to remove term limits, and undo welfare reforms. His even more unpopular predecessor, of course, used a kangaroo "Constituent Assembly" packed entirely with regime loyalists, to negate the results of an election won by the opposition.
And, of course, what are the steps to ensure that the Colombian people are on board with rewriting the Constitution? Presumably, the Constitution of 1991 has some kind of requirement for a referendum in order to dissolve the current Constitution?
A referendum put to the Colombian people at this point appears a risky proposition, particularly given the extremely close and unexpected defeat of the peace agreement in 2016.
Spending three hours with Petro, reminded me very much of my first impression of joining current Ecuadorian president Lenin Moreno on the campaign trail. Are they socialists?
Maybe. Probably.
Moreno has said he comes from the same "socialist tendency" as his predecessor Rafael Correa, but the two have since had a very public falling out, and Moreno now seems to be more popular with the right-wing opposition, than he is with the correistas.
Petro has eschewed the term "socialist" for "progresista" or "progressive" and has taken pains to distance himself from the Venezuelan and Cuban governments which are, of course, rather unpopular in Colombia.
Ultimately, it is difficult to tell if Petro's rejection of the Venezuelan disaster is out of sincerity or political expediency. His supporters claim that he will promote social justice, economic fairness, and fight back against the same ruling families and oligarchy that have held back the country. His detractors, on the other hand, claim that his election would turn Colombia into another Venezuela and destroy the economy.
As Petro himself noted, even if he wins the presidency, the same center-right parties, such as Centro Democratico, Partido de la U, Partido Conservador, and Cambio Radical, will still control the legislative branch: so it's not as if Petro would have anything like free reign to ram through his platform.
Three hours of Petro left me with the feeling that while he is not rabidly anti-free-market, he has developed a deep suspicion of free-markets on both the environmental and economic inequality fronts: in Petro's mind, unchecked capitalism will lead to concentration of wealth, greater inequality, and destruction of the environment.
At any rate, if Petro reaches the second round against Duque, or possibly Fajardo or Vargas Lleras, in a much less likely scenario, Colombia is certain to face a very close election and a deeply divided electorate.
The Andean region, from Venezuela to Colombia, and Peru to Ecuador, has had nail-biter elections for the better part of a decade, and a Duque-Petro contest would be no exception.
Duque, by far the youngest candidate of the crop, at just 41, has been making the "Center" component of Centro Democratico, a key part of his campaign, and trying to convince the Colombian people that CD is, in fact, a moderate political party.
Likewise, Petro is seeking to convince his many doubters that he is not an agent of the so-called "castrochavismo."
With the election now merely three months away, it remains to be seen if Duque and Petro will continue to top the polls, or if Fajardo or Vargas Lleras can "right their ships", so to speak, and force their way into the second round.