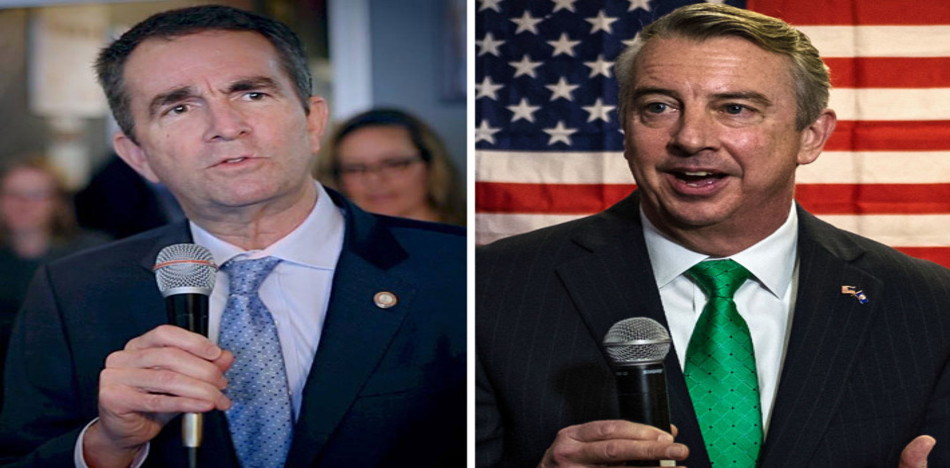 The Democratic Party finally has something to celebrate. After four consecutive post-Trump defeats in Congressional special elections, (including two promising pick-up opportunities in Montana and Georgia), last night's Democratic sweep appeared to be a rejection of Trump and an indication of the ability of the party to rally the base and push back against Trump's agenda.
In New York City, Democrat Bill deBlasio was reelected by wide margins against token opposition, while Democrat Phil Murphy coasted to a 56% to 42% victory over lieutenant governor Kim Guadagno, who was indubitably weighted down by the 8 year tenure of highly unpopular governor Chris Christie, whose last approval rating was 14%.
But all eyes in the nation were really on Virginia, where polls had showed an increasingly tightening race between lieutenant governor Ralph Northam and former RNC head Ed Gillespie. In the end, what had been expected to be a close race, proved to be, for all intents and purposes, a blowout, as major networks called the race for Northam within 90 minutes, as he won by more than an 8% margin.
In the Virginia House of Delegates, which Republicans had once controlled by a comfortable margin, Democrats made massive gains across the state. Several seats are still too close to call, but at last count Democrats hold 48 seats to the Republicans' 47 seats, a gargantuan gain of 14 seats for the Democrats.
So. What happened on November 7?
Yes. Republicans should not sugarcoat it. As Barack Obama famously said after the Democrats' abysmal defeat in the 2010 midterm, this was a "shellacking." It was, to some degree, a backlash against Donald Trump and his policies. The mainstream media will, undoubtedly, seek to emphasize the degree to which the results can be attributed to this anti-Trump backlash.
However, the Republicans should not despair just yet. These results were hardly unexpected. Indeed, the main story line over the past week was an unexpected surge in the polls for Gillespie. In the end, it was widely expected that the Democrats would retain the governor's mansion in Virginia, and pickup New Jersey, and of course deBlasio's victory was set in stone months ago when he avoided indictment over campaign finance charges and failed to attract a viable Republican challenger.
Virginia's gubernatorial race was, of course, the biggest prize of the night. How did the polls get it so wrong? Why did the Gillespie surge never materialize as the polls had predicted?
That is a difficult question to answer, but it is clear that a new administration, particularly one as outspoken and controversial as Trump's, can have a powerful effect on rallying the base. On the personal level, Northam's image as a kindly pediatrician may have also been a major boost and favorable contrast to Gillespie, the ultimate Washington insider and super-lobbyist.
The Virginia Democratic party has also been aided by two recent phenomenon: the explosion in growth of the federal government under Barack Obama, which has seen accompanying federal government contractors and employees moving into vote-rich northern Virginia; and a new policy that allows convicted felons to vote.
Virginia is one of eleven states that prohibits those with felony convictions from voting, and the Virginia Supreme Court invalidated a measure by Governor Terry McAuliffe that would have restored voting rights to 200,000 individuals. Following that decision, McAuliffe undertook a process to individually restore voting rights to those who had completed probation and parole, thereby adding an estimated 156,000 Virginians to the voting roles.
It is widely believed that these new voters will heavily skew Democrat, and Republicans cried foul, claiming it was a blatantly partisan attempt on the part of McAuliffe to boost Democratic voter rolls.
Sanctuary cities and the violent El Salvadorian street gang MS-13 became major factors in the election as well. Gillespie took aim at the Democrats for the proliferation of so-called "sanctuary cities" which provide safe haven to illegal immigrants, and refuse to cooperate with ICE and the federal government when law enforcement arrests or detains them.
Towards the end of the campaign, Gillespie highlighted the vicious and sadistic machinations of MS-13, which has a particularly strong presence in northern Virginia. In Fairfax County, Virginia's largest at 1.1 million, it is estimated that there are over 2,000 gang members, 1,400 of which belong to MS-13. That is equal to the number of police officers in Fairfax County!
The Democrats predictably tried to equate any mention of illegal immigration, sanctuary cities, or gangs with the alleged hate and bigotry of the Trump administration.
Northam said, "Virginia has told us to end the divisiveness, that we will not condone hatred and bigotry, and to end the politics that have torn this country apart."
Political pundits are citing the strategy as effective in courting college-educated women and minorities to boost turnout; although Gillespie was never in the Trump faction of the GOP, or particularly conservative for that matter, his late-in-the-race effort to campaign on some Trump-style issues did not ultimately bear fruit.
Going forward, Republicans must accept certain demographic realities and stick to a proven winning message of economic freedom and taking power and money away from Washington.
Clearly a message of "draining the swamp" does not play well in northern Virginia where a disproportionate percent of the population is dependent upon federal government largesse.
Ultimately, this does not spell doom for the GOP brand, or for their prospect in the 2018 midterm election. Indeed, given the seats in play in the Senate, where numerous Democrats in Trump states will be facing strong challengers, the GOP has some reason for optimism.
The Republicans lost two elections in blue states. Virginia, once a purple state…is now trending to the Democrats and there is little indication that that trend will be reversed.
It is too early to prognosticate about the 2018 election. Republicans would be well-advised to use their Congressional majority over the coming year to work hard on forging ahead with a list of legislative accomplishments: tax reform, entitlement reform, paring back government spending, retooling our foreign policy, and repealing onerous regulations.