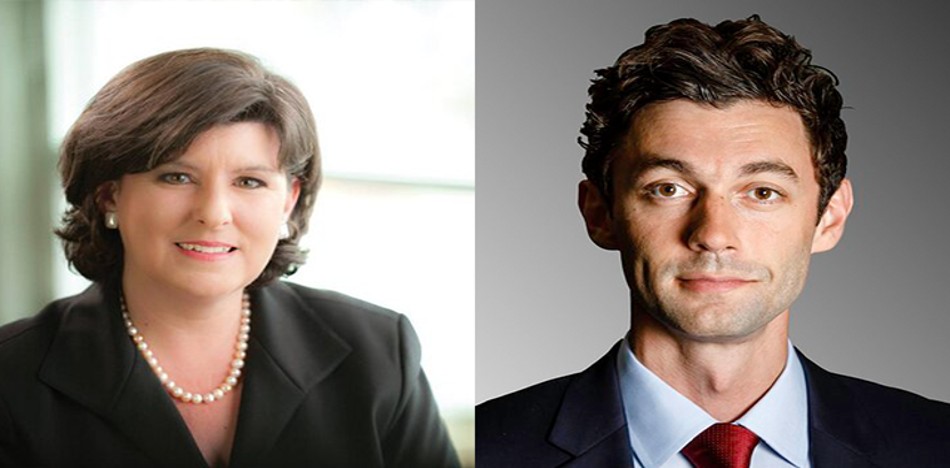 The liberal mainstream media spent the past week whipping themselves into a frenzy, salivating at the prospect of a massive "Trump Backlash"…in which Democrat Jon Ossoff had an ostensibly golden opportunity to turn a red district blue, capturing the seat of Tom Price, who resigned to serve as Donald Trump's Secretary of Health and Human Services.
Unfortunately for them, the voters of Georgia's 6th district, in the northern suburbs of Atlanta, did not send the resounding message of Trump punishment that the New York/DC/Boston elites so desired.
Karen Handel, former Georgia Secretary of State, won by a four point margin, 52% to 48%.
The race became a symbolic battle for the anti-Trump "resistance" movement, who poured money into the enthusiastic campaign of Osoff, a former foreign policy adviser to ex-representative Hank Johnson.
A curious fact about Osoff emerged…he did not even live in the 6th district, and thus could not vote for himself in the election. Nonetheless, he saw an influx of millions of dollars which nearly propelled him to a first round victory on April 19. Liberal interest groups from blue states, particularly coastal California, New York, and Massachusetts, showered the young Ossoff with funding, making the race by far the most costly House contest in history.
Once again…the predicted "Anti-Trump Backlash" hysteria predicted by the mainstream media has proved to be completely overblown and exaggerated, and Republicans should reconsider the electoral dangers of being associated with Trump.
Despite less than stellar approval ratings, a slew of unfavorable media coverage, and a looming investigation into alleged Russian collusion, Trump has proved to be surprisingly resilient at the ballot box, and it appears anything but certain that association with Trump will pose a serious challenge to Congressional Republicans in 2018.
While the party of the presidential incumbent traditionally suffers losses in midterm elections, the Republicans have a particularly favorable Senate map in 2018, featuring numerous Democrats up for reelection in states that Trump carried by large margins, including Rust Belt states like Ohio, Michigan, Wisconsin, and Pennsylvania, as well as states spanning the Great Plains, including Montana, North Dakota, and Missouri.
Republicans are thus presented with several appealing pickup opportunities, while Democrats are forced to play defense. In the House, where all 435 seats are up for grabs, the map could pose more of a challenge to the GOP.
But Democratic strategists who are bullish on taking back the lower chamber are also likely to be disappointed.
As four recent special elections have demonstrated, despite highly visible enthusiasm and fundraising, the Democratic Party remains ineffective in harnessing the energy of the "Resistance" and converting it into actual electoral victories.
Opposition to Trump has, at least, motivated a large crop of candidates to seek office in 2018. Yet, rumors of Trump's toxicity by association seem greatly off-base.