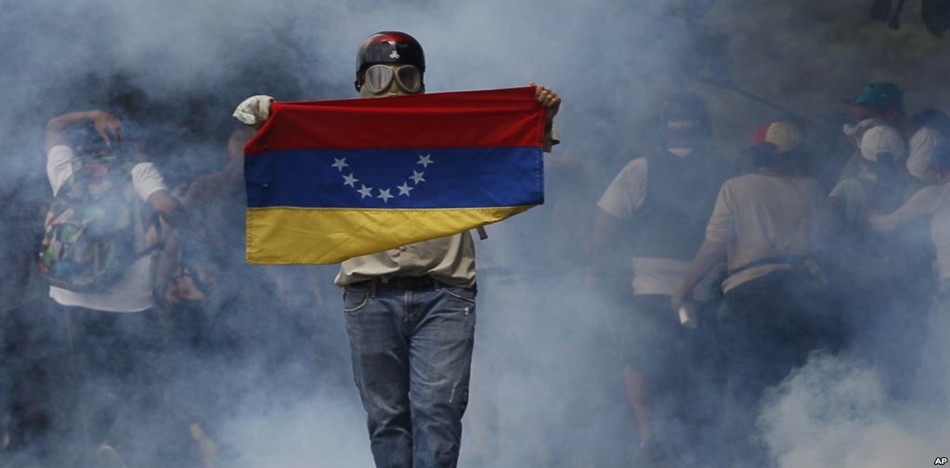 Venezuela's marches showed no signs of stopping as protests rage throughout the country for a second day.
Yesterday's death toll stood at three, with a 17-year-old boy in Caracas, and a 23-year-old woman in the western state of Tachira among the dead, while a hospital in Chacao in central Caracas reported the death of a Bolivian national guardsman.
The newspaper El Nacional is reporting that six members of Venezuela's opposition Justice First party were detained on O'Higgins Avenue in Caracas. Over 400 Venezuelans have been detained by security forces in the past 48 hours.
Yesterday the opposition party, National Will,  published a demonstration route with 26 meeting points throughout Caracas, with the intention of arriving together in front of the public defender's office downtown.
The mayor of the city of San Cristóbal, Patricia Gutiérrez, reported that a young woman died after being shot, allegedly by supporters of the Venezuelan government. In Caracas, a 17-year-old man lost his life earlier in the day after being shot in the head.
World leaders are calling for calm in the wake of what is certain to be a chaotic and violent week in Venezuela.
"We are concerned that the Maduro regime is violating its own constitution, and is not allowing the voices of the opposition to be heard," US Secretary of State Rex Tillerson said at a press conference on Iran. "Nor is it allowing them to organize themselves in a way that they can exercise their right to freedom of expression as the Venezuelan people."
Colombia President Juan Manuel Santos publicly demanded the Secretary of the United Nations keep up on the situation, noting, "I have directed the Colombian Minister of Foreign Relations to request that the UN Secretary General take action in consideration of the alarming militarization of Venezuelan society."
Solicité a la Canciller que pida hoy al Secretario Gral de ONU poner su atención en la preocupante militarización de la sociedad venezolana

— Juan Manuel Santos (@JuanManSantos) April 19, 2017
"We are not afraid," said Venezuelan opposition leader Henrique Capriles Radonski. "Venezuela belongs to all of the Venezuelans, and we will keep fighting for the future of our country."
It was his prohibition from political life for 15 years that served as one of the major catalysts of the mass protests. Capriles has served several terms as Governor of populous Miranda state, north of Caracas on the coast. He was recently banned from politics over irregularities in contracts related to the Brazilian construction company Odebrecht. Capriles noted, however, that ruling party politician Diosdado Cabello was, in fact, governor when the contracts in question were signed.
The Venezuelan opposition is also up in arms over the government's refusal to schedule regional elections, which were supposed to have been held months ago. The government has also used questionable pretexts to ban opposition political parties and leaders from elections. It is widely believed that the Maduro regime has refused to schedule such elections because they believe they would lose.
"We will meet up tomorrow at the same time, in the same place, because the fight for democracy never ends," Capriles said last night. "We won't rest until we have returned Venezuela to its rightful constitutional order!"
Source: VOA Noticias