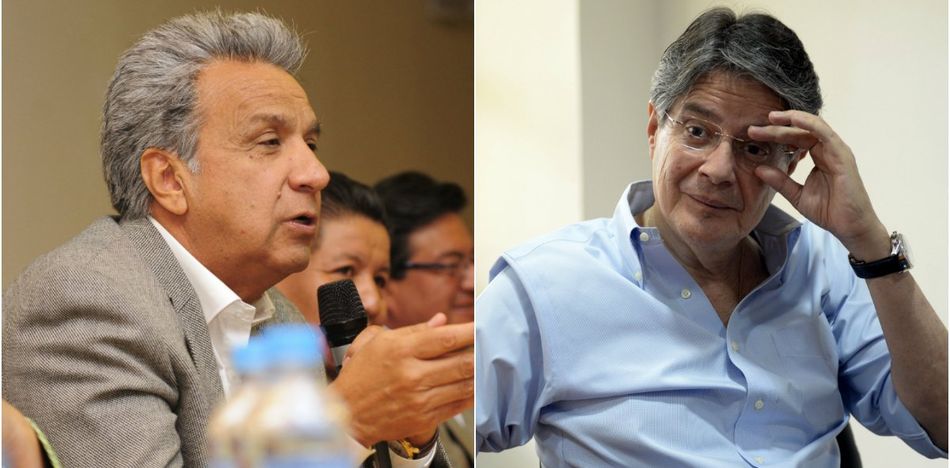 Lenin Moreno appears to have defeated Guillermo Lasso by slightly more than 2 points in Ecuador's second round presidential election. As of 9pm, with 94.3% of the votes counted, Moreno leads with 51.07%, while Lasso trails with 48.93%. Lasso had the wind at his back with a string of high-profile endorsements, but in the end, it was not enough to overcome the strong political machinery of Rafael Correa's Alianza Pais party, which has controlled the country for more than a decade.
Controversy ensued in the wake of exit polls released at 5pm, which showed contradictory results. Perfiles de opinion showed Moreno leading 52.2% to Lasso's 47.7%. Cedatos, which had the most accurate results in the first round, showed Lasso leading 53% to 47%. As Correa, noted from his Twitter account, "Alguien miente"…"Someone is lying." It remains to be seen why the two pollsters offered such divergent results. Lasso has raised the possibility of a recount, although the prospect of overturning current electoral results appears a remote possibility. The head of CREO recently held a press conference citing voting irregularities in the Amazon region.
Lenin Moreno and current vice president Jorge Glas gathered with supporters and press at the Hotel Quito, on the eastern side of the city, to await the 5pm exit poll results. As results trickled in over the course of the evening, Alianza Pais supporters grew increasingly confident of victory, albeit by slim margins. Meanwhile, outside the Consejo Nacional Electoral (National Electoral Council) in Quito, Lasso and Moreno supporters gathered in anticipation.
In the end, Moreno's dominance in heavily populated coastal Ecuador was just enough to offset Lasso's stronger support in the sierra and Amazon region. The coastal province of Manabi, Ecuador's third most populous, was decisive in the election, providing Moreno with a massive margin of victory, 67% to 33%. Political commentators have noted that this was the province most hard hit by last year's massive earthquake which killed hundreds and caused billions of dollars in damage. This may explain their loyalty to the ruling party government, which invested heavily in reconstruction.
Pichincha, on the other, hand gave Lasso a 52% to 48% victory. Home to national capital Quito, it is Ecuador's second most populous province. Ecuador's most populous province, Guayas, where Lasso was the former governor, gave Moreno another narrow victory 52% to 47%.
In the end, Lasso came up just short. He needed to win a slightly higher margin in Pichincha, and at least fight Moreno to a draw in vote-rich Guayas province, in order to offset Moreno's strength on the coast.
Moreno will face a difficult economic situation during his four year term, with a bloated public sector, high levels of public debt, insufficient government revenues, and low oil prices. Ecuador's once high flying economy, which used vast oil revenues to drastically boost social spending and develop infrastructure and transportation, has fallen into stagnation, along with many other commodities-dependent South American economies.
Lasso waged an impressive campaign, but in the end it was not enough. The wealthy banker suffered from being portrayed as out-of-touch and elitist by an Alianza Paiz movement that has long counted on vast support from Ecuador's poor and working classes. He also was frequently blamed for his involvement in the so-called "feriado bancario" in which millions of Ecuadorians lost their savings in 2000, when the government abandoned the sucre in favor of the dollar. Lasso was an economic advisor to the administration of Jamil Mahuad, who supervised the dollarization process.
The Ecuadorian opposition, however, can take comfort in the fact that 49% of Ecuadorians voted for Lasso, and the strong showing by both the CREO-SUMA alliance and the Partido Social Cristiano in the National Assembly. CREO gained 22 seats in the Assembly, increasing from a mere 12 to 34, while the PSC increased from 6 to 15. Alianza Pais, on the other hand, lost 26 seats in the National Assembly, but still maintain a slim majority with 74 out of 137 seats in the unicameral legislature.