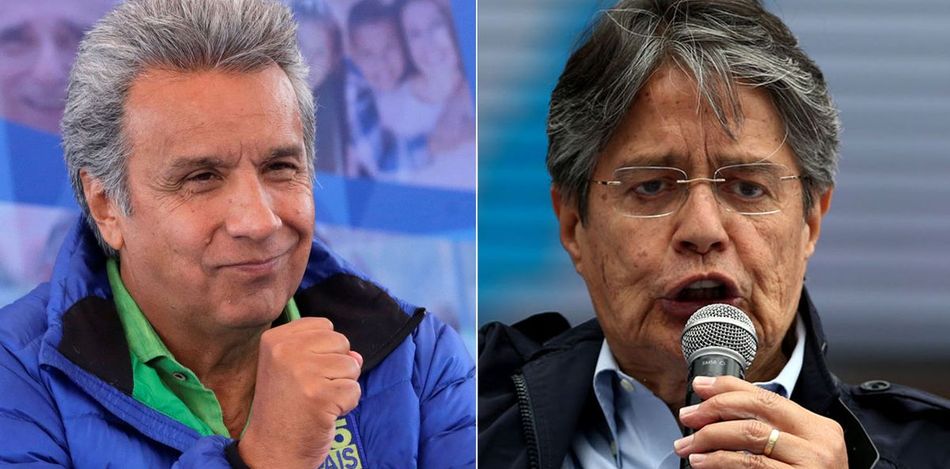 If you examine the tumultuous history of Ecuador, from the time of independence to modernity, it is not surprising that Rafael Correa, who ushered in a decade of relative political and economic stability, would be a popular figure. It is more due to this stability, than to his socialist policies, that he won three presidential elections, two of them by impressive margins.
In the wake of the Odebrecht scandal, however, the popularity of Correa and his Alianza Pais party has taken a hit. In the National Assembly, for example, the once utterly dominant Alianza Pais lost 26 seats, dropping from 100 to 74 in the 137 seat body, while Guillermo Lasso's CREO-SUMA coalition, gained 22 seats, going from a mere 12 to 34, and the right-wing Partido Social Cristiano of Cynthia Viteri, gained 9 seats, going from 6 to 15.
This is a dramatic change of fortunes for the Ecuadorian opposition. Regardless of tomorrow's electoral outcome, Ecuador will have a real, tangible opposition to "correismo" over the coming four years. This is a positive development, but one that is complicated by the rivalry between PSC and CREO. PSC has been the standard bearer of the opposition for sometime, while CREO is a new political movement, only five years in the making. Some in CREO accuse the PSC of looking out more for their own interests, than supporting a coalition in opposition to Correa/Moreno.
Nonetheless, Lasso counts with powerful endorsements…the most crucial of which was that of PSC presidential candidate Cynthia Viteri, who quickly expressed her support for Lasso in the second round. Fourth place finisher Paco Mancayo and fifth place finisher Dalo Bucaram also have thrown their weight behind Lasso, although perhaps with more reluctance. Former Quito mayor Paco Moncayo, for example, stated, "Lasso represents the neo-liberalism that has done so much harm, but today he's the lesser evil and necessary to restore democracy." Moncayo's party, the Izquierda Democratica, or Democratic Left, thus views Correa's increasing authoritarianism as a greater threat than Lasso's conservative economic policies.
Lasso should have the wind at his back, sailing into tomorrow's second round. In the February 19 first round elections, he won 28.1% of the vote. He counts with the backing of Cynthia Viteri, who won 16.3%, Paco Moncayo with 6.7%, and Dalo Bucaram with 4.8%. If you add them up, Lasso comfortably takes the lead with a total of 55.9%. Moreno only counts with the backing of Ivan Espinel's Fuerza Compromiso Social, which placed sixth with a humble 3.2%. Add this to Moreno's 39.4%, and he reaches 42.6%.
However, it is sufficiently obvious that a candidate's endorsement is hardly any guarantee that his/her followers will vote for the candidate in question. It is also probable that many Ecuadorians do not vote along a simple left/right paradigm. As we saw in the US primary and election, political ideology is strange and complex. Donald Trump, for example, won the votes of many blue collar Democrats who also were attracted to the anti-globalist, anti-elite message of Bernie Sanders. Clinton, meanwhile took votes from many upper income suburban Republicans who were turned off by Trump's brash persona and harsh rhetoric.
This race was Lasso's to lose. If he loses…the question is…why?
To begin with, no political observer should ever underestimate Rafael Correa. Even his staunchest political opponents admit that he is politically brilliant; a shrewd and cunning operator, a tireless worker in his endeavors, and a master communicator. In his early days, when he burst onto the national stage, Correa would often arrive at rallies to the spectacle of men waving their "correas" (correa means "belt" in Spanish) in the air; the implication being that Correa was going to "give a licking" to the corruption and entrenched interests that had long governed Ecuador, to the detriment of the common people.
Correa is allegedly planning to return to his wife's native Belgium to pursue a career in academia. An economist with a PhD from the University of Illinois, perhaps Correa realizes that it is in his best interest to take a breather (ie. not turn into the Fidel Castro of the Andean region). Perhaps he genuinely needs a change, and feels that academic pursuits will bring him personal fulfillment at this stage of his life. But few think that Correa is going to go gently into the good night. He will continue to cast a long shadow over the country's political life, and it appears extremely likely that he will run for president again further down the road.
Correa has been largely able to avoid implication in the Odebrecht scandal that has shaken the Latin American political establishment to its core in recent months. Current vice president Jorge Glas, on the other hand, has not, with allegations of his involvement in bribery linked to large scale hydroelectric dam projects and modernizing the petroleum refinery in Ecuador's northwestern Esmeraldas province.
It is an open secret that Glas wanted to run for president this election cycle, but internal polling simply did not look favorable enough to do so. Thus Lenin Moreno, a popular former vice president was recruited to do so, with Glas retaining his current post. Many Ecuadorians take a dim view of Glas, and view Moreno as a placeholder, alleging that Glas will really be the man in charge.
Moreno has run a solid campaign, based, in part, on being the anti-Correa. Listen to an hour of Moreno's stump speech and you will hardly so much as hear the word "socialism"…rather you will hear the term "social investment"…in schools, hospitals, infrastructure, and transportation. While Correa conducted a famously ideologically-driven foreign policy, Moreno emphasizes maintaining good relations throughout the region. You won't hear Moreno rail against the evils of capitalism…rather he talks about boosting foreign investment and helping business owners.
Moreno counts with both the vastly superior political machinery of the Alianza Pais party, and a message that is most likely better suited to win a majority of the Ecuadorian electorate.
Lasso is absolutely right when it comes to his economic policies: cutting taxes, less bureaucracy and red tape, more foreign investment, expanding commercial relationships, joining regional trade blocks. But, unfortunately, it is likely to be a message that fails to resonate with Ecuador's vast poor and working classes.
Lasso also raises extremely good points when he discusses the increasing concentration of powers and authoritarianism under Correa: Correa cracked down on freedom of the press, persecuted political opponents, compromised the independence of the judiciary branch, and reveled in aligning Ecuador with repressive regimes like Castro's Cuba and Maduro's Venezuela. Certainly many Ecuadorians appreciate this message, and share his conviction that true democracy, rule of law, and separation of powers are under attack in Ecuador.
But will it be enough to get Lasso to 50% plus 1?
Finally, there is the 500 pound elephant in the room: Lasso's vast wealth as one of the nation's top bankers, and his involvement in the so-called "feriado bancario" during Ecuador's transition from the sucre to the dollar in 2000. It is debatable to what extent Lasso is responsible for the ensuing melee in which millions of Ecuadorians lost their savings as the sucre plummeted in value during the conversion process. But as many political observers have noted, the "optics" of being an extremely wealthy banker are less than desirable in a nation with as much poverty and inequality as Ecuador.
Lasso and Moreno are also as divided geographically as they are ideologically. Lasso fared well in the eastern portion of the country…stretching from the Andean cordillera to the tributaries of the Amazon. He fared particularly well in Quito and the surrounding Pichincha province.
Moreno, on the other hand, dominated on the coast, performing particularly well in the sprawling coastal province of Manabi, where he received a whopping 54% of the vote, to Lasso's 18%. Pichincha is likely to be very close, with most analysts favoring Lasso by slight margins.
Which brings us to Guayas, Ecuador's largest province by far, where provincial capital Guayaquil is Lasso's hometown. Guayas gave 39% to Moreno, 26% to Viteri (also from Guayaquil) and a meager 21% to Lasso. It is entirely likely that the fate of Ecuador's presidential election could be decided by Viteri supports in Guayas province. Will they heed the call of their standard bearer to back the more ideologically aligned candidacy of Lasso? Or will they place their faith in 10 years of stability ushered in by Correa?
Polls in the past weeks have given the edge to Moreno, but with the recent trends at the ballot boxes across Latin America, you certainly can't count Guillermo Lasso out.