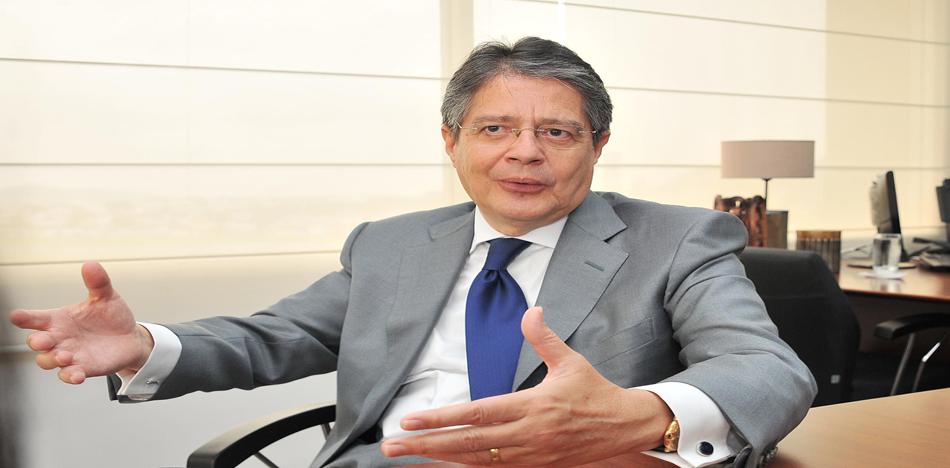 Rafael Correa has so dominated political life in Ecuador for 10 years that the election in many ways appears to be a referendum on his legacy.
While the opposition criticizes Correa for dramatically expanding the size of the state at the expense of the private sector, excessive hiring of public servants, cracking down on freedom of the press, and ruling with an authoritarian style, supporters praise him for investing in education, healthcare, infrastructure, and transportation.
However, every one seems to agree that Correa's famed confrontational style worked to his detriment. The word often repeated here in reference to his administration is "prepotente": indeed Lenin Moreno, Correa's hand-picked successor herein faces his greatest electoral challenge: seeking to disassociate himself from the imperial nature and penchant for conflict of his mentor and predecessor.
Former Vice President Moreno served from 2007 to 2013 under Rafael Correa. Coming from humble origins in the Ecuadorean Amazon, Moreno enjoyed a distinguished career in both the public and private sector. In 1998, while serving as head of the Pichincha Chamber of Tourism (Ecuador's second largest province where the capital Quito is located), he was the victim of a tragic crime, when he was shot in the back during a carjacking in a Quito parking lot. The accident left him a paraplegic.
Following a lengthy and arduous convalescence, Moreno went on to become a motivational speaker and public figure, ultimately prompting Correa to include him on his ticket. Moreno was indeed a shrewd choice on the part of Correa and the Alianza Pais party: he is reasonably well-liked, he is reasonably well-respected, and, most importantly, he does not engender the type of visceral reaction that made Correa such a polarizing figure.
However, to the sizeable Ecuadorean opposition, Moreno is little more than a figurehead at best, or a puppet at worst. They charge that current Vice President Jorge Glas, who has been implicated in the Petroecuador scandal, will be the one truly running the show, and suggest that Moreno has been served up on a silver platter to the Ecuadorean people precisely as the inoffensive, palatable new face of Correa's "Citizens' Revolution."
Lenin Moreno has good reason to be concerned. Averages of the most recent polls show Cynthia Viteri of the Partido Social Cristiano and Guillermo Lasso of the Movimiento CREO are winning a higher vote total than the Moreno/Glas ticket of the Alianza Pais.
It is certain that the vast, vast majority of Lasso and Viteri supporters will vote against Moreno in the second round.
Thus the election may largely fall in the hands of supporters of former Quito mayor Paco Moncayo, who is running on the Izquierda Democratica or "Democratic Left" ticket.
He recently made headlines recently by vehemently denying that he was going to support Lenin Moreno, and attributed the false story to the Guillermo Lasso campaign.
Moncayo is an Ecuadorean military hero who led a brief and successful war with Peru, known as the Cenepa War, over disputed territory. He subsequently served as Quito mayor from 2000 to 2009, followed by one term as assemblyman representing Pichincha.
Paco Moncayo's strong denunciation of Moreno and the Alianza Pais movement does not bode well for Moreno, should Sunday's results necessitate a second round election. The vast majority of analysts and commentators believe that Moreno, facing the Petroecuador/Odebrecht headwinds, will not reach the necessary 40% threshold.
Under Ecuadorean election law, a candidate can only win in the first round with 50%, or with 40% plus a 10% margin of victory over his nearest opponent. This has only been accomplished once, by Rafael Correa in the 2013 elections.
If, as expected, Banco de Guayaquil president Guillermo Lasso and former Vice President Lenin Moreno face off in a second round election on April 2, the election will undoubtedly be in the hands of Paco Moncayo and Cynthia Viteri. But the election is likely to be so close, that even minor candidates, such as Abdala Bucaram and Ivan Espinel, could play pivotal roles.
A nail-biter of a presidential election would be nothing new for the Andean region. Juan Manuel Santos narrowly defeated Oscar Ivan Zuluaga in Colombia's 2014 presidential elections. Nicolas Maduro beat Henrique Capriles Radonski by just 1.5% in 2013. And most recently, Peru saw its closest presidential election in history, with PPK defeating Keiko Fujimori by just 40,000 votes, or just under a quarter of one percent.
The great challenge for the Ecuadorean opposition will be uniting around a single candidate. That candidate is most likely to be Guillermo Lasso, although Cynthia Viteri could have a surprisingly strong showing on Sunday as well.
Heading into a second round, the opposition must also conduct their political business with integrity and transparency. Yes, politics is a game of horsetrading by nature. But the opposition can not become so blinded by their desire for power that they engage in the same kind of tactics and practices that they have so long criticized in the current administration.
In order to win, the leaders of Ecuador's major opposition parties must begin to strategize now regarding the most honest and transparent fashion for putting together a coalition capable of winning 51% in a second round against a well-oiled and well-funded ruling regime that has considerable resources at its disposable. They must eschew corrupt bargains in favor of pragmatic discussion.
And we must not forget that Lenin Moreno and Alianza Pais, who will still enjoy a large majority in Ecuador's National Assembly, will also be on the lookout for opportunities to appeal to smaller parties as well.
One thing is for certain: Like its southern neighbor Peru, Ecuador is likely in for a photo finish.
Source: Elecciones en Ecuador