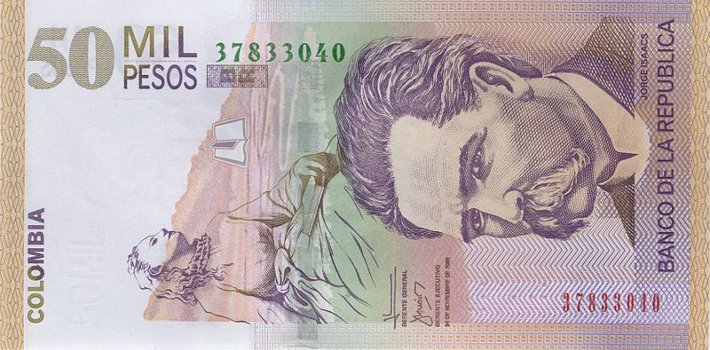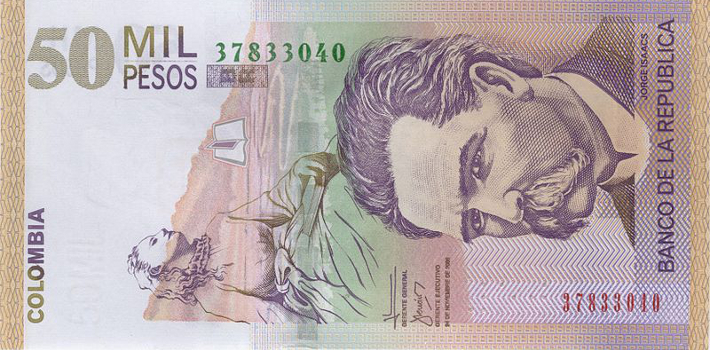 EspañolMost Colombians reacted joyfully to the news of Chavismo's landslide defeat in the December 6 parliamentary elections in Venezuela. The socialists, many conclude, have wrecked the neighboring country's economy. Any scrutiny of Colombia's own macroeconomic figures, however, should put all schadenfreude to rest.
In fact, barring Venezuela's non compos mentis bolívar, the Colombian peso has become the world's most devalued currency over the last 18 months, losing at least 70 percent of its value against the dollar.
According to Jorge Eduardo Castro, a financial consultant based in Antioquia, this is due to the Colombian economy's excessive dependence on dollar investments. The situation worsened during the last decade, he explains, due to a short-lived oil boom.
"With large amounts of foreign investment in dollars coming into the Colombian oil industry, the peso remained relatively strong, but this was only the case while the Federal Reserve purposefully weakened the dollar with its quantitative easing (QE) program," Castro says. "When the Fed ended QE at the end of 2014 and oil prices fell, the dollar became stronger and the peso began to dive."
This year, expectations of an increase in US interest rates further strengthened the dollar against the peso.
To further complicate matters, Colombia, a relative newcomer to the world of large-scale oil exports, doesn't count with the large foreign-exchange reserves of major petrostates. Luis Guillermo Vélez, economics professor at Medellín's Eafit University, says that this is partly due to government waste: "During the oil boom years, the government behaved like a family which mistakenly thinks that extraordinary income will become permanent. Saving was out of the question."
Today, certain predicaments, largely overlooked previously, have become staggering problems. Due to the country's geological conditions, extracting oil in Colombia is far more expensive than in other countries. What is worse, companies are often forced to pay bribes to guerrilla and paramilitary groups in order to transport petroleum across the country. Highwaymen's fees only add to some of the world's highest transportation costs within a single nation.
All the more reasons, Castro says, to think of strengthening the economy's non-oil sectors; at the moment, Ecopetrol, the majority state-owned oil company, makes up roughly half of the Colombian stock market.
Nonetheless, investment in any field is bound to remain low while the government maintains some of the highest taxation levels in the world. Currently, companies must hand over 70 percent of their commercial profits in taxes to the Colombian government. According to the World Bank, only five countries — Tajikistan, Comoros, Eritrea, Bolivia, and Argentina — charge a higher rate. This is hardly a group of model economies.
High taxation levels also explain why the Colombian export sector has not been able to take advantage of the weak peso. For years, excessive taxes have made it difficult for companies to amass capital, expand their commercial operations, or invest in innovation. Much lower taxes and less regulation would lead to greater economic flexibility, since new businesses could be created more easily and existing firms would be better able to enter new sectors.
It is expected that President Juan Manuel Santos' government, however, will raise VAT rates next year. Philippe Stiernon, head of Roam Capital, a placement agent focused on private equity, says that tax increases "are meant to cover the government's fiscal and current account deficits, and to finance the hefty price of a looming peace agreement with the FARC guerrilla."
A weaker peso has also led to greater inflation, the costs of imports having soared. This year will end with inflation levels of over 6 percent, although the Colombian Central Bank stated 13 months ago that inflation would not surpass 3 percent in 2015.
In many countries, the Central Bank's reputation would suffer considerably under similar circumstances. To paraphrase Wilde's Lady Bracknell, missing your annual inflation target narrowly may be regarded as a misfortune; to be off the mark by 100 percent looks like carelessness. In Colombia, however, the Central Bank enjoys nearly sacred status among the mainstream media, so open criticism has been scarce.
Economic players, however, are less deferential.
Louis Kleyn, senior partner at Erasmus, an electricity supply company, affirms that the Central Bank failed to anticipate rising inflation and to take efficient countermeasures in time.
"For over a year, the Central Bank watched passively as prices rose steadily," he says. "Its decision to raise interest rates by 1 percent and to intervene in the exchange rate came six months too late at the very least."
Castro states that the Central Bank has demonstrated either incompetence or subordination: "They either misread the Fed's actions to strengthen the dollar, or they danced to the government's tune by refusing to raise interest rates on time, which brings up questions about its independence." According to arbitration attorney Ricardo Urdaneta Holguín, "the Central Bank's credibility, slowly built over many years, has flown out the window, and this is a far more serious problem than the current levels of inflation."
Nonetheless, Kleyn, who anticipates inflation levels beyond 10 percent by 2017, explains in Portafolio that this will undermine long-term financing and fixed-income investments. Producers, meanwhile, will have to raise prices in order to maintain current profits and purchasing power, all of which will affect general economic growth. GDP is expected to have grown close to 3 percent in 2105, down from 4.6 percent last year and 6.6 percent in 2011.
Colombia's statist rituals darken the economy's prospects even further, since trade unions and the government annually negotiate the next year's rise in the minimum wage, which is among the highest in the region as it is. Kleyn thinks that, since this year's inflation surpassed the last minimum-wage increase percentage-wise, union leaders will demand no less than a 7 percent hike next time around. And if the government yields — as it usually does — then greater unemployment can be expected as well, as bureaucratic fiat will further push low-skilled workers out of the labor market.
According to Stiernon, "there are only dark macroeconomic clouds ahead, and a legal instability that scares off the most intrepid of foreign investors."
Currently, there is very little talk of the supply-side reforms that are necessary: creating a low-tax, business-friendly investment climate and more flexible labor conditions, so that the unions don't regularly force their will upon the government. Increasing trade with growing, non-dollarized markets should be a priority as well. This goal should be pursued unilaterally, much as Chile did in decades past while Colombia needlessly remained shackled to the Andean community of nations, a self-imposed Promethean punishment.
"Ever-ageing time teaches all things," says the hero in Aeschylus's play. The Santos government and the Central Bank, however, are allowing merciless time to pass while ignoring the lessons learned from three decades of chronic, double-digit inflation, which was put to a halt only as recently as the beginning of the current millennium.