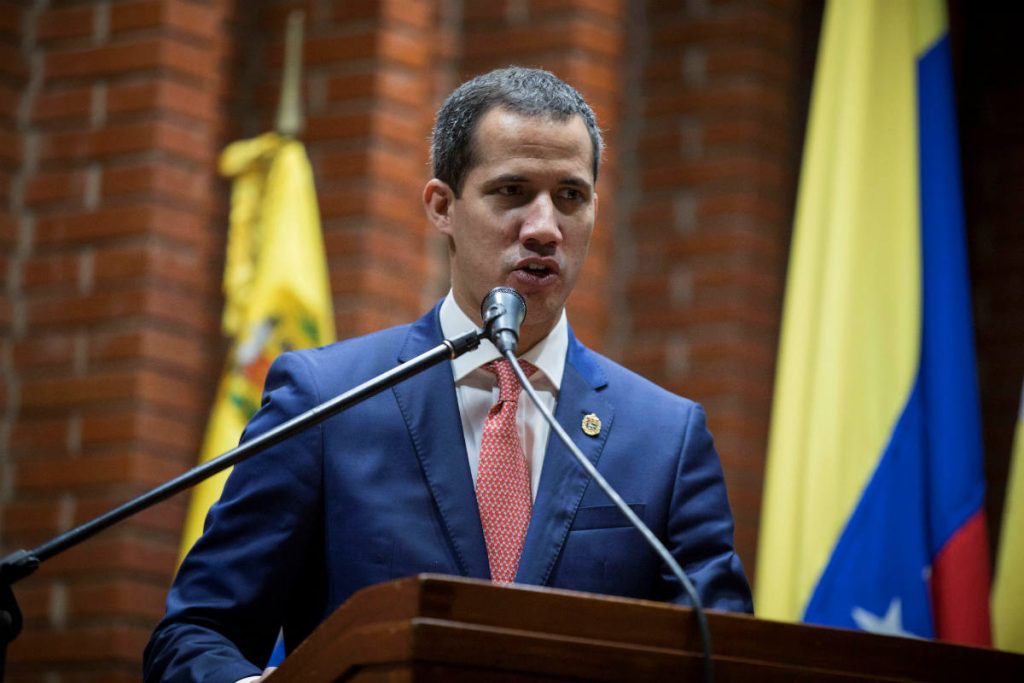 The first rule of an ongoing negotiation is silence. And if that silence is genuine, it will include lies. And if the negotiation continues, it is because the pact of silence has been fulfilled.
Let's start there then. According to the Norwegian government's statement:
Norway reports that this week in Oslo there was a meeting between representatives of the main political actors of Venezuela.

The parties have shown their willingness to move forward in the search for an agreeable and constitutional solution for the country, which includes political, economic, and electoral issues.

To preserve the process of achieving results for the country, each party is requested to take the utmost precaution concerning its comments and statements.

Norway reiterates its appreciation to the parties for their efforts, says Foreign Minister Ine Eriksen Søreide.
I have highlighted three sentences:
"Representatives of the main political actors of Venezuela." Norway is avoiding getting involved wholly in the situation. Amid the immense tragedy in Venezuela, the Norwegian government has chosen to stay neutral. Thus, it recognizes neither Maduro as president nor Juan Guaidó, at least in this declaration. Both are, as a result, "Venezuela's main political actors." It is not a minor detail.

"The parties have shown their willingness to move forward in the search for an agreeable and constitutional solution." If both parties have shown this willingness, it means that there is agreement. That is to say, there is consensus in seeking an amicable settlement, the basis of which is the Constitution of the Bolivarian Republic of Venezuela, which Chavez promoted in 1999 and was amended, out of his boredom, in 2009. Thus, chavismo recognizes that there is a problem and prefers (or pretends to prefer) to solve it through pacts. At the same time, the political leadership headed by Juan Guaidó, once again, defends the constitution made by Chavez to his liking, illegally rebuilt in 2009 and also, it is understood, renounces solutions not agreed or established in that constitution. In other words, he refuses to go back to a military barracks with tanks and rifles to ask the military to remove Maduro from Miraflores forcefully.

"Each party is requested to take the utmost precaution concerning its comments and statements." In other words, no one can reveal what the parties discussed in Norway. If someone leaks information accidentally in a speech, casual comment, or statement, we will deny everything. It is a pact of silence.
We can have a thousand speculations. We understand that each party, from their perspective, will assume treason, a return to failed positions, and never-ending discussions. However, if we look at the facts, we see that in all negotiations led by third parties, a pact of silence is a crucial requirement. The two parties assign specific tasks that they will complete by the next meeting. If the next meeting takes place, the implication is they both parties have fulfilled their responsibilities and abided by the pact of silence. There, a new path begins.
Countering the propaganda and finding the truth
The conflict in Venezuela reeks of war and involves deaths, political prisoners, individuals in exile, and millions of displaced people. A political conflict of this magnitude presumes propaganda. Criminal illegality tinges the propaganda. Spokespersons are attacked with montages and falsehoods, journalists are disqualified, and the public is disrespected by selling lies to sway public opinion for or against a particular stance.
The state policy is to lie and hide information. Therefore, the communications officer of the Maduro regime is a manipulative and criminal psychiatrist, with a cynical smile and hands stained with fraud in the construction of the Chavista disaster, at least since 2004. On the other side, the communications manager of Guaido's leadership is none other than Alberto Federico Ravell, an experienced journalist who is undoubtedly good at what he does.
The best facet of Ravell is the way he directs the speech of a political group, always in favor, even if it involves twisting truths. His strategy is to manipulate the photo of Carlos Andrés Pérez in the 1973 campaign so that the smile of the candidate would look more uniform, or to hide the influence of Blanca Ibáñez in the government of Jaime Lusinchi. Or to sell an agreement as a triumphant tantrum, by posting on his personal Twitter account the Norwegian government's statement with this caption: "Guaidó No-ruega: No hubo acuerdo" (Guaidó No-ruega: No agreement). Brilliant headline for a half-truth. We must recognize that Ravell is suitable for the position assigned to him.
Further, the press release issued by the "Office of the President" is revised, where there is more emphasis on the position of the interim government of Guaidó:
This meeting ended without agreement. We have insisted that such mediation will be useful for Venezuela as long as there are elements that allow us to proceed towards a real solution. Therefore, we remain in the same struggle until the crisis that Venezuelans are suffering is resolved.

The process, therefore, does continue its efforts at all constitutional levels.
The sentences in bold are the ones that stand out to me from the whole text:
"This meeting ended without agreement." After weeks of denying it, the interim government finally acknowledges that they were in Oslo negotiation with the regime even as they launched a fail attempt to call on the regime to lay down its arms on 30th April.

"Mediation will be useful for Venezuela as long as there are elements that allow us to proceed towards a true solution." This ratifies that they are willing to compromise, negotiate, converse, dialogue or whatever they want to call it, with the regime they have called (and rightly so) dictatorship, tyranny, criminal regime, narco-regime. What factors do they refer to when they speak of progressing to a real solution? What is a "real solution" for them? We do not know. But we will know, without a doubt.

"The process" and "constitutional." The statement by the Norwegian government also included these affirmations. It indicates that the parties involved will abide by a pact of silence. The report of the interim government confirms that the two parties discussed and agreed that what took place in Oslo was the beginning of a "process" that will be within the "constitutional" framework. Everything within the Chavista constitution, nothing outside of it.
Ongoing pact of silence, "for now"
What I am saying here is a conjecture or speculation. However, those of us who analyze the situation in this manner is not to be blamed. There is no information, and there is propaganda. Therefore, we can only identify signs and meta-messages.
The covenant of silence has been fulfilled, at least until these statements were released. Members of the interim government tread by the script. They issue a press release, and they will say that "there was no agreement," through different spokespersons, interviews, and tweets. Their trusted journalists will repeat ad nauseam the need to abide by the official version.
But that position seems to be part of the pact of silence. To say that there was no agreement is a way to be silent because they don't tell us what the consensus was that they wanted to reach and what happened in the course. They do not and will not give us details. Probably, the negotiators won't give interviews, and if they do, they won't reveal anything outside the handbook.
For its part, the criminal camp has been turned into actors with a negotiating and peace-loving profile one month after the call to overthrow them by force. And in that role, they have been silent. The ordinarily outspoken and sly Jorge Rodríguez repeated on his Twitter one or two general phrases, limiting himself to publishing the link to the press release issued by the Norwegian government.  Héctor Rodríguez did the same as did the ineffable Jorge Arreaza, who also dares to call Guaidó's representatives "representatives of the opposition." Strangely, he does not use the terms "right-wing coup," "squalid" or "stateless" jobs that usually accompany his statements. It is a way of remaining silent, of recognizing the other but as he wants: as an opposition, and not as an interim government, which would be too much even for Arreaza.
And here is the mystery of Wednesday because the revolutionary television program of Diosdado Cabello airs on Wednesdays. In the program "Con el Mazo Dando," the head of the media hit men of chavismo was expected to announce his position regarding Oslo. In my opinion, what was said there would ratify whether or not the pact of silence was underway or, perhaps, whether the negotiation includes Diosdado on this occasion. Surprisingly, Diosdado is fulfilling the covenant. He said nothing about the matter in a dismissive tone. He did not expose anyone, nor did he disregard what had been agreed upon. His usual mockery, the illegal and defamatory use of the image of politicians, citizens, and communicators (among them I, whom he dares to call "his employee") added to his musical segments applauded by the diverse public that make up the military and militants, were that and nothing more. Diosdado, the one excluded from the April negotiation with the United States, joins the pact of silence that was forged in Oslo.
All the key players in Venezuelan politics are maintaining silence for now. We don't know if they will do so forever.
The rubble
The rubble remains because several walls were torn down. The parties moved positions, and they seem to have progressed in one thing: mutual recognition.
It is recognized that the political group headed at this moment by Juan Guaidó has the power to negotiate because if it did not hold power, officials of the regime would not sit with the group, nor would they convene a pact of silence or dare, even hesitatingly call it "opposition" without additional descriptors.

Guaido and his leadership have given up their demand that the regime surrenders its arms after the failed attempt of "Leopoldazo" on 30th April.

The politicians of the Democratic Unity Roundtable have to apologize for their lies about negotiation. As Professor Erik del Búfalo says, "In Venezuela, everything is a lie until it is proven to be true." The credibility of these leaders continues to decline.

Chavismo has no way of explaining why it refers to leadership as "right-wing criminal coup plotters" and at the same time sits down to "dialogue for peace" with them. If their position is so strong, what do they want to talk about? Why don't they end up imposing themselves by force? Could it be that they don't have the strength? Or is it time their best ally again?

The predicament has likely scathed the interim government's relationship with the United States. Statements and positions need to be reviewed. But it is impossible to forget that the northern giant a month ago also failed in negotiations to get Maduro out through a pact with two high criminals of the regime.

The leadership headed by Guaido is publicly divided on the issue of intervention. Some support the negotiations while others believe in "other ways" that too have not been successful in ousting Maduro.

Maduro continues to be in Miraflores. Children still die in hospitals. The gasoline shortages continue. Political prisoners are still in their cells. And we enter a calm phase of politics, who knows how long it will last.
All that's left to do is wait for more cues. Watchful eyes will be able to see them. Propaganda devices will be able to blur them or make them pass for something else. But today, a truth that no Jorge Rodriguez or no Ravell can deny: May is over, June has arrived, Maduro is still in Miraflores and Guaidó is still claiming to be the interim president.
Meanwhile, the events unfold like Cuban singer Ibrahim Ferrer's song, "Silence, the tuberoses and the lilies are sleeping."