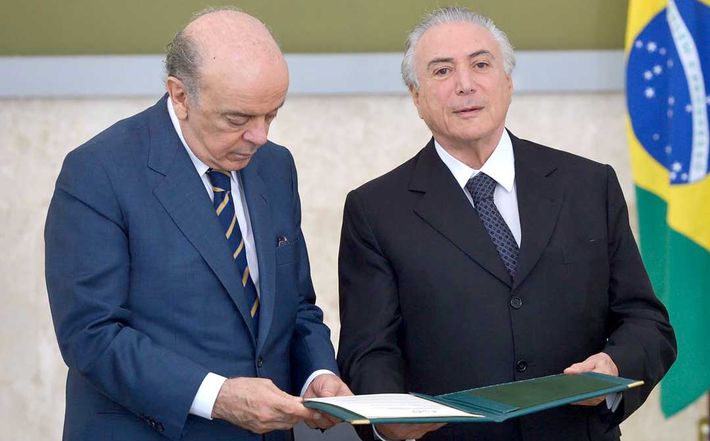 EspañolThe most awaited confession in the Petrobras case — the giant corruption scandal that has flipped Brazil's political world upside down — reportedly looks to strike right at the heart of Brazil's current administration.
According to Brazilian media, directors of Odebrecht, one of Latin America's largest construction companies, are finalizing the details of a plea bargain.
In exchange for a reduced sentence, they are offering to provide information pinning interim President Michel Temer, his Chief of Staff Eliseu Padilha, and Foreign Minister José Serra.
The corruption probe into the state-owned oil company has landed many of Brazil's top politicians and businessman in jail over the past two years, revealing a massive kickbacks scheme with each plea bargain: in return for donations — both legal and illegal — to political parties and senior officials, construction firms received lucrative contracts at Petrobras.
Now the former CEO of Odebrecht, Marcelo Odebrecht, who has already been sentenced to 19 years in prison in another case, has confessed to making illegal donations to President Temer's party in 2014, Brazilian magazine Veja reported on August 5.
Temer, then serving as vice president, allegedly asked Odebrecht for financial "support" for his Brazilian Democratic Movement Party's (PMDB) campaign during a May 2014 dinner at the official VP residence. Eliseu Padilha, then a congressman for the PMDB, also attended.
Between August and September 2014, Odebrecht reportedly transferred BRL$10 million (US$3.15 million) to the PMDB outside of legal channels. According to the confession obtained by Veja, BRL$4 million (US$1.26 million) went to Padilha and BRL$6 million (US$1.89 million) to PMDB's candidate for São Paulo Governor Paulo Skaf.
Both Temer and Padilha defended themselves against the accusations, but confirmed the dinner did happen in order to help with party campaign financing. However, Temer claimed all donations were legal and declared to the Superior Electoral Tribunal (TSE).
In fact, TSE records show that the company legally donated about BRL$11.3 million (US$3.5 million) to PMDB in 2014 through an official party bank account.
Odebrecht instead argued that he can prove that the BRL$10 million were donated illegally and "in cash," Veja reported. In order for this confession to serve as evidence in the trial, it has to be validated by the presiding judge at the request of the prosecution.
2010 Presidential Campaign
On August 7, Brazilian's largest newspaper Folha de São Paulo reported on another confession allegedly made by unnamed senior executives from Odebrecht.
This time, it involves José Serra, a two-time presidential candidate for the conservative Brazilian Social Democracy Party (PSDB) and current Foreign Minister.
According to Folha, Odebrecht officials told prosecutors that they illegally gave BRL$34.5 million (US$10.89 million) in inflation-adjusted figures to the Serra 2010 presidential campaign, who eventually lost to Rousseff and Michel Temer.
They allege that they gave part of the money in cash in Brazil and wire-transferred the rest to foreign bank accounts that were used by Serra's campaign staff.
If the Brazilian court approves the plea offered by these Odebrecht executives, they promise to deliver bank statements certifying deposits.
Minister Serra sent a statement to the newspaper in which he said his campaign met all the requirements of electoral laws and that the finances of the campaign were in charge of his party, the PSDB.
Minimum popularity
Temer, who in May assumed the presidency while the impeachment trial of Dilma Rousseff advances through the Senate, struggles to maintain the stability of a cabinet that has already suffered three resignations of ministers who were linked to the Petrobras scandal.
Despite achieving to halt the tailspin of the economy, Temer faces a crisis of popularity by supporters of Rousseff, who claim that he's carrying out a "coup."
In a controversial survey conducted in July, most Brazilians said they wanted new elections rather than keep either Temer or Rousseff in office.
However, when the question included no new elections, which are unlikely due to legal and political obstacles, most prefer Temer to remain as president.
Temer's popularity stands at 14 percent, just above the 13 percent recorded by Rousseff before being suspended from office by the Senate in May.