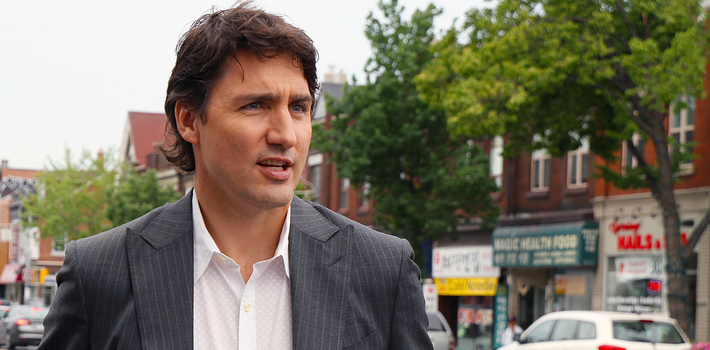 For the first time in 30 years, Canada is willingly going into the red, according to Bloomberg.
The newly elected Prime Minister, Justin Trudeau, vowed on February 22 to run a CAN$30 billion (US$22 billion) deficit in 2016 in an effort to spur economic growth amid tumbling oil prices:
It's one of the biggest fiscal swings in the country's history that, in just four months since the Oct. 19 election, has cut loose all the fiscal anchors Trudeau pledged to abide by even as he runs deficits. The government's bet is that appetite for more infrastructure spending and a post-election political honeymoon will trump criticism over borrowing and unmet campaign promises.

Trudeau swept to power in part by promising to put an end to an era of fiscal consolidation the Liberals claimed was undermining Canada's growth, which has been lackluster since the recession in 2009.
Trudeau's Liberal Party, however, had run on a platform of annual deficits of no more than CAN$10 billion. Furthermore, they promised to balance the budget in four years and reduce the debt-to-GDP ratio every year.
Now it seems they are abandoning all three fiscal promises.
The fiscal swing is one of the largest since the Great Depression. A CAN$30 billion deficit would be 1.5 percent of GDP. That's a swing of 1.4 points, from an expected deficit of 0.1 percent of GDP in the current year. Since the end of World War II, there have been only four one-year expansionary fiscal swings of more than 1.4 percentage points of GDP.
[adrotate group="7″]Predictably, the Conservative Party, which lost to the Liberals after nine years in power and is now in the oppositin, is not happy.
Conservative leader Rona Ambrose told the Globe and Mail that the economic downturn should instead push the government to rein in spending, not expand it:
"This is a recipe for waste and mismanagement," said Ms. Ambrose, describing the Liberal approach to deficits as reckless and irresponsible.

"The reality now is that it is not a time to spend. Based on slow economic growth, it's a time for the Finance Minister to talk about controlling spending," she said.
However, Theophilos Argitis in Bloomberg argues that Trudeau's plan is more of a return to normal than a departure from conservative policies:
While controversial given the country's recent record, the move in many ways is a return to the historical norm. How normal? Canada has run 110 deficits since it was formed in 1867, and in the 70 years since the end of World War II the federal government has run shortfalls 49 times.

…There is also a long history of using budgets as counter-cyclical policy, allowing deficits to grow during downturns and shrink in better times. There was one stretch between 1950 and 1970 — under both Liberals and Conservatives — when a practice of seeking to fine-tune the expansion with fiscal policy was convention, with budget balances ranging from surpluses totaling 1.5 percent of GDP to deficits of 2.5 percent.