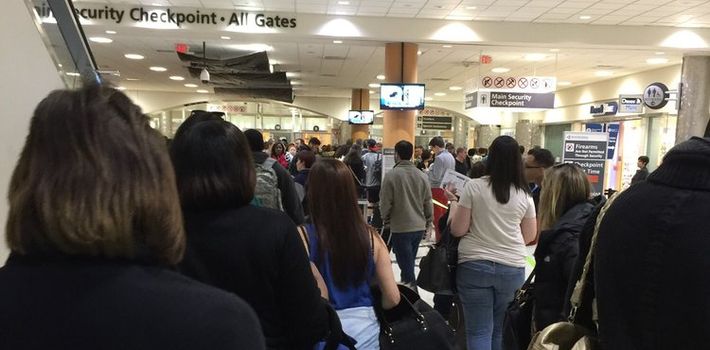 Miguel Southwell, head of Atlanta's Hartsfield-Jackson International, the world's busiest airport with over 96 million passengers in 2014, sent Transportation Security Administration (TSA) chief Peter Neffenger a strongly-worded letter on February 12 warning that that it might discontinue the use of its services.
As Business Insider reports:
In the letter, Southwell says the chronic staffing shortages are leading to wait times of over half an hour at the TSA checkpoints. If things don't change, the airport will bring in private security personnel under the TSA's Screening Partnership Program, he warns.

"Several times throughout the day from May to October 2015, wait times (at TSA checkpoints) exceeding 35 minutes were not uncommon," Southwell wrote. "This is unacceptable as reflected in the customer service surveys of our hub carrier Delta Air Lines."

"This morning as I write this letter, wait times up to 52 minutes were experienced between 6:00 am and 6:30 am," he added.
WSB-TV Atlanta 2 explains that the problem has potential consequences for the rest of the United States:
"But really when Atlanta goes down, the airline system around the country goes down, or at least it's slowed up," [ Sen. Johnny Isakson said].

The letter notes the wait times have showed up on Delta's customer surveys.

Meantime, the airport says it's done what it can, even with big campaigns to get people to sign up for TSA  pre-check, but they say they're out of options.
In TSA's defense, Atlanta Journal-Constitution reports:
According to TSA, screeners in Atlanta are screening about 15 percent more passengers a day than last year, or 8,000 extra passengers a day.

Yet TSA says its staffing in its current budget allocated by Congress caps screener staffing at the same level as the previous year — the lowest level in five years.

When long security lines were causing concerns at Hartsfield-Jackson last year, Neffenger said lines could get longer, not shorter, amid a TSA initiative to close gaps in security screening.

"I believe that the traveling public is willing to accept that there may be a slightly longer wait to ensure that they're secure getting on the plane," Neffenger said last year.
[adrotate group="7″]Passengers' complaints about the long lines leading to the screening checkpoints at Atlanta's main airport abound on Yelp, a website where clients review local businesses. On January 4, Damon B wrote:
Worst TSA checkpoint line ever? Possibly. For the entire airport (except international travel), everyone goes to the same line.

This is a HUGE airport, so the line is incredibly long. There are like 10s to 100s of people in front of you who don't know about stuff like not bringing water on the plane, taking laptops out of their bags, taking off shoes, or just showing someone their ticket and ID.

It's pretty much the worst I've ever seen or could imagine. It seems like everyone was confused about the tubs for holding your stuff. They were understaffed. The lines didn't really make any sense. The personnel didn't seem to be trained; or didn't have the right resources.

Total amateur hour.

The line moved very quickly, as in we kept walking the entire time, and it still took an hour.

Plan accordingly.