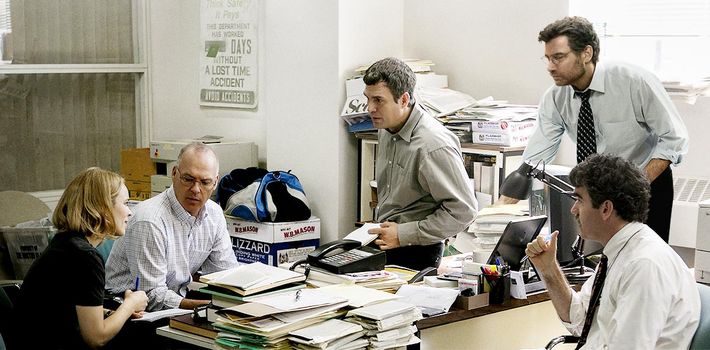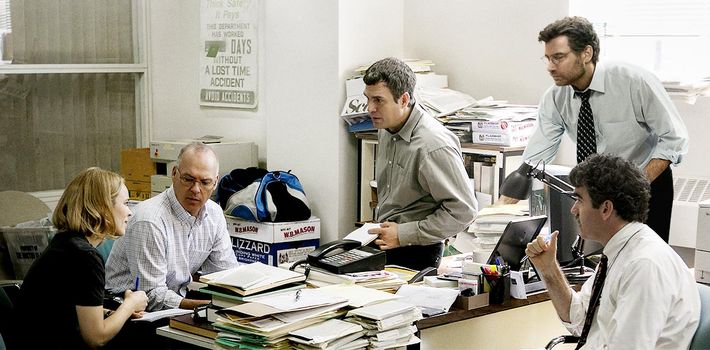 EspañolIn 2003, the Boston Globe won a Pulitzer Prize for a series of reports about how the Catholic Church had concealed cases of pedophilia in the Boston area for decades.
The newspaper's investigative team, called Spotlight, discovered that the archdiocese had shielded priests with a history of sexual assault from prosecution and transferred them from parish to parish, knowing they were likely to prey on children again (which they eventually did.)
The scandal sparked a wave of criticism in the United States and abroad. It shook the Church to its core, leading to internal investigations and the eventual resignation of Boston's archbishop, Cardinal Law. The Church, amid much soul-searching, has never fully recovered from the ensuing backlash.
Spotlight, the movie, is the story of how the courageous Boston Globe reporters — several of them practicing Catholics —put the pieces together in the pre-Internet era, talked to the victims, and confronted a millennial institution of great power.
Perhaps the most interesting fact is that it took an outsider to trigger the Spotlight investigation.
That spark was the much-praised editor Marty Baron, who now runs the Washington Post. A Jew just arrived from Miami, Baron told reporters on his first day at the Globe's helm to dig deeper into a story about a priest who had molested young boys. He felt there was more to it.
As months passed, the team revisited old newspaper clips, church records, and testimonies that the newspaper itself had overlooked. Soon, they realized the true extent of the problem. Over 100 priests had possibly abused children in Boston alone. Someone should have said something if this were true, the reporters told themselves in horror and disbelief.
The victims did speak out, but in a city where, as one character puts it, the Church "controls everything," strings are easily pulled and cases kept under wraps. Furthermore, lawyers benefiting from legal loopholes had created a profitable industry to silence families and protect the clergy.
The movie doesn't cover this, but victim groups argue that the problem is far from gone, and that the Church is now hiding predatory priests in poor parishes across Latin America, where its influence is even bigger.
Spotlight is an important film that every person committed to the search for truth should watch, but that, unfortunately, only journalists will be able to sit through.
Despite the great acting, Spotlight's biggest shortcoming is that it fails to inspire. There are no stunning performances, memorable speeches, heart-racing moments, no visually seductive scenes. Just the "sober" and downright tedious work of sifting through files and meetings.
The fact that almost no one but journalists and critics paid attention to the movie until it got nominated for six Academy Awards attests to its poor reception among the broader public.
In fact, one of the reasons the press loved the film so much is because it "doesn't turn journalists into heroes" and "resists the urge to amp up false drama."
But presenting a story with all the messy gray areas and nuances is a journalist's job. Film-making is literature. It's supposed to capture the viewers' imaginations.
They are right that Spotlight is what real journalism should look like, but it's not how you should sell it.
The filmmakers did well in avoiding Hollywood clichés, car chases, sex scenes, and guns. Nor do they misrepresent events and people. But if the director decided not to use the tools of storytelling and the powerful perks of fiction, one is left to wonder why he did not produce a documentary instead.
At a time of shrinking newsrooms and declining revenues for media outlets, many of which have no investigative units, it is unfortunate that a movie depicting how a team of dedicated reporters can speak truth to power through sheer determination fails to connect with the readers to whom they owe their existence to.
Spotlight deserves to become a cult movie for its faithful portrayal of old-school reporting. It's just a shame that, in today's clickbait media world, it doesn't also make us yearn for that golden age.