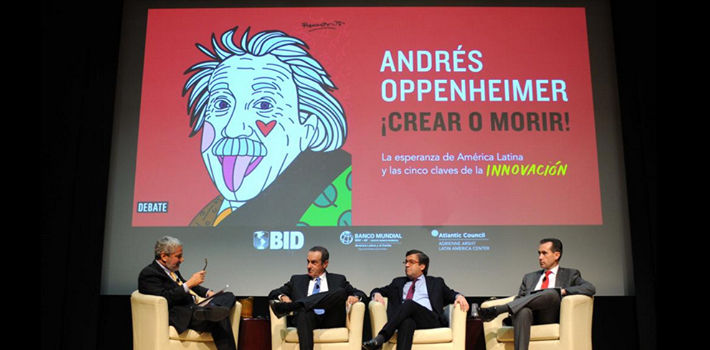 EspañolNow that the commodity boom that benefited Latin America so much has come to an end, the majority of the region's nations are in a precarious position: how can they adapt to this new world, with changing soy, meat, and oil prices, and capitalists who prefer to invest in more stable nations?
Perhaps Andrés Oppenheimer, the renowned Argentinean journalist, intended to warn of and overcome this dilemma. In late 2014, he launched his most recent book, Create or Die! The Hope of Latin America and the Five Keys to Innovation.
The book is an extension of his previous monograph, Leaving History Behind (Basta de historias), in which he emphasized that the 21st century would be notable for the dominance of the knowledge economy. Latin-American countries, he wrote, needed to modify their education systems to foster specialized goods and services industries, rather than continue to export raw materials and basic manufactured goods.
He further complained that Latin-American universities, aside from being mediocre, focused on producing legions of lawyers, psychologists, and historians. While they push these graduates onto the market, few are prepared for scientific and engineering careers.
His 12 keys to Latin-American progress could be summed up in one phrase: more investment into quality education.
Is Education Enough?
In Create or Die!, Oppenheimer reaffirms: "the prosperity of countries depends less and less on natural resources and more and more on their education systems, their scientists, and their innovators." He wonders, however, whether that is enough to guarantee that our countries will pursue the path towards the new economy.
We all know highly educated and talented people in Latin America, but for some reason, the Steve Jobs or the Elon Musks and the multimillion-dollar start-ups all come from Palo Alto, California, and not from Buenos Aires or São Paulo.
Oppenheimer hints at another necessary condition that is lacking, using a quick-witted observation: "a good education without an environment that fosters innovation produces many cab drivers with surprising levels of general knowledge, but little personal or national riches."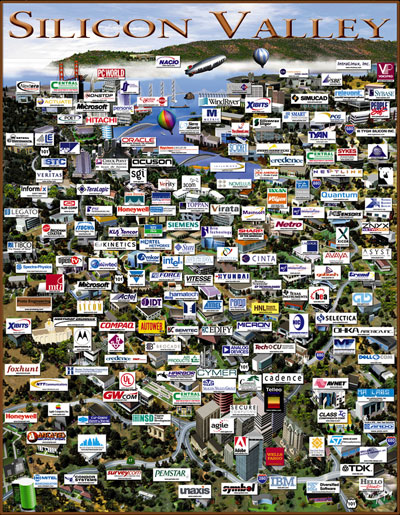 He dismisses three common explanations why this is the case: the argument that the state is not doing enough to foster innovation, but also the one that blames it all on excessive government interference. Nor does the author believe that Latin America's long tradition of authoritarianism and intolerance can fully explain why the region is not a fertile ground for creative minds (he points out that many Asian countries have boomed despite their strict mores).
Oppenheimer goes on to advance the theory that the problem is Latin America's institutionalized intolerance towards business failure. While in Silicon Valley bankruptcies and failed projects are accepted and even celebrated as learning opportunities, in our countries a crushing social stigma haunts entrepreneurs.
A culture and legal system that labels businessmen as "finished" or "done" when they do not succeed in their first project intimidates entrepreneurs and condemns them to several years of ostracism and financial ruin.
Silicon Valley's secret, beyond economic incentives, the reduction of bureaucracy or a good business climate, is that it has created an environment where the most creative and innovative minds wish to live in and are encouraged to pursue their visions, to take risks.
The journalist argues that Mexico City, Bogotá, Santiago, Buenos Aires, among other cosmopolitan cities in Latin America, have an enormous potential to harbor a similar ecosystem of ambitious innovators.
How to Make Innovation Take Root
Oppenheimer presents fascinating interviews and life stories of world-class innovators, including Peruvian chef Gastón Acurio; the founder of Virgin, Richard Branson; South African "serial entrepreneur" Elon Musk; Spanish neurobiologist Rafael Yuste; a robot enthusiast from Mexico, Jordi Muñoz; revolutionary educator Salman Khan; Spanish soccer coach Pep Guardiola; and former teacher turned 3D-printing star Bre Pettis.
After asking several of them the key to their success, in Chapter 10 Oppenheimer proposes his "five keys to innovation."
First, he wants Latin America to initiate a culture of innovation, in which creators are admired and celebrated. We should get children dreaming about becoming the next Messi or Neymar of science or software development.
But young people need the tools so that they can become inventors and innovators. Therefore, Oppenheimer argues, we must foster education for innovation. Mathematics and science should carry more weight early on in school.
Third, we must change regulations that stifle innovation. Governments must reduce the paperwork and bureaucracy associated with opening and closing businesses, modify bankruptcy laws, and respect private property.
Fourth, Latin America needs to reverse the share of investments on innovation: currently most of it is disbursed by governments, but the private businesses knows the market best.
Finally, Oppenheimer recommends globalizing education. Authorities need not worry too much about "brain drain" and accept instead "brain circulation," where young people are encouraged to study abroad and countries compete to attract talented people.
Productivity Is Not Learned at School

The book is no treatise on development economics, and it can even come across as simplistic to knowledgeable readers. However, Oppenheimer hits the mark with his suggestion to pay more attention to the role of institutions and the driving force of entrepreneurship as essential for progress.
This diagnosis in best-seller form is welcome at a time when public opinion embraces the unchallenged notion that all our problems will be solved when governments assign a certain percentage of GDP to education spending, or when all those who wish to pursue an university degree can do so — free of charge, of course — regardless of future returns on this investment.
Ricardo Hausmann, former chief economist at the Inter-American Development Bank and the current director of Harvard's Center for International Development, has recently taken it upon himself to tackle this myth. "Enormous amounts of effort in education have had very little effect on growth, and many of the countries that grew the most do not stand out as countries that have invested in education in any special way," the Venezuelan expert said in an interview.
At the end of the day, by making innovation a priority in Latin America, the objective is to increase productivity, that capacity to do more with less that improves people's quality of life. And "knowledge about how things are produced exists primarily within businesses, not in schools," explains Hausmann.