Español On Wednesday in New York City, the libertarian Cato Institute awarded Leszek Balcerowicz the 2014 Milton Friedman Prize for Advancing Liberty. Presented biennially and with a US$250,000 check, this is perhaps the world's preeminent prize for achievement in the promotion of freedom and individual liberty.
Balcerowicz was at the helm during Poland's transition from Soviet-style central planning to a more market-oriented economy. During 1989 and 1991, as deputy prime minister and finance minister of Poland, he put in place a radical reform plan that included liberalization of prices and sound fiscal and monetary measures.
When receiving the award, Balcerowicz noted that at the time there were two options: the fast way or the incremental way. He thought the fast way was unpredictable, but the incremental way was hopeless. He joked that unpredictable was better than certain failure.
In 2012, the Wall Street Journal dubbed Balcerowicz the "anti-Bernanke":
When communism fell in Europe, he pioneered "shock therapy" to slay hyperinflation and build a free market. In the late 1990s, he jammed a debt ceiling into his country's constitution, handcuffing future free spenders. When he was central-bank governor from 2001 to 2007, his hard-money policies avoided a credit boom and likely bust.
As a result of Balcerowicz's tight grip on government spending and responsible monetary policies, Poland was the only country in the European Union to avoid the 2009 recession, and has been its fastest growing economy since. The event to recognize his success attracted several hundred guests to an evening dinner with Garry Kasparov as the headline speaker.
The former world chess champion and opposition activist in Russia expressed his support for "American values." However, he shared concern over the weak stands of US President Barack Obama and Prime Minister David Cameron of the United Kingdom in the face of a spreading Russian circle of power.
"If instead of Reagan and Thatcher we would have had Obama and Cameron I would still be playing chess for the USSR," Kasparov quipped.
#FriedmanPrize keynote Garry Kasparov jokes he was born in the Deep South, next to Georgia…the country. pic.twitter.com/5gSlETKueU

— CatoEvents (@CatoEvents) May 22, 2014
Balcerowicz also noted ongoing threats to his reforms and free markets in Eastern Europe. He identified two key opponents: those who profit personally from greater interventionism — the various cronies and recipients — and those who support it for ideological reasons. In the context of democracy, he said, "where there is demand, there is supply," referring to the political incentives to satisfy these constituencies.
This is why, he said, the work of think tanks (policy institutes) such as the Cato Institute is so important. It makes him particularly pleased to receive what he and others called the "Nobel Prize" equivalent in the liberty movement, and what he described as his highest honor.
If one looks back at Balcerowicz in the 1980s, however, he did not seem a likely recipient for a prize named after a Chicago School economist for enacting free-market policies. He earned his PhD at the Central School of Planning and Statistics (CSPS) in Warsaw. From 1978 to 1980, he worked at the Institute of Marxism-Leninism and was a member of the Polish United Workers Party from 1969.
Balcerowicz had read Ludwig von Mises and F. A. Hayek on the importance of private property rights and the price system, but he never made it to any leadership positions to implement such reforms. He was not interested in politics, since it seemed like Soviet dominance and single-party rule had come to stay in Poland.
That all changed in 1989. The Solidarity workers union gained legal status in April and Tadeusz Mazowiecki, Eastern Europe's first non-communist leader since the end of World War II, asked Balcerowicz to be his deputy prime minister and finance minister. Balcerowicz accepted and implemented measures designed to balance the state's budget and end spiraling inflation.
He faced harsh opposition and decreasing popularity: "Balcerowicz Must Go!" became a slogan of many leftist and populist demonstrations in Poland. However, economist Steve Hanke has compared Poland to neighboring Ukraine, which did not adopt market reforms after the fall of the Soviet Union, and noted a stark contrast in terms of GDP. Unlike Poland's average annual growth rate of 4.42 percent, the Ukrainian economy has been contracting at a real annual rate of almost 1 percent since 1992.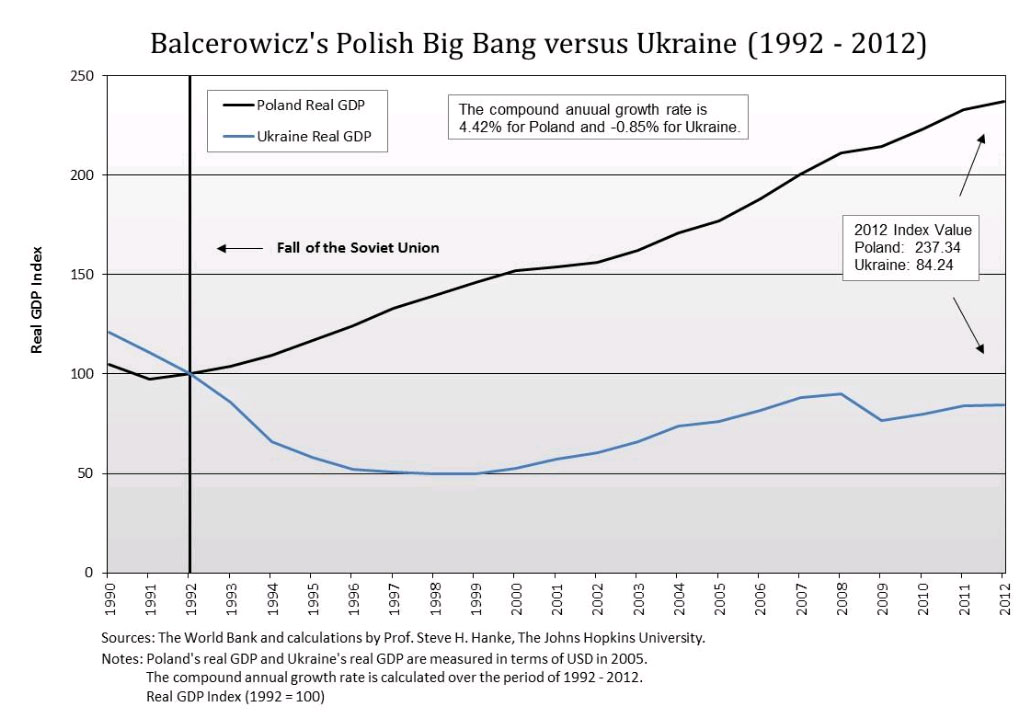 Balcerowicz held the same positions again from 1997 to 2000 as leader of the Freedom Union party (UW), and during the next seven years, he served as chairman of the National Bank of Poland. In 2005, the country's president, Aleksander Kwasniewski, awarded him with the country's highest decoration, the Order of the White Eagle.
"Leszek Balcerowicz's contributions to the advancement of liberty and free markets in Eastern Europe cannot be overstated," said Cato CEO John Allison when announcing the prize. "Poland now serves as a model that other countries may follow in transitioning from socialism to a humane economy based on individual responsibility and the rule of law."
Balcerowicz has written several books and journal publications. Most recently, he's the author of Discovering Freedom, a Polish bestseller of classical-liberal essays.
Fergus Hodgson contributed to this article.