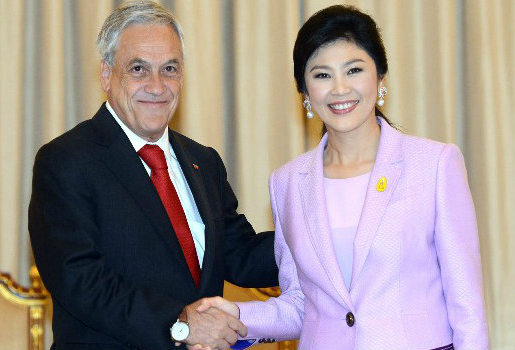 Thailand has signed a Free Trade Agreement (FTA) with Chile — although it still awaits legislative approval — and upgraded ties with Peru to a strategic partnership ahead of the 21st Asia-Pacific Economic Cooperation (APEC) summit in Bali.
Thai Prime Minister Yingluck Shinawatra and Chilean President Sebastián Piñera Echenique signed the agreement last Friday in Bangkok, which will remove tariffs on more than 90 percent of Chilean products to be exported to the Asian kingdom.
"For Chilean exporters, this will mean an access in preferential conditions to a market of more than 70 million people," Piñera Echenique said in a statement.
This FTA "is a strategic tool" for Thailand "to penetrate" Latin America and Chile's trading partners, said Jintana Chaiyawonnagal, deputy director-general of the Thai Trade Negotiations Department. Chile is a trading center in South America and "has more than 60 bilateral trade pacts with countries worldwide," she emphasized.
Piñera Echenique assured reporters in Bali on Monday that the FTA with Thailand "will enter into relevance" upon approval by the Chilean Congress. Thailand's Parliament approved the pact just two days ahead of the signing by a vote of 464 to 4.
The FTA negotiations began in April 2011 and ended last August. The agreement is expected to go into force early in 2014, and it is Thailand's second bilateral FTA with a Latin American country, after Peru.
Last year trade between Chile and Thailand ran over US$970 million, with a Thai trade surplus of some US$270 million. That makes Thailand Chile's main trading partner among the Association of Southeast Asian Nations (ASEAN), which includes Brunei, Cambodia, Indonesia, Laos, Malaysia, Myanmar, the Philippines, Singapore, Thailand, and Vietnam.
Expanded Ties Beyond Trade

Over the weekend, Thailand also concluded negotiations with Peru to further develop free trade bilateral ties and upgrade their relationship to a strategic partnership.
Shinawatra and Peruvian President Ollanta Humala Tasso, in a joint statement, said this is an important milestone that "will boost economic relations by enhancing reciprocal investment and trade and promoting each country as a gateway to their regions."
The 2011 Early Harvest Program between Peru and Thailand covered 70 percent of trade in goods. At the end of 2012, a year after the zero tariffs on a limited number of products (3,985 for Thailand, against 3,844 for Peru) went into force, bilateral trade increased 25 percent to US$762 million.
During the meeting on Saturday at the Government House in Bangkok, both leaders agreed on an updated FTA that would eliminate tariffs on 80 percent of Thai products to Peru, while 90 percent of Peruvian exports to Thailand would be tariff-free.
This comprehensive FTA should be signed and implemented soon, said Thai Deputy Commerce Minister Yanyong Phuangrach.
Shinawatra and Humala Tasso later oversaw the signing of four bilateral Memorandums of Understanding (MoU) on extradition, nuclear technology, investment, and public health. Earlier, Humala Tasso and Thailand's Education Minister Chaturon Chaisang signed another MoU, designed to provide scholarships for students through exchange programs.
Both Piñera Echenique and Humala Tasso were on state visits to Thailand prior to attending the APEC summit. This was the Chilean leader's first visit to Thailand and Humala Tasso's fourth.