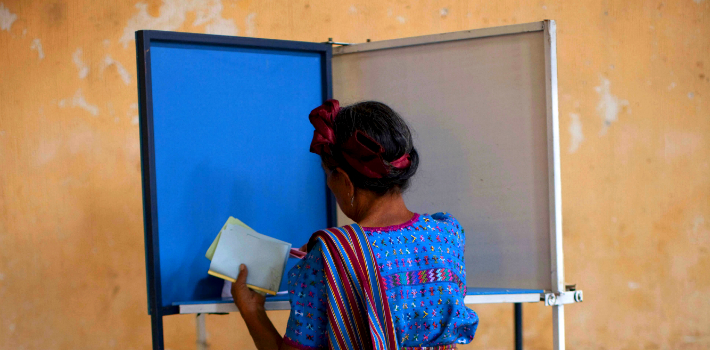 EspañolPublic-opinion polls in Guatemala have so far confirmed what I wrote two weeks ago about the upcoming presidential election: Manuel Baldizón, the leading populist candidate, has seen his support dwindle from 45 to 24 percent in just one month.
Sandra Torres, another populist presidential hopeful, seems to have stalled at around 15 percent. She, like Baldizón, has little support in the capital and other urban areas.
Jimmy Morales, whose ideology remains a mystery, has climbed to second place, just above Torres. Morales is an outsider, and has the gained the support of voters who see him as someone who has not yet been corrupted by politics, unlike Baldizón or Torres.
However, nothing in Guatemala is set in stone. Many voters are still undecided, while others say they plan to cast a blank vote.
It's a difficult election to predict. It's entirely possible that Morales secures a shot at a runoff. However, Zury Ríos, a sensible candidate with sound proposals, is rising quickly and may make things interesting if her support continues to grow across urban areas.
Other underdogs, such as Roberto González, still have some time to gain ground. For now, the only certainty in this election is Baldizón's eventual loss. He may still make it to the second round, but his demagoguery and arrogance have killed his chances, and voters will surely rally behind his opponent in the runoff.
Argentina's Uncertain Future
The majority of Guatemalan voters say they want an end to the corruption and cronyism and that has plagued their country, and a similar movement is now developing in Argentina, although less pronounced.
The August 9 primaries in the South American nation cut the field down to just three candidates who are eligible to succeed President Cristina Kirchner.
The ruling Front for Victory is still currently in the lead, with their candidate Daniel Scioli polling at around 38 percent. He is followed by Mauricio Macri, the opposition candidate for the Let's Change coalition, with 30 percent, and Sergio Massa, a dissident Peronist, in third place with 21 percent.
[adrotate group="8″]
In order to win the Argentinean presidential election, a candidate must either secure 45 percent of the votes or at least 40 percent with a 10-point margin of victory. Based on the voting figures from the primaries, Scioli will almost surely have to compete in a second round.
However, the front runner will likely face the same problem that Baldizón will have in Guatemala: dissatisfied voters will join forces against the populists, provoking their downfall.
It's unlikely that populism can remain in power in Argentina and Guatemala, where public opinion is demanding real change. However, both countries also face a similar problem: the opposition is not offering a real alternative that can take the country in a different direction.
No one is proposing balanced budgets, a serious take on corruption, or freer markets, which are prerequisites for social and economic development.
Venezuela's Highway to Hell
I regret having to end my column on a pessimistic note, but Venezuela's upcoming legislative elections on December 6 are not looking good. The Nicolás Maduro government continues its policy of manipulation, harassment, and fraud, and has banned candidates who oppose its socialist plan from participating in the election.
The opposition coalition Democratic Unity Roundtable (MUD) has yet to take a firm stance against the government. The MUD offers only moderate criticism of Maduro, rather than a true break from the socialist model that the government follows.
Even though most Venezuelans are unhappy with the government, it's almost impossible for the opposition to overcome the state's hurdles and capitalize on the public's discontent.
I expect no changes in Venezuela, a country that has already passed the point of no return, with more years of misery, shortages, and oppression to come.