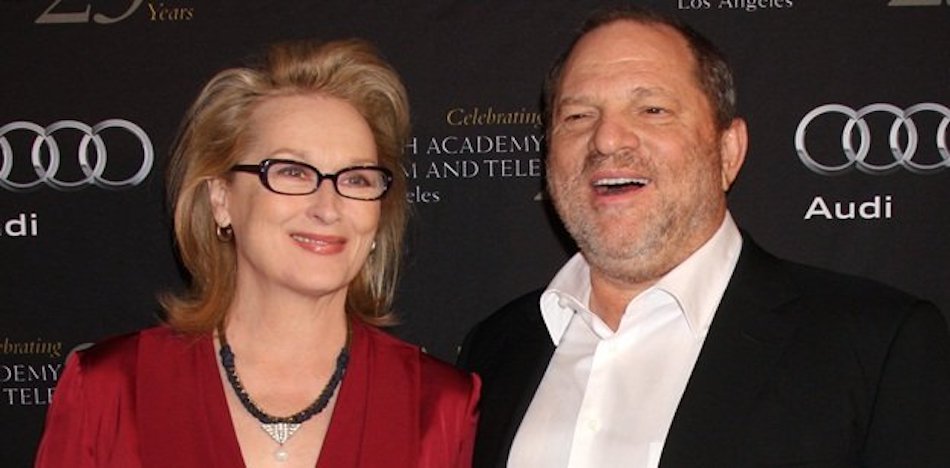 Now that the proverbial cat is out of the bag for Hollywood producer Harvey Weinstein, high-profile Hollywood stars such as Jennifer Lawrence and Robert Downey Jr. have come forward denouncing the clandestine and systemic sexual exploitation permeating the film industry. Though many have since recanted — or as Elijah Wood put it, "clarified" that he has "no firsthand experience or observation of the topic" — I wonder why so many stars feel the need to speak out about the "darkness in the underbelly" of the movie industry.
It's distressing, albeit common, that victims remain silent, needing others to come forward first before feeling safe to do so as well. But the silence of third parties is infinitely more disturbing because they were aware of the crimes and abuses taking place yet said nothing, presumably for fear of exclusion from participation in Hollywood projects.
It isn't totally surprising that such things go on in Hollywood. Acting in movies is perhaps the most coveted profession in the world. The power to give or deny lucrative movie roles determines the success, fame, fortune and legacy of everyone involved in the industry, especially headlining actors. I can't condone the silence, though I can understand it. I don't know what I would do if my dreams and my very livelihood were contingent on me turning a blind eye to atrocities being committed by elite "untouchables" within my industry. But what I really cannot stomach from the Hollywood big shots is their hypocritical virtue signaling.
The Hypocrisy of Meryl Streep
Not long ago, Meryl Streep used her Golden Globes award speech as a platform to voice her identity politics rhetoric, criticizing President Trump for supposedly mocking a disabled person. I didn't vote for Trump myself, but I know plenty of people who did, and to try to shame a person for voting for him based on some convoluted misinformation about his eccentric mannerisms is heinous. The hand gestures in question are ones that Trump has used in countless situations to mock all manners of people and opinions, and it makes no sense nor does it hold water to conflate these gestures with one isolated incident. It simply did not happen the way that Streep knowingly lied about it. I don't believe that she was ignorant about Weinstein either.
Though Streep — along with every other winner for decades, for that matter — lacked the courage to use an award show to bring attention to the victims being abused at their very doorstep, on two separate occasions comedians have used these types of ceremonies to make jokes alluding to Weinstein's sexual misconduct. During the 2013 Oscars, host Seth MacFarlane joked about the nominees for best actress not having to "pretend to be attracted to Harvey Weinstein," which resulted in boos and jeers from the audience.
Comedian James Corden joked at a charity gala on Saturday October 14, that Weinstein invited the weather "up to his room for a massage" because of how beautiful it was. I'll grant that this joke is far from well-written, but he, like MacFarlane before him, was received with jeers and boos. If there is no truth behind the jokes, then they would have simply fallen flat. To provoke that kind of audience response suggests that those present were privy to the reality of Weinstein's repeated abuses, and that they were complicit in covering up the scandals. Incredibly, both of them seem to have been intimidated into apologizing, with MacFarlane even going so far as to say that his comments "came from a place of loathing" — as if he were the guilty party for mocking Weinstein.
The Trump Access Hollywood Debacle
I still recall the outrage from leftist personalities, many of them Hollywood elites, over the recordings that Access Hollywood published of Donald Trump discussing his sexual conquests. I can't even look at a picture of Streep smiling alongside her old friend Harvey Weinstein without getting nauseous. How can I believe that she and her ilk really care about the disadvantaged and the abused, and much less about women's rights or combating rape culture?
The outrage over Trump's nonchalance about taking liberties with women who wanted to sleep with him due to his wealth and status makes no sense when compared with the cowardice, trepidation and approval-by-proxy that their silence represents.
Fear of exclusion from job opportunities notwithstanding, the issue is absolutely political. The Trump tapes were used as a justification for many looking to demonize one presidential candidate, while former President Bill Clinton, the husband of his opposition, had been caught in an  exploitative relationship with intern Monica Lewinski. Not to mention that Anthony Weiner, the husband of Hillary Clinton's political adviser, was caught "sexting" an under-aged girl. None of that was ever a cause for alarm. The hypocrisy is dumbfounding.
The fact that Hollywood celebrities are as outspoken as they are about Trump and silent about the manifold sexual exploitation scandals uncovered by progressive culprits can mean only one of two things: either they don't really care about the victims, and they become selectively outraged at their political convenience, or they are more afraid of people like Hillary Clinton and Harvey Weinstein than they are of Trump.