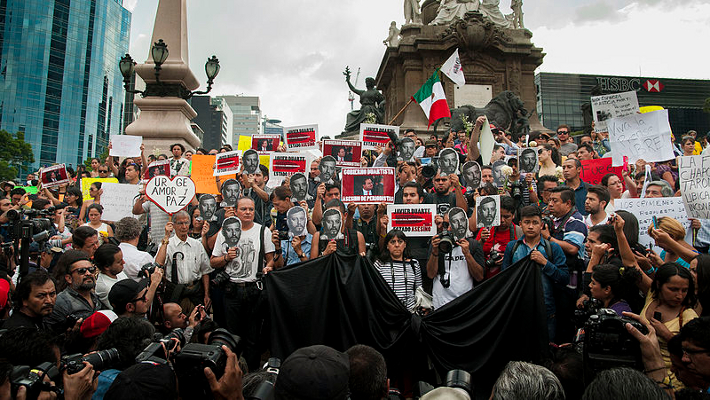 EspañolBeing a journalist in Mexico has become a high-risk profession. Plumas Libres multimedia coordinator Miguel Ángel Díaz González, from Veracruz, experienced the dangers of the trade firsthand. He spoke with the PanAm Post about the intimidation he suffered in his country, and about his self-imposed exile in Argentina.
He decided to leave Mexico after demanding an investigation into the murder of his friend and colleague Rubén Espinosa. He also speaks of love and hate between the army, politicos, and drug traffickers.
Is Mexico one of the worst countries in the world to be a journalist?
Yes, even worse than Cuba. In Mexico, we're getting killed.
How would you describe the problem of violence in Mexico?
It's complex. It has nothing to do with genetics or heritage. Simply, violence occurs because we live under an authoritarian democracy. The Institutional Revolutionary Party (PRI) ruled for 75 years in Mexico. They lost in 2000, when the right-wing opposition of the National Action Party (PAN) won the elections, but the PAN never fulfilled their promises, like fighting corruption.
They made an agreement with the PRI, which was still controlling the country's main jurisdictions.
The PAN created a new political elite of millionaires who took advantage of the oil boom and made business deals under the protection of powerful figures. This disenchanted the people, who put the PRI, led by Enrique Peña Nieto, back into power in 2012.
His government was hit hard with news of corruption scandals and of some massacres too. Violence has been cyclical in Mexico. Thus, the recent killing of 43 students is akin to the army's 1968 slaughter of those who took part in a student demonstration.
If Peña-Nieto's government wasn't involved in the students' murder, at least they protected those responsible with their actions or their negligence. The government questioned the investigation with implausible arguments.
They claimed, for instance, that the students were burned to death in a landfill. When the Inter-American Commission of Human Rights (IACHR) intervened in the case, it concluded that the government's claim was impossible.
What is the most credible version of what happened with the 43 students?

The most probable scenario is that the government was involved in the massacre. How? We still don't know that. But they blocked the investigation about the Mexican military's involvement. Nor have they investigated a fifth bus which the students used and which carried drugs, according to the IACHR and independent journalists like Anabel Hernández, who fled the country after receiving threats.
Supposedly, the students didn't know about the drugs, but the local police, the Federal Police, and the army did, and they did everything possible to recover it. That's the reason why the students were killed.
All the evidence suggests that Peña Nieto's policy is to silence dissident voices and to hold back social uprisings in the country. Human-rights abuses continue to be systematic, particularly in terms of free speech.
How do drug rings work? What is the relationship with politicians in power?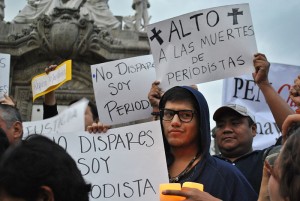 In the past, the PRI controlled the drug cartels. They would tell them, for example: "you have this route, and you must obey it." They asked them for a commission (moche). When the PAN took power, they allowed drug traffickers to do as they pleased.
They stopped controlling them and many new gangs emerged. Under the PRI, the country was less violent. They also controlled the media.
During Vicente Fox's administration (2000-2006), some cartels got protection — including the one led by Joaquín "El Chapo" Guzmán — while the state fought against others to fulfill the demands of the United States. Fox jailed innocent people to show results. Those tried were scapegoats, often confessing under torture.
So far, 100,000 people have been killed and 26,000 have disappeared. These are the official figures, but the real number could be as high as 200,000 deaths with over 200 journalists murdered.
Most drug users are in the United States, but the drug-related battles and murders are taking place in Mexico. And this happens because Mexico is a very corrupt country. It's ranked number 115 in the world in the Transparency International index, near the bottom of the table. Corruption is practically endemic.
Tell me about your experience as a journalist.
Journalism became more difficult after Felipe Calderón (2006-2012) declared a federal war on drugs. He did this without a strategy, without consulting anyone. He was just following the US mandate to fight the war. He didn't think of tackling drug use as a health problem.
Suddenly, we journalists found ourselves on our own and in the middle of two warring factions: the army and the drug traffickers. We were threatened not only by the military and police forces, but also by criminal gangs. Both the security services and their enemies wanted to stop our publications.
There are now "silent areas" where nothing is reported.
Can't journalists defend themselves by not signing their articles or using a pseudonym?
They often attack the media outlets' physical headquarters.
Is that something frequent?
Yes, it's a frequent target for drug traffickers. In Chihuahua, in Veracruz … and this has led to self-censorship. News outlets openly say they won't publish anything compromising, especially in the areas where they're exposed to violence and local governments protect organized crime.
[adrotate group="8″]
Could you give an example?
Consider the case of Rubén Espinosa, the last colleague to be killed in Veracruz. After being harassed by government officials, he left the city for the capital in July. It was a form of exile. A month later, he was killed. His murder was meticulously planned.
Are there any alternatives?

The choice is between being independent, posing as a hero, or living under constant harassment and stress. That's not living. You must change your lifestyle, for instance, staying at home at night. If you ask for official protection, the government will appoint the same officers that harassed you. Another option is to seek exile in another state, where nobody knows you.
Why did you decide to seek exile?
After Rubén Espinosa's murder, the police began to persecute a group of journalists who used to meet with him. We were reporters and activists who took to the streets demanding justice for murdered colleagues. Over the last 4 years, 15 journalists have been killed in Veracruz alone.
The police started following me, they showed up at my office; my digital newspaper's HQ began to receive visits from the police. Patrols would follow me when I walked the streets. You know they're there. I filed a complaint and entered a protection program for journalists and human-rights activists, and they provided me with a panic button. They come to your aid if you press it.
I suffered from post-traumatic stress disorder.
What are the costs of being exiled?
It's very expensive, both economically and emotionally. You're not around your family; you're alone. It's better to return and keep on doing what you enjoy, what you're passionate about. It's utopian to think that this could change, but revolutions always start with utopias. And I think this must come to an end some day.
Veracruz is a massive graveyard. You'll find disappeared people's graves almost anywhere.
Why don't these events come to the light?
Because political parties and the political class signed an impunity agreement. If one reports another, he will be reported in turn. They're all involved in illegal activities. Drug trafficking is just a facade.