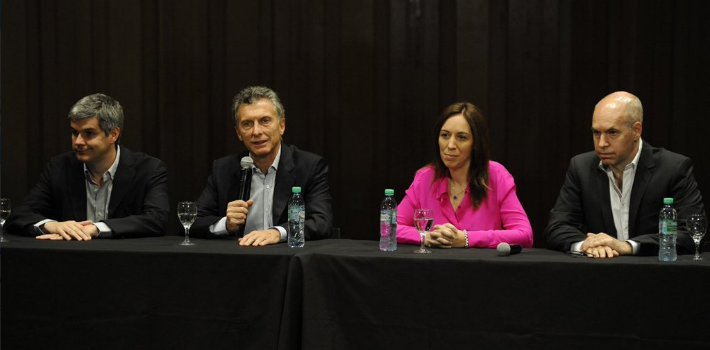 EspañolMauricio Macri, Argentina's president-elect, takes office on December 10 and intends to lose no time until then.
Over the next few days, he will meet President Cristina Kirchner to arrange an organized transition of power. He will also select his cabinet for the economy, which will be composed of six ministers, and contact other member states of the Mercosur regional block in order to place sanctions on the Venezuelan regime.
Macri gave his first press conference as president-elect at 9:00 a.m. local time on Monday, November 23. He talked with journalists for one hour about what he had in store for Argentina.
"New winds are blowing. We are already holding a press conference on the first day," he said. This was meant to contrast with the strained relationship between the press and President Kirchner, who rarely offered interviews and only talked to government-friendly journalists.
Macri beat the ruling-party candidate Daniel Scioli by a narrow margin: 51.40 percent versus 48.60 percent of votes cast. And he won't have a majority in Congress, at least during his first two years as president. Nevertheless, the president-elect said he was ready to find a "common agenda" for Argentina.
While Juan Domingo Perón continues to hold the record for the largest share of votes in a presidential election (he won with a 60 percent of the vote in 1973), Macri received the most votes in absolute terms in Argentina's history: 12,903,301.
[adrotate group="7″]
The economy, a main issue of debate during the presidential race, inevitably came up during the press conference. Macri assured that he would lift exchange and capital controls and uphold the central bank's independence, but he did not say exactly when these particular measures would be implemented.
"We need to get the country running again," he said, and promised to unify the different US-dollar exchange rates.
The businessman-turned-politician also let the country know that there will be a shift in foreign policy, as Argentina will move away from Venezuela and reestablish relations with other Latin American neighbors. Macri said that his first official visit would be to Brazil. "It's Argentina's leading trade partner," he argued. "We need to open ourselves to the world and enter the 21st century."
He said that he would fulfill his campaign pledge to request Mercosur to suspend Venezuela over its government's human rights abuses. He mentioned the Maduro regime's "political persecution and its attacks against free speech."
He said that while the reports on Venezuela conclude that its government is not respecting basic freedoms, "Argentineans have confirmed their commitment to democracy." He also confirmed that Lilian Tintori, wife of Venezuelan political prisoner Leopoldo López, flew to Buenos Aires on Sunday to celebrate his victory at the polls.
Sore Losers
Chief of Staff Aníbal Fernández, who lost the governorship of the Buenos Aires province on October 25, scorned the opposition's victory and called Sunday's results "almost a tie."
"Fifty percent of the population agrees with this administration," he told reporters.
At his early-morning press conference, he highlighted the Kirchner administration's achievements, stressing that the run-off ended with just a "700,000-vote difference, out of 25 million voters."
On Sunday afternoon, President Kirchner went on a rant on Twitter to defend her administration. While the polls were still open, she claimed that the country was better than ever: "This is the first time I've voted when unemployment is at just 5.9 percent, and there are millions and millions of jobs."
Si no hubiéramos logrado todas estas cosas, ¿habría tanta gente defendiendo esto? Evidentemente, hemos hecho un salto cualitativo fenomenal.

— Cristina Kirchner (@CFKArgentina) November 22, 2015

"If we hadn't achieved all these things, would there be so many people defending [our administration]? Clearly, we have made an enormous leap forward."
Before meeting with Macri on Tuesday evening at the presidential residence, Kirchner received a scheduled visit from Scioli and his running mate, Carlos Zannini.