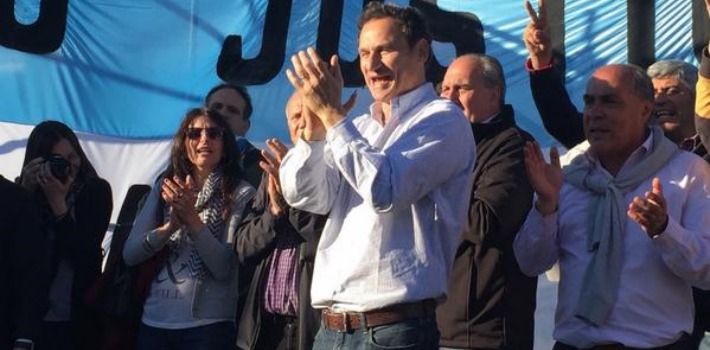 The results of the October 25 election have rattled Argentina's ruling party, and it appears that some former incumbents are taking it worse than others. Such is the case of Pablo Bruera, mayor of La Plata for the last eight years, who lost his seat to opposition candidate Julio Garro.
La Plata residents say that instead of getting the city's affairs in order for the incoming mayor, Bruera has laid off employees, destroyed documents, dismantled public spaces, and had town-hall equipment removed, according to local media.
The problems began two days after the election, when city employees told local reporters that the Bruera administration allegedly began reshuffling staff, terminating contracts, and hiring the mayor's supporters as full-time employees.
Neighbors also filed a complaint with local police claiming they saw "around 10 employees" suspiciously removing documents from municipal offices in the middle of the night.
Furthermore, local newspaper La Tecla reported that on Wednesday, October 28, several neighbors spotted people wearing City of La Plata jerseys removing children's games and fitness equipment from public squares and parks.
Police responded to Castelli Plaza following multiple reports and prosecutor Marcelo Romero is currently investigating several municipal cooperatives.
La Plata officials told La Tecla that they had removed the games "for repair," but Clarín journalist Gabriel Braceso claims that the mayor ordered the plaza dismantled in retaliation, since the neighborhood had voted overwhelmingly against Bruera.
On November 1, a resident in the Tolosa neighborhood told Infoplatense that a city surveillance office bad been ransacked. "This morning, I went to the station and realized that [city officials] had taken away the plasma TV and the computer used to monitor the area's cameras in connection with the Buenos Aires police," Pablo Pérez said.

Newly elected councilor Florencia Rollie from the opposition Let's Change coalition backed up Pérez's accusations: "It's amazing the impunity with which they are taking away computers and furniture from offices," Rollie told Infoplatense.
"They are also burning documents to leave Garro's future administration without proof of actions that, for some reason, Bruera wants to hide," she explained. "[Bruera] is responsible for the municipality's assets, so he will have to restore all the missing property when the inventory is done."
Discrediting Campaign
Ever since a Mauricio Macri presidency became a real possibility following the results of the first round of voting, the Cristina Kirchner administration has put its state-propaganda apparatus in full gear, according to Argentinean opposition media.
Kirchner supporters and government officials have warned that, if the Let's Change coalition takes power, the new government would slash public services, defund government programs, devaluate the peso, and increase poverty, among other supposedly dire consequences.
Photos and videos urging Argentineans to vote for ruling-party candidate Daniel Scioli have flooded social media. "You rights or Macri," Luis D'Elía, a renowned Kirchner supporter, tweeted on November 1.
On television, during the peak of viewership of the Boca-Tigre soccer match last Sunday, the pro-government show "6, 7, 8" aired a spot comparing Macri with the dictatorship-era Economy minister, José Alfredo Martínez de Hoz.
El #22 yo voto #ScioliPresidente https://t.co/lxdKVD1eZy

— Luis D'Elia (@Luis_Delia) November 1, 2015
On Monday, November 2, Defense Minister Agustín Rossi said that the Argentinean people have an "easy choice" to make, between "their interests and that of corporations."
For his part, Macri lamented the ruling-party's "horrible" attacks. "I thought Daniel Scioli was a good person," he told América TV. "The fact that he's leading such a campaign speaks poorly of him."
The presidential runoff is scheduled for November 22. In an interview with the Financial Times, Macri said that if he becomes president, he would immediately end capital controls, among other measures, to stabilize the economy.

Daniel Duarte contributed to this article.