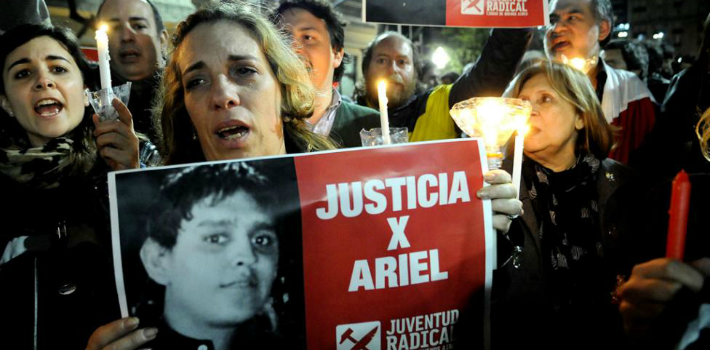 EspañolOn August 8, one day before Argentina's primary elections, unidentified gunmen shot and seriously wounded a young man from the northeastern province of Jujuy.
The young man passed away 11 days later while in the hospital. The political controversy erupted when several candidates from various parties tried to claim the 20-year-old victim, Ariel Velázquez, belonged to their party, and began pointing fingers at each other over his death.
During a national broadcast on August 20, President Cristina Kirchner claimed that a document from the election authority proved that the late activist belonged to the Popular Sovereignty Party, led by Kirchnerist leader Milagro Sala.
The Radical Civic Union (UCR) immediately responded to Kirchner's claims, and released a statement affirming the "activist killed in San Pedro, Jujuy, belonged to the UCR, and the day he was shot, he was working on the campaign with his fellow activists."
While Velázquez was legally affiliated with Sala's party, he had, in fact, become a grassroots activist for the UCR opposition party.
"This membership that the president mentioned today demonstrates Tupac Amaru's compulsory and extortionary methods to co-opt young people," UCR representatives said in a press release. "They ask them to register with the party if they want to study at publicly funded schools managed by Tupac Amaru."
Tupac Amaru is an NGO founded by Sala which has received generous grants from the federal government to provide everything from public housing to health care. In 2012, Sala created the Popular Sovereignty Party as a vehicle to enter the political arena.
The leader of the explicitly pro-Kirchner organization also frequently makes public appearances with Social Development Minister Alicia Kirchner, the president's sister-in-law.
Mauricio Macri, a presidential hopeful and leader of the opposition coalition Let's Change, said that if Velázquez's death "was the result of a political crime, we would be facing an extremely serious situation." On Friday, August 22, he demanded authorities conduct a swift investigation, and accused Kirchner of "covering up for her Tupac Amaru associates by disseminating lies."
[adrotate group="8″]
Jujuy is one of the poorest provinces in Argentina. According to a recent report, 52 percent of Jujuy residents live below the poverty line, and 15 percent are considered extremely poor.
"It's a province wrought with political conflict, authoritarianism, patronage, mostly because of Tupac Amaru," Macri said. "Would the president have reacted the same way had the victim been from the [pro-government] La Cámpora?"
Daniel Scioli, presidential candidate for the ruling coalition Front for Victory, responded by calling for a stop to "political manipulation in disgraceful situations," in reference to the opposition.
Velázquez was attacked as he arrived home in the town of San Pedro, Jujuy. Police originally filed the case as an attempted robbery, but Velázquez's family insists that he was still carrying his cell phone and money when he was found.
On Friday, August 21, Velásquez's sister-in-law provided an account of what happened the night he was shot: "That night, my husband and I were home when we heard a gunshot. We went outside, and my brother-in-law appeared from the side of the house and my husband had him come inside. [Ariel] said he had been shot and grabbed part of his body. My husband checked him and saw a gunshot wound. After that, we took him to the hospital and he said six people [had attacked him]."
Local Congressman Julio Bravo agrees this was not a robbery gone wrong. "We are convinced that he was not robbed. The government put aside the hypothesis of a politically motivated crime and decided to blame this on a theft that never took place," he said.
"We don't know who shot him," UCR Senator Gerardo Morales said, "but there has been a surge in violence on the part of Tupac Amaru focused on attacking UCR supporters, and the government turns a blind eye."
Ernesto Sanz, UCR's national leader, also weighed in on the controversy, adding "there is nothing more authentically Kirchnerist than intolerance and contempt for those who think differently."
"The president wasted a good opportunity to apologize during the national broadcast," he concluded.