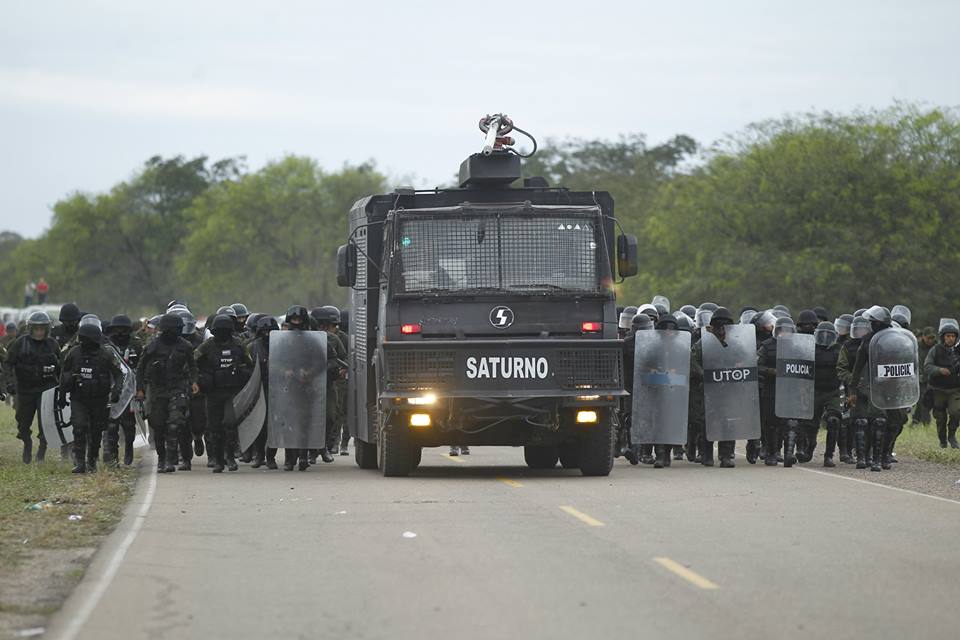 EspañolIndigenous Guaraní in Bolivia claim police brutally attacked them on Tuesday, August 18, as they protested the government's efforts to explore their lands for oil.
The Guaraní people, who reside in southern states of Tarija, Santa Cruz, and Chuiquisaca, say heavily armed police officers used tear gas on women, children, and the elderly, while they stood at a blockade on the road that connects Santa Cruz with Yacuíba.
According to local media reports, police officers then forcibly entered the homes of protesters who had run back to their village to avoid arrest.
Beginning at 6 a.m. local time on Tuesday, approximately 1,000 Guaraní people from the local community blocked traffic on the road. They called for President Evo Morales to respect the Constitution, which mandates a public consultation prior to exploration projects on lands where indigenous groups live.
"They entered directly into dwellings in the Yateirenda community. This is already getting out of hand; they are attacking the dignity of our homes," said Coca Hijino, a representative of the indigenous group in Takovo Mora. "Just imagine, the children have all fainted. Something has to be done, because [the privacy of] our homes is being directly violated."
Over the last few weeks, the Guaraní community has organized demonstrations in protest of operations in El Dorado by state-run oil company Bolivian Treasury Petroleum Fields (YPFB). They are demanding the national government repeal Decrees 2298, 2195, 2366, and 2368, which allow the exploration and exploitation of hydrocarbon resources in protected areas.
https://www.youtube.com/watch?v=iRz_7UqA8RU
"We have all the evidence here, [but] this is the kind of willingness to talk the government has shown … They have come to repress the indigenous Yateirenda people with their weapons," said regional prosecutor José Leonor Morales. "We denounce the violence against the Guaraní people."
Meanwhile, Yolanda Herrera, president of the Permanent Human Rights Assembly of Bolivia (APDHB), asked police not to resort to disproportionate uses of force.
Minister of Hydrocarbons Luis Alberto Sanchez has said YPFB's operations take place on private land, but the Guaraní people claim part of the work is being done on their territories.
Guaraní Decry Violent Solution
Initially, indigenous protesters fought off police with stones during Tuesday's confrontation, but officers soon managed to break through and forced them to retreat.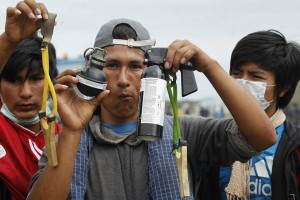 The chairman of the Council of Guaraní Captains (CCCH), Ronald Gomez, says police arrested several Guaraní leaders, and many others were injured or have gone missing.
Marilín Carayuri says she and other indigenous protesters fled into the jungle to avoid arrest.
"The government … violates the Constitution, and it is clear to us, the Assembly of the Guaraní People, that the use of tear gas is meant to intimidate us. But we stand firm," the Guaraní woman said, adding that she does not believe the Evo Morales administration wants to solve this issue peacefully.
According to reports from El Deber, Bolivian authorities seized children during the clash, and used them as bargaining chips so their parents would call off the demonstration.
"Instead of engaging in dialogue, the government has sent us the military. We will not move, even if we have to withstand being gassed and beaten," indigenous leader Vilma Arredondo warned during the demonstration.
[adrotate group="7″]
"We call on the population and the media to be alert to what might happen. We will resist, even if we have to die," she said.
The Guaraní people are a native group whose tribes are scattered across Uruguay, Paraguay, northeastern Argentina, southern Brazil, and southeastern Bolivia.