EspañolTo the rest of the world, Argentina is the land of wine, mate tea, tango, and soccer. More recently, however, the South American nation has gained a reputation as a Mecca for gay tourism in Latin America.
Argentina is currently the only country in the world where any two consenting adults, regardless of nationality or sexual orientation, can get married. Based on Law 26,618, known as the Equal Marriage Act of 2010, homosexual couples can legally marry in the country and have their union recognized internationally.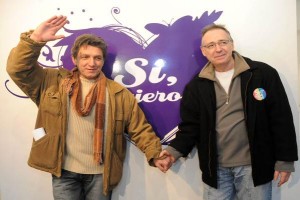 As a result, hundreds of couples every year travel to Argentina to tie the knot in the offices of the civil registry of Buenos Aires.
The company Gay Marriage Argentina has capitalized on this phenomenon and is now facilitating the marriage process for interested couples.
Leandro, a company partner who preferred not to give his last name, told the PanAm Post that they have already organized the marriage of more than 100 international couples since they began just over two years ago. He says most of their customers come from Venezuela, followed by couples from Colombia, Mexico, and Peru.
The company offers a variety of services, including photography, a translator (for those who do not speak Spanish), and the required paperwork. Their packages vary from US$749 to $2,999, and premium services offer live streaming to anywhere in the world, hotel accommodations, visits to tourist attractions, and spa services.
According to the Argentinean Constitution, foreigners in the country enjoy the same rights and privileges as citizens, and can "make wills and marry under the law." Leandro says Argentina is the only nation out of the 20 countries where gay marriage is legal that allows foreign couples to marry.
"Canada is a special case, because the country allows foreigners to marry, but only if gay marriage is legal in their home country," he explains.
Many couples, according to Leandro, travel to Argentina just to feel what it's like to get married, but don't follow through with the necessary paperwork to make their marriage valid in their home country.
"There are countries with reciprocity agreements. It's not a immediate process, but it can be done. Your marriage can be legal even in countries where gay marriage has not been legalized," he adds.
Since gay marriage became legal in Argentina in 2010, over 10,500 gay couples have been married in the country, and 10 percent of those couples have been foreigners.
"Not once has a wedding been denied or prohibited, not for locals or for tourists, not for homosexuals or heterosexuals," the company states on its website. 
Gay Marriage around the World
Although first in the region and 10th in the world, Argentina is no longer alone on the list of Latin American countries that have passed legislation sanctioning gay marriage.
Uruguay, Brazil, Puerto Rico, Canada, and the United States have all legalized gay marriage, while Chile, Colombia, and Ecuador have approved legislation that recognizes homosexual civil unions.