EspañolFor the first time in history, bitcoin advocates have joined forces with a Latin American government to host an event devoted to discussion of the digital currency.
Cosponsored by Bitcoin Argentina and Bitcoin Latin America, the Buenos Aires government held an open forum at its brand new auditorium on Friday, July 31, to review regulatory practices for the cryptocurrency.
The event also included live streaming from other conferences held simultaneously at the Virtual Currencies in the Financial and Regulatory Environment Forum in Sao Paulo, Brazil.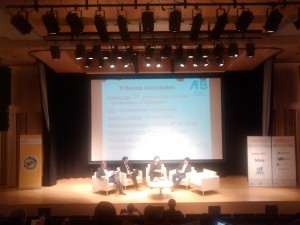 Gonzalo Blousson, founder of blockchain-based contract-service provider BitCourt, opened the conference with a lecture on the history of money, reviewing its origins and primary features. Rodolfo Andragnes, one of the founders of Bitcoin Argentina, followed up with a presentation on the relationship between bitcoin and blockchain technology.
According to Andragnes, bitcoin is a "disruptive" technology that is causing a paradigm shift in currency use. "Why does something have value?" he asked the curious crowd filled with students, lawyers, and public officials.
Cecilia Lucca, coordinator for the Innovation Roundtable of the Buenos Aires city government, told the PanAm Post that the government understands bitcoin is a technology that is changing the world and will continue to grow exponentially.
"It's an open-ended story," she says. "We don't know whether will start collecting taxes on bitcoin, or if it's a bubble that is set to burst. It has a future that is worth exploring, and this event will help begin the discussion on this technology."
Lucca also notes the case of Honduras, whose government has adopted blockchain technology as a permanent and secure land-title record system.
She says the government is planning to hold another bitcoin event this year, which will be focused on the digital currency's advantages for entrepreneurs and small and medium-sized businesses.
Franco Amati, cofounder of Bitcoin Argentina and the Buenos Aires Bitcoin Center, praised the event and said it shows that the local government is in line with large parts of the world where regulators have welcomed bitcoin.
"The forum has succeeded in building interest among public officials to analyze the possibilities for the blockchain technology to be used as a means of guaranteeing transparency in government actions, such as public registries, biddings, etc," Amati said.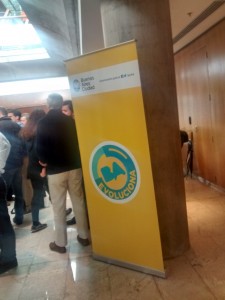 While other governments throughout the word have previously sponsored events addressing bitcoin in a financial context, Andragnes notes that the Buenos Aires forum is the first of its kind in Latin America.
"In this case, the approach was to talk about bitcoin, not financial technologies," he says. "Bitcoin is an opportunity, and we want the government to serve as a constructive environment."
Andragnes believes this can be achieved by properly explaining the technology and offering an optimistic outlook for the digital currency. "I'm very involved. I have visited the Financial Information Unit [an anti-money-laundering office], the Central Bank, and I'm here at the city government," he says. "We want to convey the potential of bitcoin. We can't prevent officials from regulating it, but we can provide a comprehensive vision on what bitcoin represents before they regulate it."
Given the concern from law-enforcement authorities over the relationship between bitcoin and money-laundering schemes, Andragnes says he wants to provide governments with the proper tools to understand that bad regulation could leave Argentineans out of something big.
"Bitcoin is a technology. The best-case scenario for bitcoin is to have clear rules."