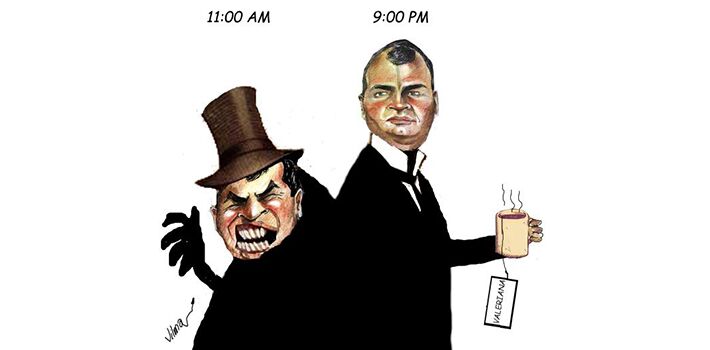 EspañolIn what Ecuadorian cartoonist Vilma Vargas says was an act of vandalism, strangers broke into her home on July 13 and ransacked her drawings, paintings, and portraits. Vargas says her work is mostly political, with an anti-government tinge.
The artist is well known on social media for her critical view of President Correa's administration. Her caricatures have gone viral on Twitter, inciting comments from followers as well as opponents, the latter of which have sent hundreds of insults her way since she opened her account over a year ago.
Vargas tells the PanAm Post that she has cautiously decided not to pursue the matter.
"I want to be careful with my words and with my actions. Though I am certain, from the way the break-in happened, that they wanted to intimidate me, I don't have any conclusive evidence," she says.
She told the free-speech NGO Fundamedios that she was away on a trip when the break-in took place. When she returned, she noticed the garage was open, and the door had been tampered with.
"They removed a metal door which was built into the wall. They broke the wall and took out a window, came in, and tossed absolutely everything around, from books to paintings, drawings, and clothes. But they didn't take anything…. Their actions point to an exhaustive search for something, in every inch of the house, because I didn't find any drawer they had not checked. Everything was tossed," Vargas said.
To get in, she says they must have been there four to six hours to break down the wall, the bars on the windows, and the security measures on the heavy door. Vargas believes it was an act of intimidation, since the vandals could have taken everything, but chose not to.
"Actually, people in the government have let me know that my drawings are bothersome. They have sent direct messages on Twitter saying that my drawings are full of lies and have even hinted at what I should be drawing. But I've never responded to those messages or paid any attention to that type of intimidation. This action concerns me, however, since it's not an intrusion that can be blamed on common crime."
Her troubles did not end there. Vargas says that when she reported the break-in to police, officers told her they could not come to her home because their patrol car had broken down. She says she tried again the next day, but police then told her that their computer system could not locate her address.
Dangerous Precedent
President Correa and the independent Ecuadorian press have been known to clash, and the president has previously taken to his weekly television program to speak out against articles and media outlets that paint his government in a bad light.
The Communications Secretariat has fined outlets for not publicizing official government events, and journalists and media workers have reported being assaulted when covering anti-government protests.
In March, the Mil Hojas Foundation published a report revealing the existence of an alleged "troll center" — decorated with photographs of Che Guevara and President Correa — where government employees monitor and sabotage social-media users who post anti-government messages.