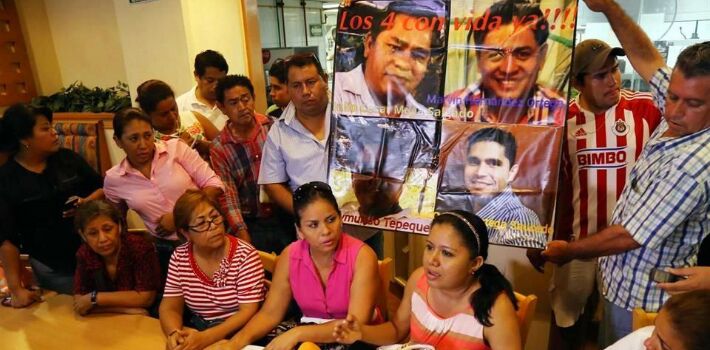 EspañolThe families of four health-care workers, who went missing on June 19 in Guerrero, thought their ordeal was over when authorities handed over the victims' corpses five days later.
Relatives claim, however, that the bodies are not their loved ones, and are now demanding that the lead prosecutor in the case step down and federal police take over the forensics examination.
Prior to their disappearance, doctors Marvin Hernández Ortega and Reynaldo Tepeque Cuevas, and administrative employees José Osvaldo Ortega Saucedo and Julio César Mejía Salgado, were traveling in a gray car that police later found in Xolapa, riddled with bullet holes, blood stains, and shells from a semi-automatic AR-15 rifle.
On Sunday, July 5, the victims' families handed out leaflets, set up posters, and painted murals in Acapulco for the second consecutive day to urge authorities to keep searching for the missing medical professionals. Contrary to statements from Guerrero Attorney General Miguel Ángel Godínez Muñoz, their families do not believe they have yet been found.
"Respect life, missing doctors," read one of the murals, while posters featured photographs of the four men and called upon the community to help with the search.
Further action was planned for Monday, July 6, as relatives moved to the offices of Mexico's Attorney General in Guerrero, demanding the disclosure of the latest findings. They have also organized street protests and announced they will seek help from the United Nations Office of the High Commissioner for Human Rights.
Wrong Corpses
During a press conference on June 24, the sister of Mejía Salgado said the bodies police found in the trunk of a Ford pick-up truck are not the missing doctors.
"How did we arrive at this conclusion? Because of their physical traits and what they were wearing," she explained. She also criticized the media for confirming the physicians had been found before relatives had the chance to verify their identities.
Three days later, on June 27, prosecutors said in a press release that the bodies found matched those of the disappeared men based on a report by the Directorate of Forensic Services.
Cecilia Ortega Solórzano, mother of Hernández Ortega, disagrees with the report: "The day we were told about the bodies, we went to identify them, but they didn't belong to our relatives, who have been missing for four days. These corpses were decaying as if they have been dead for 15 days," she said.
On June 28, the families met with Governor Rogelio Ortega Martínez, who "does not believe the prosecutor … He is on our side, he believes us," relatives told local reporters.
In a document delivered to the governor, they reject the forensic analysis and demand the prosecutor resign over his "ineptitude, lack of professionalism," and "attempts to impose" his conclusions.
Guadalupe Reséndiz, a psychologist and wife of Tepeque, reported irregularities during the investigations. She says investigators tampered with the crime scene, and that the advanced decomposition of the corpses found suggests they died days before the physicians went missing.
Moreover, Reséndiz claims her husband height was around 1.74 meters tall, but the corpse authorities claim is him is between 1.82 and 1.85 meters tall. She says tattoos and other details on the body don't match those of her husband either.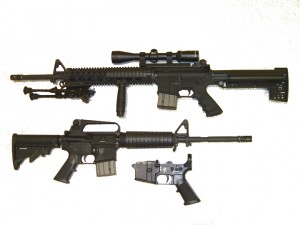 Carlos Mejía Salgado, brother of Julio César, told press that the Prosecutor's Office hastily removed investigators from where the remains were found, a move that showed "a tremendous lack of responsibility." He suggests the prosecutor is rushing to close the investigation: "He wants to shelve the case."
Salgado wants the federal police to run new DNA tests on the bodies. "We don't anything they tell us here anymore; evidence can be manipulated," he says.
Mientras tanto familiares de médicos analizan unirse a padres de los 43 y "Los Otros desaparecidos" de Iguala pic.twitter.com/goRTo1BOPg

— ReporTorres (@ReporTorres) July 2, 2015

"Meanwhile, the relatives of the missing doctors are weighing whether to join the parents of the 43 [students] and 'The Other Disappeared' of Iguala."
In recent years, criminal gangs involved in drug trafficking, with ties to local politicians, have caused a surge in violence in the Mexican state of Guerrero. In June, a confrontation between armed vigilante groups left 16 dead.
In September 2014, Guerrero made headlines around the world after 43 student teachers from a rural school in Ayotzinapa were forcibly disappeared while traveling in Iguala.