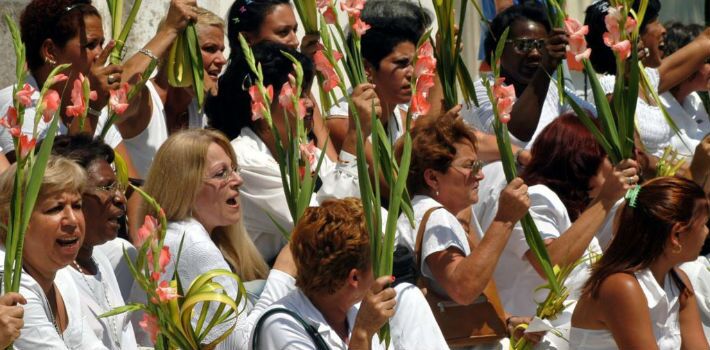 EspañolWhen Cuban agents come to intimidate the Ladies in White this Sunday, they will have more than ladies to reckon with. After a particularly brutal series of beatings on on July 5, ex-political prisoner Jorge Luis "Antúnez" García of the National Civic Resistance Front declared that he and his colleagues will accompany the ladies with "love and support" against the "tyranny of Havana."
They sympathize with the women's movement and invite everyone to "share the beatings they receive," because they bear the brunt for standing up for freedom, democracy, and respect for human rights. "We cannot be insensitive when they are hitting our women," he said.
Antúnez told PanAm Post that over the weekend the leaders of the main dissident organizations from every part of the country held several meetings. These led to joint support for the Ladies in White and a public demand for the release of political prisoners.
Antúnez likewise remains a fierce opponent of the new diplomatic relationship with the United States, and would prefer they not confer legitimacy until Cuban authorities stop repressing the opposition: "reconciliation policies steal the attention from the situation of the Ladies in White. We must not lose focus on what is happening in Cuba".
The official announcement clarifies: "not only do we express our complete condemnation and repudiation of such cowardly and repressive brutality against innocent and peaceful women, we affirm our commitment … to support them physically there … in their Sunday protest in the Cuban capital, and we invite all our countrymen who can to come to the protest."
The proposal calls for all Cubans to unite and set aside loyalties to specific organizations political ideologies. It even calls for neutrality on diplomatic relations between the United States and Cuba.
"None of that is important when the life and the physical integrity of a group of sisters is in danger," assured Antúnez, who spent 17 years in Cuban prison.
With this initiative, the activist believes that the destiny of the island may be determined now in Havana, near Santa Rita church, the traditional meeting point for the Ladies in White movement. For him, Cubans must support "today more than ever" those who need solidarity.
Antúnez warned that the regime has been trying through all possible means to "annihilate the Ladies in White movement," and with no strategy in mind but repression.
"They are not going to force us home; we will keep the streets for ourselves, as [the opposition] do in our sister-nation Venezuela with our brother Leopoldo López," he concluded.
The unified announcement comes as violence and brutality tinges every peaceful protest throughout the island each Sunday. For example, Cuban security forces arrested 80 activists last weekend.
Antonio Rodiles was one of the most injured from the crackdown. He directs the State of Truth project, and had to be hospitalized after he incurred a nasal bone fracture.
After the surgery, Cuban agents moved the dissident to Vivac prison, before they released him later that evening.
US Assistant Secretary of State for Latin America Roberta Jacobson was dismayed by the beating received by Rodiles, and took the step of expressing so via her Twitter account — claiming that "these attacks can never be justified."
Profundamente preocupada por el ataque contra @AGRodiles de @EstadoDeSats y contra decenas de activistas detenidos rumbo a misa. #Cuba (1/2)

— Michael G. Kozak (@WHAAsstSecty) July 6, 2015

"Deeply concerned over the attack against @AGRodiles of @EstadoDeSats and against dozens of activists who were going to church."
Likewise, controversy continues regarding Cardinal Jaime Ortega's statements two weeks ago, in which claimed that there were no political prisoners in Cuba. This time, during a diplomatic reception, last Thurday in the US Interest Section in Havana, he rejected the offering of human-rights activists, who held out a list of contemporary political prisoners and a demand for immediate release.