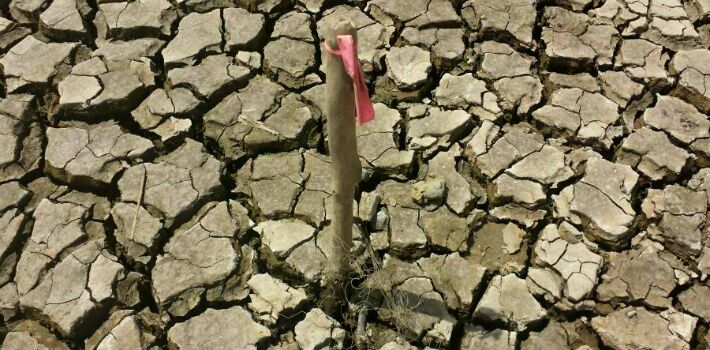 EspañolEnduring high summer temperatures, with no water for an entire day and potential fines for waste, is about to become a reality for another 110,000 Puerto Ricans.
Starting at 9 a.m. on Wednesday, June 17, the cities of Bayamón, Cataño, and most parts of Toa Baja and Toa Alta will have to get by without water service for 24 hours, with the hold on supply to be repeated one day later. In other cities that have already had to go one day without water, 160,000 now will have to suffer for two days off and one day on.
Alberto Lázaro, president of the Aqueduct and Sewer Authority (AAA), announced the rationing plan on Monday during a press conference at the shrinking La Plata reservoir.
"The situation of severe drought continues in several municipalities, and there are no encouraging forecasts to alleviate the situation in the coming weeks or months," Lázaro said. "La Plata reservoir levels continue to decline rapidly, and we need to establish control measures to extend the water supply."
The Puerto Rico National Guard, however, will be on hand to ensure that locals at least have drinking water, Lázaro added.
The drastic measure comes after severe droughts on the island forced Governor Alejandro García Padilla to declare a state of emergency on May 11, 2015. Thus, AAA experts have defended his initiative, citing extreme climate circumstances due to El Niño, a disruption of weather conditions in the Tropical Pacific.
"Since last March, there has been a drastic change in weather, so it was necessary that the AAA offer its first alert and focus on saving water [at the time]. However, after three months without significant rain on the island, the reservoirs began to fall rapidly," states the AAA on its website.
Fines Encircle Basic Water Uses
Lázaro warned residents in the affected areas that the AAA is authorized to fine clients that misuse drinking water. For example, in 48 municipalities with supply problems, it's now forbidden to wash cars, hose floors, and water plants during the day.
Starting July 1, the AAA will impose a US$250 penalty on households caught breaking this rule. The fine climbs to $750 for restaurants and other industries, including government agencies.
The Carraízo reservoir is coming dangerously close to being out of service, according to the AAA's daily online monitor of all 11 reservoirs on the island. Over the past weeks, 160,000 residents from Trujillo Alto, Carolina, Canóvanas, Gurabo, and the capital San Juan have already been subjected to 48-hour rationing measures.
On Monday morning, Puerto Rico Governor Padilla told a local radio station that the crisis could have been avoided if only there had been enough funds to build a new reservoir on the Valenciano river. In office since January 2013, Padilla says previous administrations failed to build the necessary infrastructure.
Other reservoirs in critical condition are Cidra and Patillas, although the AAA hasn't begun rationing their use yet.
Luis Dávila, a lawyer and political analyst in Puerto Rico, told the PanAm Post that even though the island has several lakes with potential drinking water, they are not connected to enable supply.
"The rationing will continue until it starts raining," said Dávila. "People from the northern and eastern sides of San Juan will not have water for two full days."
A lack of investment is to blame, he argues: "No money has been spent on the necessary infrastructure, because the government is broke."
Puerto Rico's rainy season doesn't begin until August, so this could mean Puerto Ricans face between 45 and 60 days of water shortage.
It won't be something new for Puerto Ricans, though. According to Dávila, the rationing happens "every five to seven years; it is cyclical."