EspañolBolivia's Movement Towards Socialism (MAS) is pushing for the third consecutive reelection of party leader, President Evo Morales, who has been in power since 2006. Under new proposals, the landlocked Andean nation would join Venezuela and Nicaragua in permitting indefinite reelection to the highest office in the land.
Over the weekend of May 16 and 17, the MAS departmental congress in Cochabamba gave the green light to holding a referendum on a constitutional change, which would allow Morales to stand for elections in 2019, according to regional campaign chief Leonardo Loza.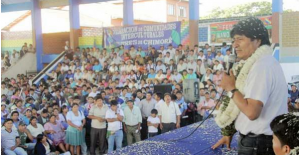 Morales ran in 2014's elections thanks to an existing constitutional modification made in 2008-9.
The president claimed that the new changes, which among other provisions changed the official name of the country to the Plurinational State of Bolivia, meant that his third consecutive campaign was in reality his first under the new constitution.
In theory, the local chapters of MAS in each of the country's nine departments should now meet to discuss the issue internally. A national congress will later be called to take joint action.
"Comrade Evo asked us to look for other leaders; we've already done it, and we haven't found them. Our only leaders are comrade Vice President Álvaro García Linera and the brother president himself," said Senator Nélida Sifuentes.
The legislator added that "if the result of the local congresses is positive, we aim to propose a national referendum to evaluate the will of the people about a new constitutional amendment."
Bolivia currently only allows for one consecutive reelection to public offices.
"It's a feeling of liberation for our people. How long will they remain submitted to the empire or to the capitalist system? This triumph is a a triumph for anti-imperialists and anti-colonialists," Morales said upon winning his third presidential race in 2014.
The president has consistently enjoyed a parliamentary majority since he first rose to power at the head of a coalition of indigenous activists, coca-leaf growers, and opponents of utility privatization.
However, the opposition has complained over multiple controversial instances of MAS interfering with electoral procedure and allegedly committing fraud during the latest legislative polls.
Some 62 percent of Bolivia's 10 million inhabitants are of indigenous extraction and live in rural farming communities.
Ecuador and Honduras Chart Course for Reelection
Ecuador's President Rafael Correa, in power since 2007, has already suggested that he will run for office again in 2017 in order to secure the continuity of his "Citizens' Revolution."
Correa has already achieved the first step, after the Legislative Assembly approved in 2014 a proposal to discuss modifications to the Constitution.
His Alianza País party holds a majority in the parliament, with 100 out of 137 seats. However, according to the law, legislators must wait at least a year to vote on the reform.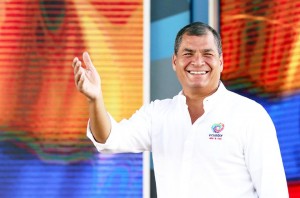 Earlier in May, the Constitutional Chamber of the Supreme Court of Justice of Honduras voted to overturn Article 238 of the Constitution, which prohibited repeated reelection to public office.
In contrast, the only countries in the region that now prohibit presidential reelection are Guatemala, Mexico, and Paraguay.
A Paraguayan governor recently proposed that the South American nation too "modernize with the regional policy" to permit presidential reelection, although internal conflicts within the governing Colorado Party of Horacio Cartes are likely to prevent this.
Paraguay's Senate previously rejected constitutional change to permit reelection in 2011.