EspañolThe sister of Paraguayan President Horacio Cartes announced on Wednesday, April 15, her acquisition of all shares of Grupo Nación, an important media holding company that owns national newspapers La Nación, Crónica, and popular radio stations 970 AM and Montecarlo FM.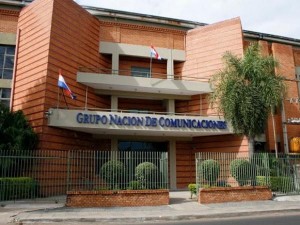 Quelling concerns about possible undue influence on La Nación content, Sarah Cartes assured journalists at a full staff meeting that the change of management wouldn't affect their independence or job seniority.
Cartes cited a "personal project" as the main reason to go forward with the acquisition, while her legal representative on the board denied that the purchase in any way involved her brother.
"Employees and readers will know, with the passage of time and through our actions, that no one wants to interfere in the editorial line," Raúl Prono told press, further promising that all job contracts and commitments assumed by the management will be respected.
However, Benjamín Fernández Bogado, director of competing newspaper 5 Días, described the move as damaging for the president and La Nación, "since there will be a presumption of propaganda for the government and himself."
El mismo día que el Congreso paraguayo sanciona al Min de Com de H.Cartes por usar TV Pública en proselitismo. La hermana compra La Nación.

— Verioska Velasco (@verioskavelasco) April 15, 2015

"The same day that the Paraguayan Congress punishes Horacio Cartes' minister of commerce for proselytizing on public TV, his sister buys La Nación."
Jorge Zárate, spokesman of the Union Committee of Journalists for La Nación, told Última Hora that his colleagues were viewing the situation with "great alarm."
"We interpret this as the political project of President Cartes needing the protection of a media outlet," the unionist stated.
Horacio Cartes has served as president at the head of the Colorado Party (ANR-PC) since August 2013. His term will expire in 2018, and presidential reelection in the country is prohibited by law.
However, Paraguay's Council of Governors reported in January that they intend to amend the Constitution, and nominate Cartes for a second consecutive term in office.
Constitutional lawyer Jorge Seall meanwhile raised concerns over the legality of the purchase, telling Última Hora that President Cartes is "constitutionally ineligible to own media outlets".
However, Marcelo Duarte, a legal adviser of the president, asserted that "once elected, there is no limitation; only when he was a candidate," and official sources have emphasized that Sarah Cartes is acting in a personal capacity and not as a proxy for her sibling.
Proselytism in Paraguay
In March this year, President Cartes was accused of using public television for political-party objectives, after Paraguay HD TV screened the presentation ceremony of his party's candidates for municipal elections.
¿Será que nuestro canal "público" va trasmitir los actos de todos los candidatos de todos los partidos?

— RocíoPereira DaCosta (@RocioPereira) February 28, 2015

"Will our 'public channel' broadcast all candidate events from all the parties?"
Senators subsequently instructed Fabrizio Caligari, head of the Secretariat of Information and Communication, to explain why public television was used to broadcast the ceremony to the exclusion of other rival party proceedings.
The minister responded that the Secretariat "is obliged to cover all presidential activities."
"The coverage of this event was part of routine journalistic activity that did not require approval from any authority," he added, denying that any political movement was being censored.
However, some voices within the opposition were unworried about suggestions of encroaching presidential influence over the media.
Senator Adolfo Ferreira of the Avanza País Party dismissed the idea that the Grupo Nación buyout heralded significant media manipulation.
"To handle media with political intent and succeed requires much greater skill than that our politicians have shown so far," Ferreira told reporters.