EspañolShe fell ill with dengue fever a few kilometers from the Mayan ruins of Tikal in Guatemala. She lived in Indonesia for almost a year, explored the remotest villages in China, and witnessed the Northern Lights in Sweden.
In the process, she showed the world that it's possible to literally live to travel. Her name is Aniko Villalba, she was born in Argentina, and she's a a social communicator turned traveler, writer, and photographer: three coexisting personalities that have turned her into one of the most well known and respected travel bloggers in all of Latin America and Spain.
Aniko is also a businesswoman: she self published her book Días de viaje (Travel Days) that links her most impactful journeys on the far side of the world. She spoke with the PanAm Post about the challenges of combining the solitary nature of writing with the adrenaline of traveling, and about her first travel love: her native Latin America.
Why did you decide to start traveling without a return date or ticket home?
I began traveling in 2008. I'd barely finished studying social communication, and it didn't occur to me to travel one day to the next, but I'd always loved it. During my childhood, I traveled with my family to the United States and within Argentina, and I loved going to another place and meeting different people; I felt like it broadened my mind a lot.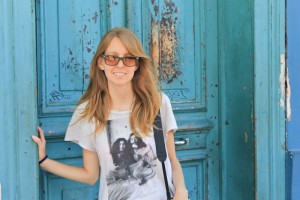 I always had the dream of taking a trip around the world, like many people I guess: it's quite a common dream.
But lots of people were telling me that it was impossible. When I told them about this dream they called me naive, they said that "we all want to travel, but you've got to work, you've got to save money and later you'll have 15 days of vacation like normal people."
But I told myself, working the whole year to go for only 15 days … why can't it be the other way around? Or, as I wanted it, to work while traveling, combining one with the other.
But when I told people, they discouraged me more than they encouraged me, for various reasons. Some because they felt like I was going to waste my life. They told me, "With how well you're doing at school, you're made for a career in a big company."
Others were worried because I'm a woman, so they asked me: "How are you going to travel alone? Don't you see how dangerous the world is? Don't you even read the news? You're mad."
And finally there were those that asked me "but how are you going to live?" and told me I was crazy.
So what was it that got you out of the door?
I saw that there were people who'd managed it. Initially my models were only important people. I looked at the photographer Steve McCurry, for example, and I didn't have real examples aside from these people. Perhaps these were lacking, there still weren't many travel blogs. There weren't many ordinary people who traveled.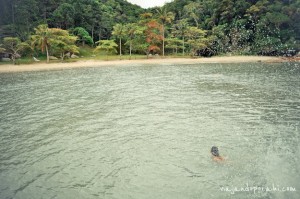 The big travel blogging boom came afterwards. I had many examples of people who did it, but those that I knew were all men, so I was still afraid of being a solo female traveler.
But my ambitions to travel were stronger. I always felt that I liked working more in an independent way, saying "I want my office to be here. Perhaps tomorrow I'll want it to be somewhere else."
What are the biggest similarities and differences among Latin Americans you've noticed on your travels?
Our common language unites us; it's great to be able to travel to neighboring countries and be understood. Because even if you speak English, it's not the same as speaking a shared language, and sometimes even then you can't communicate, as happened to me in several small villages in Asia. Language allows to connect much more, and to have deeper conversations.
We have a shared history and past, that left us with a mix of European and Latin American, as you can see in colonial architecture. But at the same time I think we have our differences. Each country has its own culture.
You go to one country and you'll have one thing for breakfast, you go across the border and you'll eat something completely different. Also the same word can mean something completely the opposite in another country.
In Peru, the people are loud, they're always listening to music. Lima is a bustling capital. I like it when I cross from Peru to Ecuador, because it's really obvious that Ecuador is much more relaxed, they have another kind of music, everything is calmer.
In Lima the combis [buses] play cumbia, and in the south of Ecuador they play a more romantic, more classical music. You cross the border and you realize that they're two different worlds.
Bolivia is also a country of silence, above all in the Altiplano. The people perhaps are more shy, or more reserved, in comparison to Peru, where everyone talks to you. In Colombia, I was surprised by how kind people are, how well they treat you as a tourist, with respect.
What were the happiest, and scariest, moments you had on your first journey?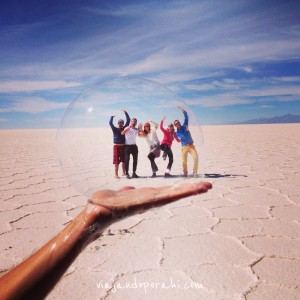 One of the places that had the biggest impression on me was Gula Yala in Panama. They're 365 islands inhabited by an indigenous community. I went there because I was crossing from Colombia to Panama on a sailboat and I stayed on the islands a few days.
They're like something out of a postcard, with sand and palm trees, and with a very traditional, colorful people. They still maintain their language, their education, their culture.
Perhaps the worst thing happened when I was traveling through Latin America with my friend Belén [the interviewer]. The final border we crossed together was between Nicaragua and Honduras at the Guasaule crossing, on the way to the Honduran city of Choluteca.
They brought us right up to the border in a minibus, and from there you had to walk to reach the border post. We found some bicycle taxis, but we were the only women there. Everyone was telling us really contradictory things.
There was one person telling us that he was a policeman, but he was dressed in civilian clothes, and another who told us that he wasn't a police officer, that he was lying.
We decided to take the bicitaxis because the road was so long. One of them told us, "if they kill you, we're not going to bury you." It shocked us, because we weren't from there, and we didn't know their customs.
But I experienced more moments of joy than of fear. I saw that all those horror stories they told about me never happen: or at least it would have been very difficult for them to happen.