EspañolCan same-sex couples get married in Puerto Rico? San Juan Judge Ángel R. Pagán Ocasio will make a monumental ruling today for the US territory, one way or the other.
Pagán Ocasio is handling a legal recourse presented by seven legislators from the New Progressive Party (PNP), who have requested that Article 68 of the Commonwealth's Civil Code be upheld, restricting marriage to a man and a woman.
The weight of legal pressure appears to be against the legislators, though. Their case comes after Puerto Rico's secretary of justice, César Miranda, declared on March 20 that the island's government would not defend the constitutionality of Article 68: "because laws defending marriage must respect the constitutional rights of all citizens."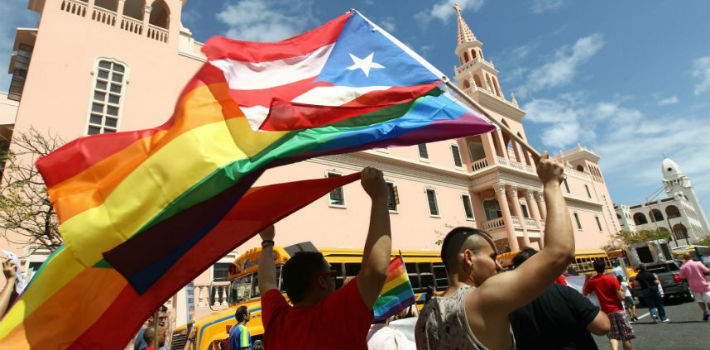 The Puerto Rican government backed down from the code after five homosexual couples filed suit to repeal Article 68 and force Puerto Rico to recognize same-sex marriages from other US states.
Miranda, who called it an "historic" moment for Puerto Ricans, cleared the way for the legal action: "we have concluded that, on the face of today's rule of law, it is not justified nor correct to defend the constitutionality of Article 68 of Puerto Rico's Civil Code that states marriage will be only between a man and a woman."
What about Separation of Powers?
Representing the legislators opposed to the abolition of Article 68, Johnny Méndez claims his request to Judge Pagán Ocasio is based on the respect of the separation of powers, since the controversial article remains in effect.
"What we want is a discussion and that governor [Alejandro García Padilla] be ordered to fulfill [his] constitutional duty to defend the Civil Code. That's all," Méndez said. "We're not touching the controversy over whether marriage should be between X or Y, but that one cannot rule by decree. We live under a democratic system, not under a totalitarian government."
For the PNP legislators, the Puerto Rican government's decision not to defend Article 68 would be a violation of the governor's oath to uphold the laws of the land.
Catholic Church: Let's Have a Referendum
Religious groups have carried out several demonstrations to protest the potential modification of the Civil Code. In particular, San Juan's Catholic archbishop, Monseigneur Roberto González Nieves, has proposed that Puerto Ricans themselves decide on the matter through a referendum.
He said the initiative to legalize same-sex marriages was of "historic significance," arguing that the public effect of calling marriage something it cannot be by nature trumps private decisions.
"It is unfortunate that the fundamental values and the future of our country have been betrayed like this," lamented González, adding that "nature doesn't change. One cannot demand equal treatment to something that is not equal by nature."
Ricky Martin Enters the Fold
Puerto Rican pop star Ricky Martin has came out in favor of granting same-sex marriage licenses. "Equal marriage is a matter of rights," he asserted, saying it's "high time" that his island should set "a record of respecting equality."
Mi agradecimiento al Gobernador Alejandro García Padilla por demostrar que es un líder que no … http://t.co/lTUtFY5tiw

— Ricky Martin (@ricky_martin) March 20, 2015

"I thank Governor Alejandro García Padilla for showing he's a leader who doesn't [shy away from the challenges of the present]…
Support has also come from the president of the Puerto Rican Senate, Eduardo Bhatia: "I'm certain where I have stood firmly for a while now: the Constitution of Puerto Rico recognizes that the law applies to everyone, and that we're all equal before the law, and that means sexual orientation does not matter."
In 2009, Puerto Rico went through an initial attempt to legalize same-sex marriages, but it was rejected by then-President of the Senate, Thomas Rivera Schatz. Then in February 2015, with a five-to-four vote, Puerto Rico's Supreme Court reaffirmed the legality of Article 68.
Translated by Daniel Duarte. Edited by Fergus Hodgson.