Español"I plan on going wherever I need to go." These were the words of Mitzy Capriles, wife of jailed Caracas Mayor Antonio Ledezma, as she embarked on a tour across Latin America to raise awareness about the critical human-rights situation in Venezuela.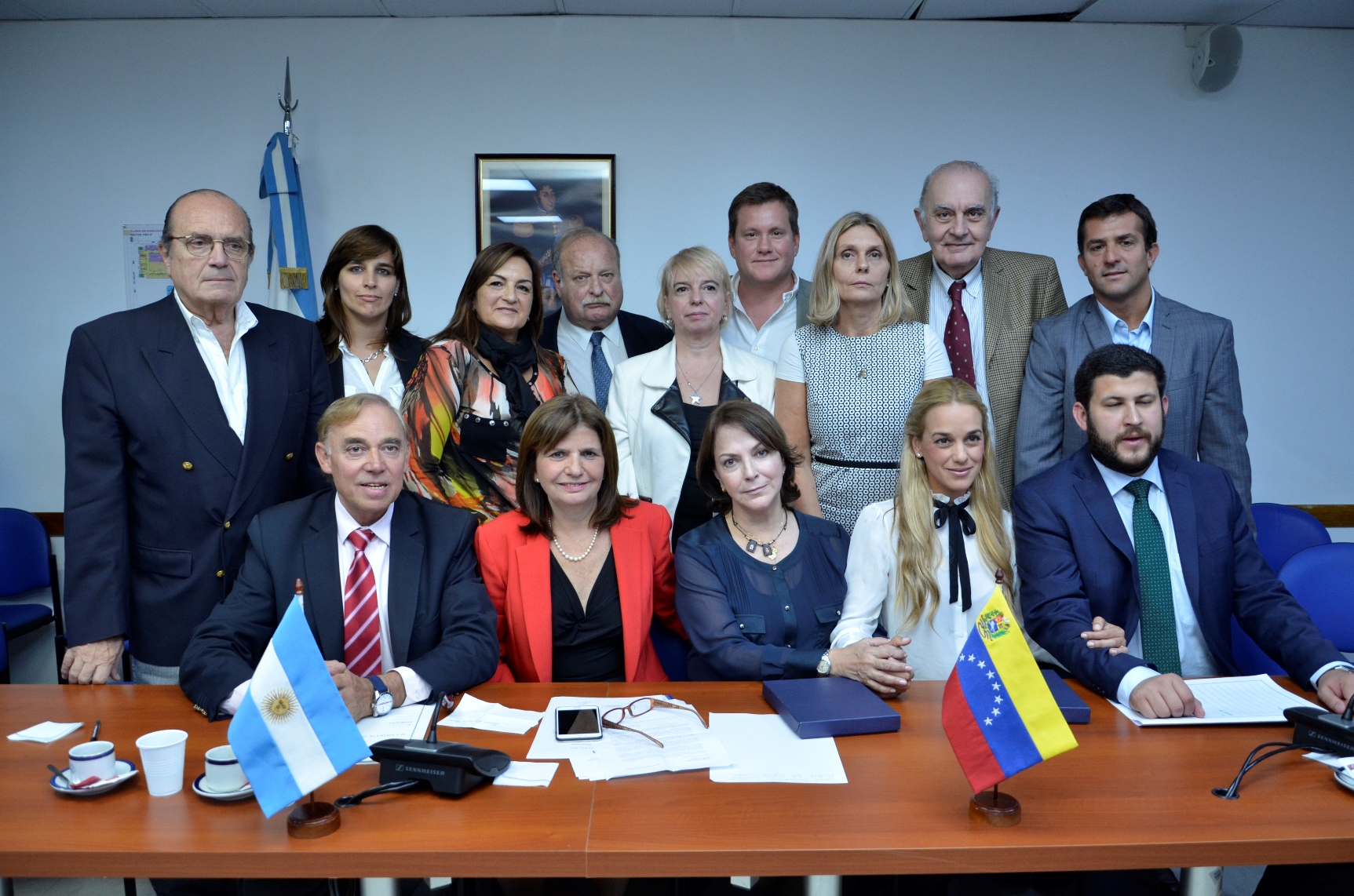 Mitzy Capriles and Lilian Tintori, spouse of imprisoned Popular Will (VP) party leader Leopoldo López, arrived in Argentina on Friday, March 27, after visiting Peru and Brazil, where they sought local support for the release of their husbands from prison.
In Buenos Aires, they both spoke at Congress in a discussion panel organized by three congressmen who preside over legislative commissions: Patricia Bullrich (Criminal Law), Roberto Pradines (Mercosur), and Cristian Gribaudo (Municipal Affairs).
"I don't think [Venezuelan President] Nicolás Maduro's government can stand for long the pressure from having so many people in jail," Mitzy Capriles told the audience.
Bullrich, a congresswoman for the City of Buenos Aires and leader of the opposition party Union for All, said the three legislative commissions back the women in their struggle. "We're glad that democratic leaders around the world are supporting the cause," she said.
Pradines, a congressman for Mendoza for the Democratic Party, said that he and his colleagues would issue a statement calling for international organizations to protect human rights in Venezuela. "We Argentineans should be aware of what is really going on in Venezuela," he added.
Mitzy Capriles thanked the legislators for their support and celebrated the courage of those who refused to "stay silent" on the Venezuelan crisis. "Lilian and I will go to the end of the world to talk about the arbitrary actions committed against students in Venezuela, who are tortured just for protesting. We don't want to leave Venezuela, even if we run the same risks as our husbands," she said.
For her part, Tintori branded the Maduro administration "corrupt and repressive." López's wife claimed that in Venezuela "there is no justice, no rule of law, no institutional autonomy. We suffer constant human-rights violations. We can't find milk or medicine for our babies. The country gets worse everyday. It's not normal to live with fear, and we, the wives of political prisoners, as well as the rest of Venezuelans live with fear."
The two women were accompanied Friday by another opposition leader, the 29-year-old mayor of El Hatillo municipality, David Smolansky. He said that Venezuela's young people have no concept of the separation of powers — the constitutional principal that holds that the executive, legislature, and judiciary should operate with autonomy from each other — because they have never seen it in their lifetime.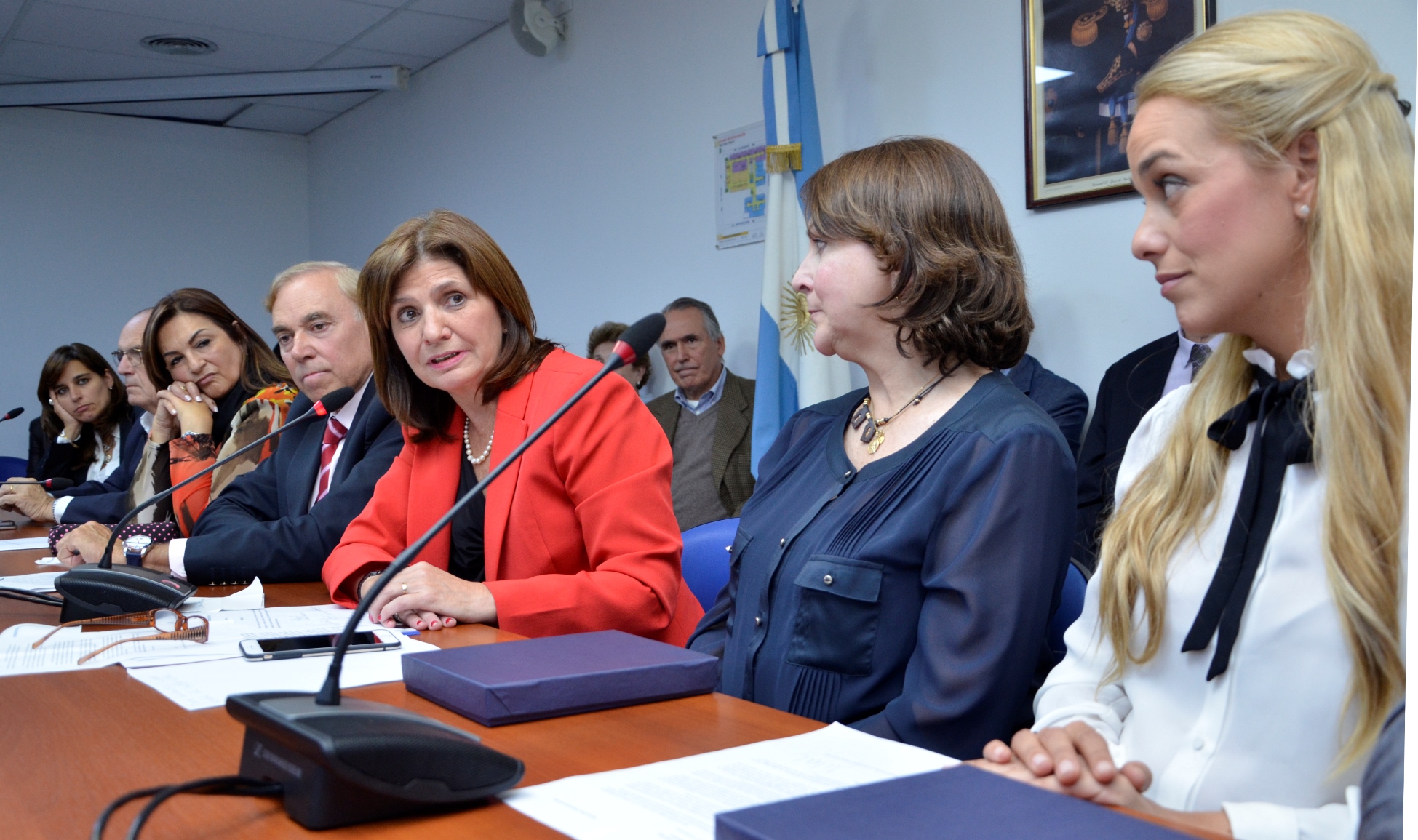 "There are dozens of students in jail now in Venezuela. Maduro says our country is a democratic one, but democracy is more than elections, it's also having autonomous powers, liberties, and transparency," he argued at the packed event.
Smolansky described the alarming social crisis in Venezuela, citing figures that 85 percent of products are affected by shortages and that annual inflation tops 75 percent.
Economic privations are added to rampant insecurity, he added: Caracas is the world's second most violent city.
Tintori lamented "systematic" violations of freedom of speech and the right of life, reporting that 2014 alone saw 200 cases of torture, 208 arbitrary arrests, 63 prisoners detained for political reasons, and only 3 percent of human-rights complaints resulting in a sentence for the accused.
"We're going to keep fighting for as long as it's necessary to rescue democracy in Venezuela," Tintori concluded.
The Venezuelan visitors also sought alliances at the C40 Latin American Mayors Forum held in Buenos Aires on Friday, where hosting mayor and presidential candidate Mauricio Macri and former Mexican President Felipe Calderón lent their support to the cause of political prisoners in Venezuela.
Regional Tour
Before the Buenos Aires leg of their journey, Tintori, Capriles, and the VP's Carlos Vecchio visited the Peruvian Congress to address its Forum on Human Rights in Venezuela on March 25.
Capriles told legislators that Venezuelans "have their human rights systematically and constantly violated," and claimed that dissidents such as her husband and former Mayor of San Cristóbal Daniel Ceballos have been jailed simply for holding different beliefs to the government.
"Speaking about human rights in our country can cost us our freedom," she said.
Peruvian congressmen from the political groups Popular Force, Possible Peru, the American Popular Revolutionary Alliance (APRA), and the Christian People's Party (PPC) promised to debate a resolution calling for the release of political prisoners and repairing democracy in Venezuela.
Former Peruvian Presidents Alejandro Toledo and Alan García also expressed their support, joining former Spanish Prime Minister Felipe González and former Brazilian President Fernando Henrique Cardoso, who have recently joined a team working for López's release.
In Brazil, Vecchio and Tintori met with former presidential opposition candidate Aécio Neves and Aloysio Nunes, both current senators from the Brazilian Social Democracy Party (PSDB).
Vecchio said in a press release that the Brazilian congressmen "extended to our cause a helping hand, above all to aid the rescue of democracy in our country."
Weekend Protest in Buenos Aires
Human-rights advocacy group One Voice for Venezuela, led by Venezuelans at home and abroad, organized a protest at 14:00 local time on Saturday in Buenos Aires to demand justice and the release of political prisoners in Venezuela.
Bullrich, Tintori, Capriles, and Smolansky were present, as well as Venezuela's former UN Ambassador Milos Alcalay. They were joined by celebrities, civil-society representatives, and local politicians.
"This will show the importance and the strength of the international community and Venezuelans abroad," One Voice for Venezuela spokesperson Carlos Moreno told the PanAm Post.
Elisa Vásquez contributed to this article.
Translated by Daniel Duarte. Edited by Laurie Blair.