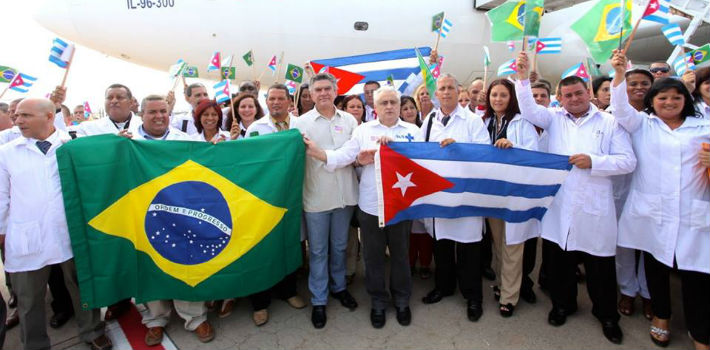 EspañolThe Más Médicos (More Doctors) program of Brazilian President Dilma Rousseff has become steeped in further controversy after the Cuban government threatened to suspend the licenses of those Cuban doctors working in Brazil who return to the island for obligatory vacations without bringing their families.
The measure seeks to avoid a mass defection of Cuban medical staff, with Havana fearful of the example set by Venezuela where many loaned doctors failed to return to Cuba.
According to the Brazilian Health Ministry, the More Doctors program is designed to invest in hospital infrastructure and bring doctors to low-population areas facing a shortage of health professionals. The initiative has mobilized over 14,000 doctors, 80 percent of whom are from Cuba.
According to an investigation published by Brazilian daily Folha de Sao Paulo, the government of Raúl Castro has told doctors that unless they return with their families they will be replaced on the program. The government claims that medics' families are only permitting to visit Brazil on a short-term basis, but medics report that their contract allowed them to relocate with their immediate family.
The Brazilian government currently offers visas to doctors' families for up to 36 months, the maximum period that Cuban medical staff are contracted to be present in Brazil.
"We're more shocked every day. I don't want my family to go back, but if I lose my license, I don't know what I'm going to do," one Cuban medic told press in San Paulo.
The Cuban medical personnel participating in the Brazilian government policy were contracted via an agreement between the Brazilian government, the Cuban authorities, and the World Health Organization (WHO).
Cuban officials are concerned that many doctors' families are living as temporary residents in Brazil for longer than a month, the period it considers sufficient for a visit.
The Brazilian health ministry has said that it's unable to interfere in labor relations between the Cuban government and its citizens. The Pan American Health Organization (PAHO) is the body which supervises the link between Cuba and Brazil.
The More Doctors initiative was born out of a wave of social programs created during Rousseff's first term in office, after the widespread protests against her administration in July 2013. According to official figures, the program supports over 50 million Brazilians.
"They're telling us that our family has to abandon Brazilian territory within a month, and they're openly threatening us by saying that if they don't, we'll simply be taken off the program," another doctor told Nuevo Herald.
Brazil has allowed doctors to travel from Cuba with their families on compassionate grounds. Florentino Cardoso, president of the Brazilian Medical Association, previously argued that to separate children from their parents "wounds the dignity of the doctor."
Salary Suspicions
Brazil's Public Federal Ministry (MPF) has asked the judiciary to intervene to ensure that the government pays the Cuban medical personnel directly and not via the Cuban authorities or PAHO.
"Our relationship is exclusively with PAHO, and not with the Cuban government. These Cuban doctors continue to maintain links with the Cuban government," Health Minister Arthur Chioro told press.
A report given by the MPF to judicial authorities nevertheless mentions that while other doctors enrolled on the program from Brazil and other Mercosur countries receive a salary of R$10,000 (US$3,200), the Cubans only earn R$2,976 (US$1,000).
However, MPF insists that Havana in fact receives $3,200 directly, but only pays its doctors $1,000. Moreover, US$600 of their salary is frozen in a Cuban bank account which they can only access upon their return.
Scandal erupted in Brazil after the leak of a video in which PAHO coordinator Mary Alice Fortunato Barbosa is heard discussing with Brazilian officials how the program is designed to cement bilateral relations between Cuba and Brazil, leaving other nations to one side.
PAHO has defended itself, saying that More Doctors is carried out "in compliance with legal requirements and international norms in transparent manner, and with rigorous administrative and financial procedures."
"Unacceptable" Interference
The Brazilian Social Democracy Party, through Congressman Daniel Coelho, has criticized the Cuban government for neglecting the human rights of its doctors.
"The justification that things are like this in Cuba is not acceptable," Coelho stated.
"We need to understand the extent of Cuban interference to which Brazil is submitting," he added.
Translated by Laurie Blair. Edited by Guillermo Jimenez.