EspañolNB: This article contains strong language.
As June's legislative elections approach, the disturbing relationship between Mexican politics and brutal gang violence is becoming ever more apparent.
Aidé Nava, a candidate for the mayoralty of Ahuacuotzingo, Guerrero State, was found decapitated on Tuesday night at the side of a highway after being kidnapped on Monday.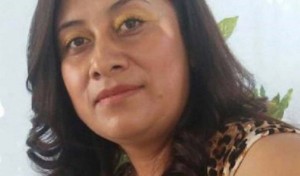 "This will happen to all the fucking politicians who don't want to fall in line, fucking turncoats. Regards, Pure Rojo ZNS," read a nearby note signed by Los Rojos.
The violent criminal group are rivals to the Guerreros Unidos cartel, which is presumed responsible for the disapperance of 43 students from nearby Iguala in September 2014.
For the president of Mexico's Citizens' Council for Public Security, José Antonio Ortega, Nava's killing is part of a "strategy of insurrection" by groups that want to make the country "ungovernable" and prevent elections being held in Guerrero and other states.
"Today in Guerrero there's a failed state," Ortega told press, lamenting that criminal groups were able to defy the state's monopoly on violence, and highlighting the lack of "institutional incapacity to punish the criminals."
Nava's family history is a faithful reflection of Mexico's dire security situation: she is the third member of her family to fall victim to organized crime. Her husband, a former mayor, was shot dead in June 2014, while her son was kidnapped in October 2012 and still remains missing.
Death Foretold
The growing violence against politicians as elections approach has been anticipated by requests for greater protection for candidates. The opposition National Action Party (PAN) asked the federal government in February to guarantee its candidates' security.
"We demand that the government promise to protect our candidates, their campaign teams, and relations," read a party statement.
From Prison to Mexican Politics
Hipólito Mora, one of the the founders of Michoacán State's self-defense groups, meanwhile confirmed on Tuesday his interest in running for congressman in elections on June 7.
On Monday, Mora was released after two months in prison. He was jailed for his role in an armed confrontation in December 2014 between two rival militias, originally formed to fight the Knights Templar cartel. The shootout left 11 dead, among them Mora's son.
After leaving prison — he was freed for having acted in "self-defense" — the founder of the citizen militia group indicated that he might become a candidate for the Citizens' Movement.
"I'm not desperate to be a congressman because they're a bunch of thieves, but people are pressuring me to enter politics," he said.
The self-defense group leader, who was released together with 27 of his followers, hit out against Antonio "El Americano" Torres González, leader of the rival faction. "Why are there 11 deaths and not a single person found guilty?" he demanded.
The American Walks Free
On Tuesday, March 11, the same judge previously decided to revoke González's sentence, and that of nine of his followers, something Mora described as "unjust."
The judge rescinded the two groups' jail terms on the basis that both were acting in self-defense. "The facts are extraordinary, they're atypical, because when one speaks of legitimate defense one thinks of the individual, and in this case we're talking about groups of people with the same juridical status," his ruling read.
Adam Dubove contributed to this article. Translated by Laurie Blair.