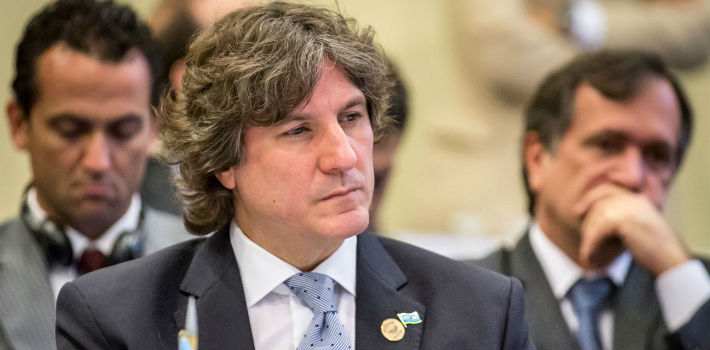 EspañolThe troubles for the Cristina Kirchner administration continued last week, when a federal court confirmed Vice President Amado Boudou's indictment for bribery and influence peddling. On Friday, February 20, the court rejected Boudou's appeal, leaving the trial in the hands of Judge Ariel Lijo, which could take place later this year.
The court also green-lighted the prosecution of three other suspects: José María Núñez Carmona, Boudou's friend and business partner; Alejandro Vandenbroele, an alleged front man for the vice president; and Nicolás Ciccone, owner of the firm accused of bribing Boudou.
Last year, Judge Lijo formally accused Boudou of using his political position to allow The Old Fund, a company owned by Alejandro Vandenbroel, to gain control of Ciccone Calcografica, a bankrupt printing company. The deal was made in 2010, while Boudou served as minister of the economy and campaigned for his current position.
The vice president appealed the indictment, but federal judges Jorge Ballestero, Eduardo Freiler, and Eduardo Farah ruled on Friday there was enough evidence to proceed with the charges.
Nicolás Ciccone and his son-in-law Guillermo Reinwick, then-owners of the printing company, allegedly met with Boudou and Carmona on July 19 and September 1, 2010, to make a deal to save the company, which only had a single employee at the time.
In exchange for the promise of helping Ciccone exit bankruptcy, the vice president and his partner would receive 70 percent of the firm's stock. Boudou allegedly pulled strings at the federal tax agency AFIP for Ciccone to benefit from an unusual and generous payment plan and get back on its feet.
On April 6, 2012, Ciccone Calcografica secured a government contract to print AR$410 million (over US$32 million) for the Argentinean treasury.
Step Down Unlikely
Despite the indictment, Law 25.320 of 2000 gives the sitting vice president immunity to continue in his post. The only way Boudou could be forced to step down would be through impeachment by Congress, where the ruling party currently holds a majority.
Jorge Di Lello, a prosecutor in the Ciccone case, told local radio Vorterix on Friday that the trial will probably take place after the October 25 presidential elections, when Boudou's term is over.
"If he is vice president and committed a crime, it is best that he ceases to be vice president. If he is vice president and committed no crime, it will help clear his name," he said.
Di Lello also accused the Argentinean mint Casa de Moneda, controlled by the government and subordinated to the Ministry of Economy, of failing to purchase a new machine to print currency notes in order to create the need to outsource the job to Ciccone.
"Media Assault"
Cristina Kirchner's Cabinet Chief Jorge Capitanich said during a press conference on Friday that the court's decision to confirm Boudou 's charges amounted to a new "assault from the media and justice system" against the Executive.
"Justice is not independent from corporations. There is a pact of impunity between media companies and the judiciary that protects prosecutors and judges, in exchange for certain cases to be stalled," charged Capitanich.
Corruption Scandals Mount
According to Transparency International, Argentina ranks among the world's worst countries in terms of corruption. In an index published in December 2014, Argentina ranked 107 out of 175 nations worldwide, and 21st among the 32 countries surveyed in the Americas.
"The drop in the ranking reflects a complete lack of effort in our country to fight corruption," Pablo Secchi, executive director of Citizen Power, told La Nación. "Oversight institutions have been drastically reduced in the last few years, making them irrelevant."
Alejandro Salas, Transparency International's director for the Americas, says the situation in Argentina is distinct even from its neighbors. "Unlike Brazil, where important changes have been made, I haven't seen positive changes to improve structural corruption in Argentina for a long time."
"In Brazil, there are scandals and improvements. In Argentina, just scandals."
Translated by Daniel Duarte. Edited by Guillermo Jimenez.